37 Photos Of Humans Embracing Their Stretch Marks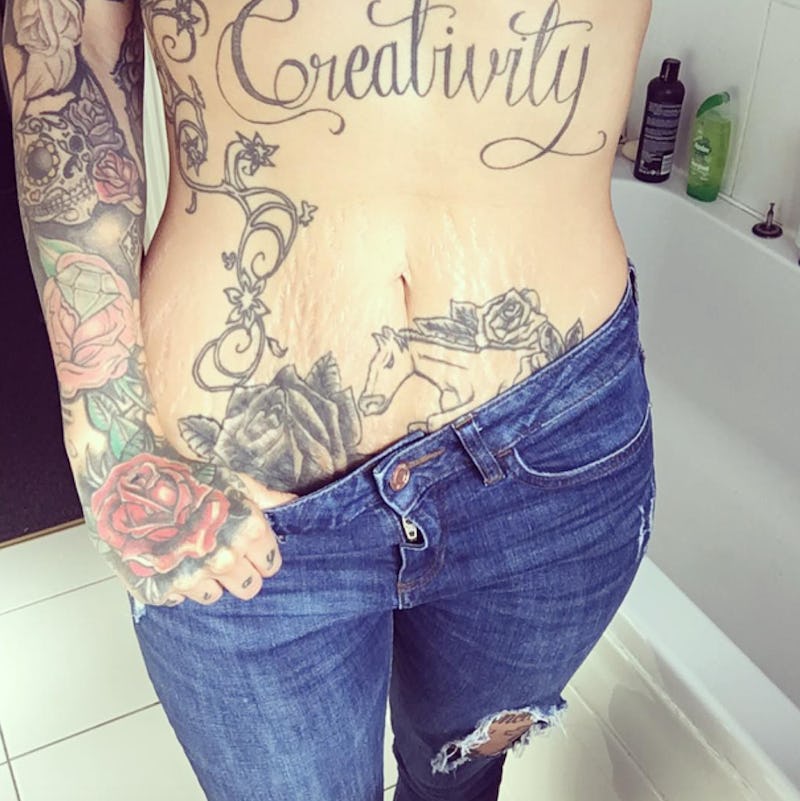 With our weight naturally fluctuating over the course of a lifetime, the stretching of our precious skin is bound to leave us with some marks and lines here and there. But unfortunately, we are often taught to be ashamed of them. I started appreciating my stretch marks once I began taking photos of them, documenting my body in a way that made it less scary to show off my lines in public. And despite all that societal weight shaming, I've grown to love my stretch marks and the stripes of others. In many ways, they're a map of our lives recorded in cute little wavy lines across our epidermis. They're gorgeous (and free) decorations for our body. They're tiger stripes we don proudly, and can sometime serve as a reminder major life events, such as pregnancy.
Despite these truths, constant public condemnation of stretch marks by celebrities, certain publications, and advertisements make it difficult to embrace our bodies in all their striped glory. But with a simple peek at the #stretchmarks and #loveyourlines hashtags, you can glean a million reasons to love your stretchies with some beautiful body pos humans as inspiration!
Although there are hundreds of areas formulated to make these stretch marks disappear, and a good number of fitness buffs lamenting over the way their lines linger, our stretch marks are pretty to look at. They shouldn't be covered up or airbrushed, but rather celebrated in all their majestic glory. Here are some people who have boldly chosen to say "eff your beauty standards," and show off their stretchies for the world to see by sharing their gorgeous photos.
1. No Photoshop Needed
So many gorgeous belly stretchies!
2. Showing Off The Ink and Stretchies
Proudly flaunting the stretch marks (and tattoos) on her belly. It's hard to tell which one is more beautiful...
3. Our Stretchies Tell A Story
Our stretch marks are our tiger stripes, signs of a life full of growth and learning.
4. Sorry Not Sorry
Stretch marks are the perfect beach accessory, anyway.
5. Play With Your Stripes
They deserve all the TLC in the world.
6. They Come In All Shapes and Sizes
They may be subtle, but these stretchies are no less spectacular.
7. Maverick Mom
"I'm ever so proud to show them off, it shows my body has brought life into this world, twice and ever so soon three times...Its something a lot of women out there can't do. I am truly blessed and wear them with pride." So beautiful.
8. Let's Love Our Tummies
Because they're adorable and, let's face it, stretch marks only make them cuter!
9. Glistening Body Pos Warrior
Showing off arm and chest stretchies while proudly declaring "I Love My Body." Goals.
10. Can We Grow To Love Our Stretchies?
rosemary donahue Of course.
11. Lovely Thigh Patterns
And the sunlight reflecting off of them helps them stand out even more!
12. Mirror Selfie Realness
Because, seriously, #effyourbeautystandards.
13. Hello, Cuties!
Don't you just love when you can see your stretchies poking out from your pants? So cute.
14. Booty Stripes
These floral undies look way cuter with some booty stretchies for decoration!
15. ...And More Booty Stripes
So many pretty lines.
16. Stretchies Are Free Art
Stretch marks, like tattoos, piercing and hair, are nothing but gorgeous body art.
17. Boobie Art
It's fun to show off our chest stretchies in bathing suits and cute Neon Moon undies.
18. Poolside Stripes
This mama is endlessly proud of her stretchies, and loves to show them off in her bikini.
19. Thigh High
Remember to protect your cute stretchies this summer from the chafe with plenty of moisturizer.
20. Thankful Mom
"12 days postpartum featuring my angel and the marks she gave me, snapped before our first shower together and then followed by being peed all over but enjoying every precious moment with her." So amazing.
21. Love Your Lines
This sweet lingerie selfie exudes all the confidence in the world about rows and rows of her belly lines.
22. Photo-Ready Stretchies
Can't we all get professional photo shoots with our stretch marks as the focal point?
23. ...And more photo-ready stretchies
Damn, we need more photoshoots and media celebrating our lovely lines like these!
24. Everyone's Got A Bikini Body
Props to this person for opting for a low-rise bikini, and letting her stretch marks move freely. A great step we can all take to better love our lines.
25. Stretch Marks + Calvins
Trendy and cute.
26. Love Yourself, Including Your Stretch Marks
"Cheers to curvy living." Preach.
27. Lovely Squigglies
The more the merrier.
28. Stretch Mark-Induced Giggles
Because stretchies give us so much to be happy about!
29. Stretch Marks and Chill
Spend more time with your nude body, and learn to appreciate your sweet lines.
30. Beach Day Body Pos
Pairing an animal print bikini with belly stretchies makes for all the sexy jungle cat vibes.
31. Beautiful and Carefree
Post-shower selfies are perfect for capturing your stretchies peaking out of your towel.
32. Reminders of Motherhood
"My body made me a mother:" just one of many reasons to love our lines.
33. Evolution Of Bodies
It's just so beautiful the ways our bodies change and our skin stretches.
34. Make Your Mark
Making my marks visible through photos is how I grew to embrace my own stretchies. Maybe it will help you, too.
35. Ripples and Rolls
It's so harmonious how are stretchies tickle and ripple through our adorable flesh.
36. Striped Midriffs
Summer is the perfect time to show off our stretch mark-covered midriffs.
37. All Bodies Are Good Bodies
And stretch marks are just one of our many beautiful assets.
Post a photo of your own stretchies on Instagram or Twitter, and show the world just how much you love your gorgeous lines. Not only because they're so cool looking, but because you deserve it.
Images: Neon Moon Co. (4), Courtesy of Natalee Miller, Briana Bella, Rosemary Donahue, Julia Meslener, Winnie McNally (2), Hannah Todd (2), Ruby Rare, Aurora Baumbach, Erika LeCoq, Meg Zulch (2), Sung Yim