'Finding Dory' Brings All New Lovable Characters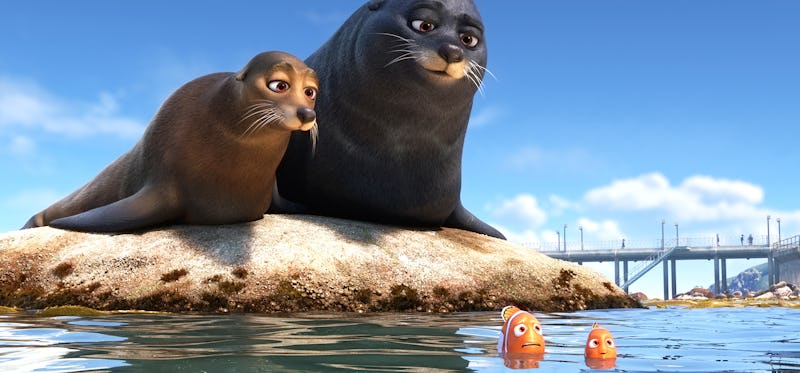 It was hard not to fall in love with Dory, Marlin, Nemo, and countless other characters in the Disney Pixar's 2003 animated film, Finding Nemo. Now, 13 years later, fans can finally return to the ocean to meet up with a slew of their favorite sea creatures. But, with Nemo's days at the P. Sherman 42 Wallaby Way Sydney in the past, not all of the lovable creatures are in fact able to return for the highly-anticipated sequel. This time around Dory is the one getting taken by the Marine Life Institute. And Dory, Marlin, and Nemo are in to meet a number of brand-new aquatic creatures. In fact, in the latest trailer for Finding Dory , we meet some of Finding Dory 's new characters. And, as expected, there's so much to love about them already.
From the fish in the beginning who may or may not have raised Dory to be who she is to the seven-legged octopus Hank, these characters already leave fans wanting more. Between all the characters in both Finding Nemo and Finding Dory, it seems like you'll never be able visit an aquarium again without having a respective Disney name for almost every sea animal you see. This trailer is almost too unbearably cute to watch.
Here are the characters from Finding Dory that are already so undeniably lovable.
1. Dory's Prospective Foster Parents
In the beginning of the trailer, there are two fish who run into what sounds like a baby Dory and seem a whole lot like Marlin and Dory. And while it's not quite clear as to how they'll come into play, the unnamed wife and her husband Stanley are so recognizable that you can't help but love them already. Just thinking of them raising Dory already gets me teary-eyed.
2. Hank
This octopus sure seems like he's seen some stuff over the years. In fact, I might even go so far as to say that he's the designated Gill of Finding Dory. However, it's his adventurous spirit and willingness to take Dory under his wing that makes him fit into the story in a way no other character can.
3. Destiny
Aside from Dory, I don't think fans have been introduced to a fish friendlier than Destiny. She's a bit clumsy, determined, and essentially the perfect best friend for Dory. And did I mention that I've never seen a whale this cute before?
4. Bailey
This beluga whale seems pretty happy with where he is. And I'm already sensing a whale-speaking lesson from Dory considering how much he hesitates with using his echo-location skills. Seriously this place is just full of whales for Dory to talk to.
5. Becky
This movie would not be complete without some crazy birds. I can't wait to see how Becky plays in to this storyline even more than just getting a bucket stuck on her head.
6. Sea Lions
They're just as annoying as the seagulls but just as cuddly as a sea lion should be. Something tells me Marlin is going to get along with them just fine.
7. The Fish In The Touch Tank
Between there being another starfish on the scene and some other adorable touchable creatures, this scene in the movie looks both hilarious and full of new friends. But I doubt any of us will ever be able to take part in an aquarium touch tank ever again.
Finding Dory swims into theaters June 17, 2016.
Images: Walt Disney Pictures/Pixar Animation Studios; TheEllenShow/YouTube (4); Giphy (3)