12 Bacon-Inspired Recipes For Father's Day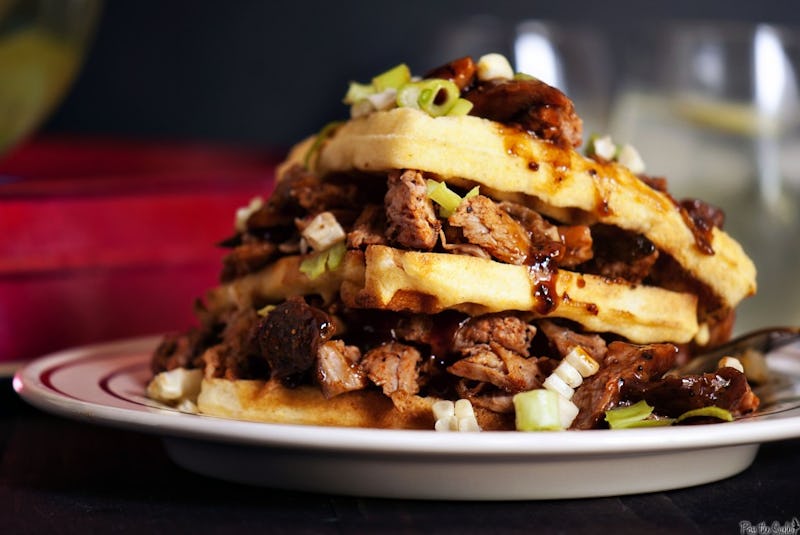 Once a year, right in the thick of the dog days of baseball season, kids around the country gather to celebrate dear old dad. So, why not borrow a little inspiration from baseball parks from Dodger Stadium to Fenway Park when planning your Father's Day menu? That's right, I'm talking about cooking up some gloriously dad-approved Father's Day recipes to make with bacon and other scrumptious barbecue ingredients. Now, these aren't just any bacon or barbecue recipes — these are the internet's most creative applications of all things pork.
My dad always says that one day, he's going to break down and buy one of those bacon air fresheners that you can get to hang from the rearview mirror of your car. That tells you how much he's committed to the smoked and cured, crispy and fried masterpiece that is bacon. So, as you can imagine, as someone who likes to make an elaborate feast for special occasions (like Christmas, birthdays, or an unusually slow Tuesday), I've got a long list of pig-related recipes bookmarked on my laptop.
And it just so happens that slow cooked pulled pork is one of my specialties (#favoritechild). Here are the internet's most interesting pig-centric dishes to show off your summertime cooking skills this Father's Day.
1. Loaded Bacon Cheeseburger Totchos
This revelation of an appetizer is perfect for Father's Day. Basically Cooking for Keeps has loaded the contents of a bacon cheeseburger on top of a pile of tater tots to create the perfect food to celebrate dad.
2. Kale, Bacon, and Egg Breakfast Sandwich
The Kitchn has you covered if you plan to cook Dad a hearty breakfast. This number does have bacon, but is otherwise pretty healthy with the whole wheat bun and sautéed kale.
3. Pulled Pork Grilled Cheese Sandwich
Talk about a feast! This cheesy, saucy, crispy masterpiece from Simply Delicious will be talked about for years to come. Grill the bread on the grill outside for an extra crunch and Instagram-worthy grill marks.
4. Baby Back Ribs
Ribs are sort of a recent obsession of mine. Cooked low and slow and drenched in Memphis-style barbecue sauce, seeing this recipe from The Comfort of Cooking is actually making me seriously consider running to the store to get a rack of ribs to grill for dinner. Be warned though, if you whip up these deliciously messy little numbers for Dad, you might be in charge of food for every cookout from now until the end of time.
5. Bacon-Wrapped Hot Dogs
Bacon-wrapped hot dogs are an L.A. delicacy. Usually grilled on a flattop by a lady outside of your favorite local dive bar at 2:30 in the morning, these double-meat monstrosities from A Cozy Kitchen are a Father's Day novelty that won't soon be forgotten.
6. Bacon Scallops with Garlic Butter Sauce
From land to sea, these little pan-fried mollusks are sure to impress. They're fancy enough to be served at an elegant dinner but are still loaded up with bacon (and butter sauce, for good measure). Head over to Damn Delicious to get the scoop on how to make this winning shellfish recipe.
7. Bacon-Wrapped Filet Mignon
Steak is a classic Father's Day dish, but this year, wrap that bad boy in bacon and serve perched on a bed of caramelized mushrooms. Closet Cooking has you covered on the details.
8. Slow Cooker Barbecue Nachos
These nachos are the perfect example of what got me hooked on set it and forget it slow cooker recipes. Slow cook your chosen barbecue meat (pork or chicken are both great) in chipotle and barbecue sauce before dumping them on top of chips and smothering in your favorite nacho toppings. Find this recipe at Pass The Sushi.
9. Bourbon Bacon Sweet Potatoes
Last Thanksgiving, we made a recipe similar to this one from How Sweet It Is, and my boyfriend's dad was so impressed, he decided that they were better than his mom used to make, which was probably because we tripled the Bourbon from the old recipe and added a whole bunch of nutmeg.
10. Bacon-Wrapped Dates
The darling of bacon-wrapped snacks, these goat cheese-stuffed bites of awesome are another great appetizer to introduce to your bacon-inspired Father's Day feast. Head over to The Kitchn to find out exactly how to roll up these dangerously poppable apps.
11. Pulled Pork Cornbread Waffles
This recipe is actually what inspired the all-pork Father's Day idea. These aren't just any old waffles. These waffles are made out of cornbread, which makes them the perfect complement to a big pile of saucy pulled pork. This recipe from Pass The Sushi is perfect for the dad who loves soul food.
12. Maple Bacon Cupcakes
What kind of bacon menu would be complete without a maple bacon cupcake for dessert? Make these dreams a reality with the help of Your Cup of Cake.
Images: Pass The Sushi (2); Cooking for Keeps; The Kitchn (2); Simply Delicious; The Comfort of Cooking; A Cozy Kitchen; Damn Delicious; Closet Cooking; How Sweet It Is; Your Cup of Cake