9 'Arrow' Season 4 Episodes That Deserve A Rewatch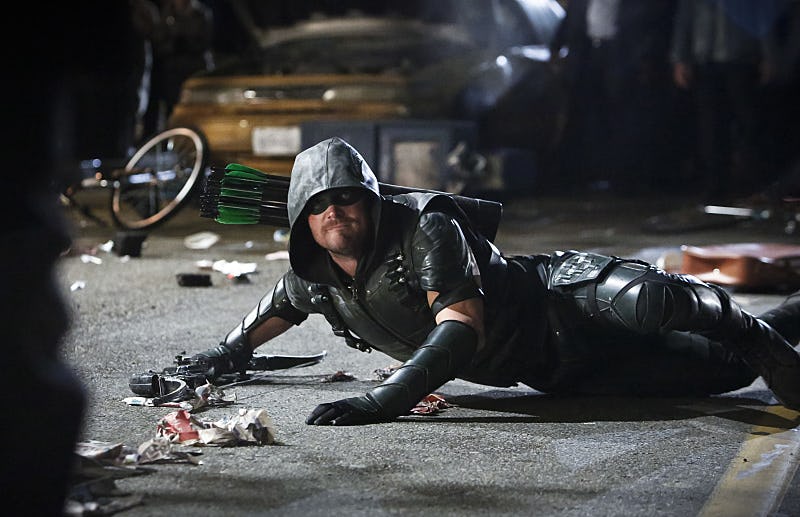 Here's the thing about watching a great show: it makes you addicted and anxious to watch it again and again and again. So now that Arrow is gearing up to debut what's sure to be an epic fourth season finale, it's only natural to wonder when Arrow Season 4 will hit Netflix so that you can relive the magic all over again. (And given Damien Darhk's powers, that magic thing could be taken quite literally.) Unfortunately, that glorious day probably won't be coming any time in the near future. Update: Netflix has announced that Arrow Season 4 will begin streaming on Oct. 5.
Earlier: Though no official Netflix release date has been announced by the streaming service yet, the normal protocol for this show in the past has been to release the latest season right around the same time a new season is about to debut. For example, last year Arrow Season 3 appeared on Netflix on Oct. 7, which just so happened to be the same exact day Arrow Season 4 premiered. So odds are, we're going to have to wait just as long this time around. Is it frustrating? Sure. But is it well worth the wait? Absolutely! And that's why I've taken it upon myself to round up some of the best episodes of the season to help remind everyone that while waiting sucks, your patience will reap some very must-see rewards.
Warning: Season 4 spoilers abound!
401 — "Green Arrow"
The series wasted no time in establishing its newest Big Bad, Damien Darhk, along with his Ghost-ly henchmen. The action-fighting sequences alone are well worth a second look and serve as a welcome reminder of how strong Team Arrow is when they're working together. And, of course, there's the introduction to the mysterious flash-forward grave.
403 — "Restoration"
Much like the title suggests, this episode centered around curing Thea's bloodlust and bringing Sara Lance back from the dead, which eventually allowed her to journey over to the freshman DC spin-off series Legends of Tomorrow. May this serve as an important reminder to never mess with either of these characters.
405 — "Haunted"
I always tend to love it when TV worlds collide, so seeing John Constantine appear in Star City made for a pleasant surprise. Not to mention that his presence also made the flashbacks at least somewhat bearable for a change.
407 — "Brotherhood"
Diggle discovered his brother was alive; Ray returned as a temporary part of the team; and Thea was somehow immune to Darhk's magical powers used to drain someone's lifeforce. Instead, it helped to take away her bloodlust — a story arc that I'm still not sure is completely over with yet.
408 — "Legends of Yesterday"
Any crossover episode is an absolute must-see, especially when it involves time-travel and Oliver finally learning about his illegitimate son, William.
409 — "Dark Waters"
This one will really take you on a roller coaster ride of emotions. Moments after Oliver proposes to Felicity (she said yes!), their limo is attacked by Darhk's henchmen and results in Felicity's fate hanging in the air.
416 — "Broken Hearts"
It may have been a staged wedding meant to lure Cupid out into the open, but it may be the only Olicity wedding we ever get, so we might as well cherish it. Plus, Oliver's vows were downright gut-wrenching.
418 — "Eleven-Fifty-Nine"
If you're in need of a good cry, nothing will send those tear ducts into overdrive quite like the episode of Laurel's death. The Black Canary was the one in that flash forward grave and the goodbye is almost too much to bear.
420 — "Genesis"
If nothing else, this episode gave us the precious gift of seeing Diggle's adorable daughter, Sara, in a backpack on a motorcycle. We are truly blessed.
So hurry up, Netflix! Arrow fans have got some serious marathoning to do.
Images: Bettina Strauss, Dean Buscher, Diyah Pera (3), Cate Cameron (2), Katie Yu/The CW (2)