The X-Men Movies Might Be Heading Towards An End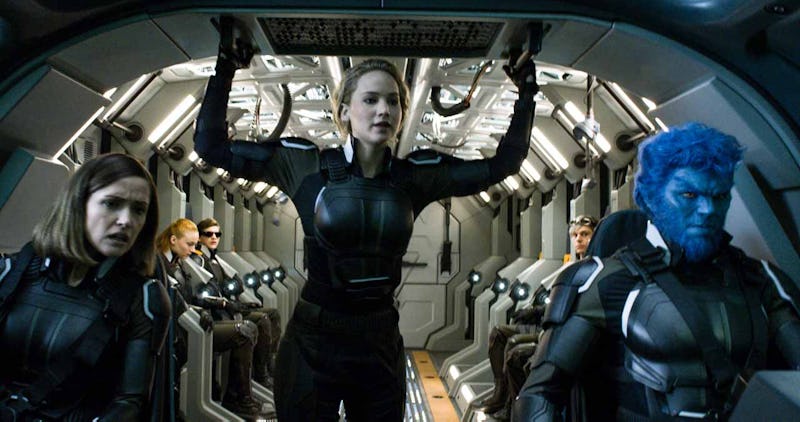 At the rate that superhero movies are being made these days, it's hard to imagine that any major franchise could come to an end anytime soon. It goes without saying that the Avengers will be fighting for years to come, and that Batman and Superman haven't worked out their issues just yet — but what about the X-Men? Although the mutant group has been around forever, there's reason to think that X-Men: Apocalypse could be the last X-Men movie. It might be difficult to fathom, but the beloved series might not be around forever.
Before you Wolverine fans start freaking out, let me explain. Currently, there are no plans to end the franchise for good, and considering that even the less-successful X-Men movies still make a huge amount of money, it's highly unlikely that Fox would choose to end the series anytime soon. Yet it is possible that the next X-Men movie will feel like a total reboot, thanks to the fact that many of the current cast members, like Jennifer Lawrence and Michael Fassbender, have expressed their hesitation to continue playing their iconic roles. In May, Lawrence, whose three-movie deal with Fox expires after Apocalypse , told Entertainment Weekly that she's unsure about taking on another movie, saying that it'd depend on what her fellow cast members decide to do.
"Fassbender and [James] McAvoy and I were all talking," Lawrence told EW. "Like, 'Will you come back?' 'I dunno.' 'I'll come back, if you come back.' Fox should be terrified because the deal we made was like if one of us doesn't come back, none of us are."
Lawrence added, though, that she's not against the idea of returning to the franchise, adding that she'd "love to come back" to the X-Men series. Said the actor, "I love the fans and I love the character. But then you realize how important your year is, like how important three months out of your year is. I don't know. I shouldn't be that honest."
If Lawrence and her co-stars do decide not to return, it'd mean a huge change to the X-Men franchise. Losing Lawrence, Fassbender, McAvoy and Nicholas Hoult, all of whom have expiring contracts, would mean the loss of many of the series' central characters. In order to continue with the franchise, the filmmakers would need to position any new X-Men movies as total reboots or majorly-disconnected sequels, because without the main characters fans have come to know and love, any actual X-Men sequel to Apocalypse would seem pretty strange.
Which is likely why Apocalypse places such a heavy focus on the new, younger class of mutants, such as Sophie Turner's Jean Grey and Tye Sheridan's Cyclops. These characters could, theoretically, continue the X-Men franchise even if Lawrence and the others are out of the picture, as their stories are different and exciting enough to lead new movies. It's unclear as of yet what the future is for that new crop of X-Men, but it's clear that there will be material for them to work with; in a recent interview with ComingSoon, producer Simon Kinberg revealed that there will be another X-Men movie, set in the 1990s. He also told EW that he'd be interested in having that film explore Dark Phoenix, aka Turner's character's villainous side.
That'd certainly be exciting to see, but nothing is currently set in stone. However, if Apocalypse does well at the box office (and it's very unlikely it won't), then another X-Men movie — if not several — exploring storylines like that could certainly be on the way.
Images: Fox