'Supernatural' Isn't The Only CW Show On Netflix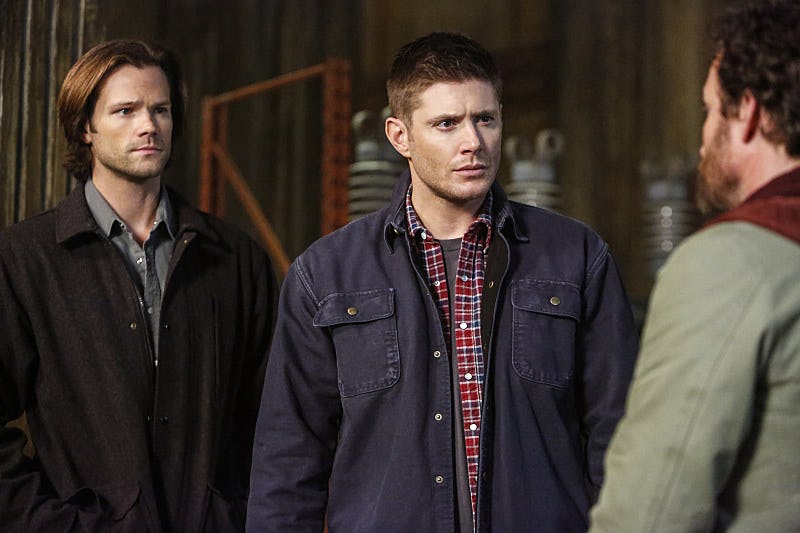 If you're looking for a nice, long marathon, you'd be hard-pressed to find a better series to curl up with than Supernatural. The series will wrap up Season 11 — yes, that's double digits — on Wednesday, May 25, and all 10 previous seasons are already available on Netflix for your streaming pleasure. Now all we need to know is when Season 11 of Supernatural will be on Netflix, and we'll really have an epic marathon on our hands. Update: Netflix has announced that Supernatural Season 11 will begin streaming on Oct. 7.
Earlier: No official date has been announced for Supernatural Season 11's launch on Netflix just yet. The streaming platform tends to make the titles that are coming and going known about a week before the new month begins anyway, and there's no mention of the show on the most recent list of titles for June 2016 released this week.
However, we do know that Season 10 arrived on Netflix on Oct. 7, 2015, according to the streaming service's announcement of new arrivals for that month, as reported by The Hollywood Reporter. In fact, the most recent seasons of a bunch of The CW's shows came to Netflix that month, including Arrow, Jane the Virgin, and The Vampire Diaries. Oct. 7, 2015 also just so happened to be the date that Season 11 of Supernatural premiered on The CW, according to TV Guide.
So it seems likely that Season 11 of Supernatural will be on Netflix around the time Season 12 of the show premieres in Fall 2016, as it's slated to do so, according to The CW's primetime schedule for the upcoming TV season revealed during the network's upfront presentation in New York last week, as reported by Deadline. That probably means you'll be able to add it to your queue in September or October 2016.
If you somehow finish watching all 10 seasons of Supernatural already available on Netflix before then, I first say to you well done, because there are an intimidating number of episodes in those 10 seasons (218, to be exact). And then I'll tell you not to fret when you've powered through them, because there are plenty more CW series to stream on Netflix while you wait for the latest season of Supernatural to become available. Sure, they've all got a different flavor to them, but they've also all got something that any fan of The CW's programming would enjoy.
Gilmore Girls
Admit it, half of the reason you watch Supernatural is Jared Padalecki, who plays Sam Winchester on the show. (The other half is to see Jensen Ackles as Dean Winchester, duh.) So of course you need to see that other big TV series Padalecki starred in: Gilmore Girls, which aired on The WB from 2000 to 2006 and then The CW from 2006 to 2007. Padalecki has already been confirmed to reprise his role as Dean Forester in Gilmore Girls' revival series, Variety reported in February, so you better get cracking on the original show, stat.
The Originals
Also featuring supernatural beings is The Vampire Diaries spinoff The Originals, which currently has two full seasons for you to peruse on Netflix. The CW also renewed the series for Season 4, Deadline reported in March, although it is not currently on the network's Fall 2016 primetime schedule. Like The Vampire Diaries, The Originals has more of a soap opera slant to it than Supernatural as it revolves around a family of vampires trying to reign supreme in present-day New Orleans, but a little drama mixed in with some action never hurt nobody.
The Flash
If it's good guys versus bad guys that you want, that is exactly what you'll get with The Flash, whose much-buzzed-about first season is currently on Netflix and who will be returning for Season 3 on The CW in the fall, according to Deadline. The Flash has pretty much everything you could want out of a TV show whose source material is a classic comic book series, from the good-looking hero to the gasp-worthy fight scenes to the cheese. Supernatural fans should appreciate all of that as well.
The 100
But Supernatural gets pretty dark too, and so does The 100, which details 100 space station residents' exploration of Earth after a nuclear apocalypse. There are two seasons of The 100 to stream on Netflix right now, and the show got the OK from The CW for a Season 4, according to that aforementioned Deadline report. However, it has also been left off of the network's Fall 2016 schedule, so who knows if it will have the lasting power that Supernatural has had?
iZombie
iZombie's Olivia Moore (Rose McIver) is probably the most beautiful zombie ever, way better looking than the ghouls you'll see on Supernatural. But, you know, the show is still pretty gross since she's a zombie who eats brains and all. Also like Supernatural, iZombie has an eerie heroic vibe to it as the series follows Liv during her crime-solving shenanigans. You can catch up on Season 1 of iZombie on Netflix now in preparation for when it returns to The CW for Season 3 sometime after the network's fall season, Deadline reported.
Jane The Virgin
On paper, Jane the Virgin may seem to differ the most from Supernatural. However, there's a mysterious element to both shows that viewers will be able to enjoy. Season 1 of the romantic dramedy is available to stream on Netflix now, and the show will be returning for a second season in Fall 2016, according to Deadline. Believe me, you're going to want to see every second of this show in order to be able to follow all of its twists and turns.
But if none of these series are your thing, Supernatural Season 11 will be on Netflix soon enough.
Images: Bettina Strauss/The CW; Giphy (6)