'Showing Roots' Is Rooted In A Classic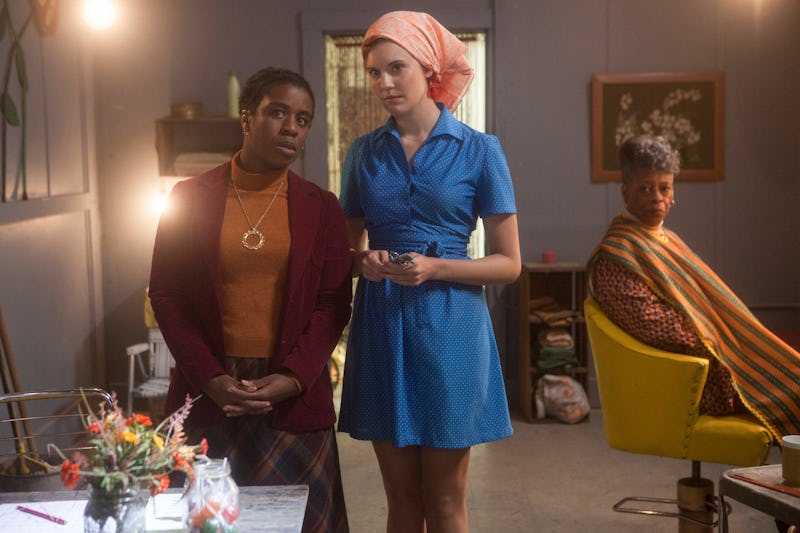 As History gets ready to kick off the highly anticipated remake of the classic 1977 miniseries Roots, Lifetime is going to explore the impact of the original. Showing Roots premieres Thursday, May 26 at 10 p.m. ET, and this movie sure looks like it's going to be heartwarming. But since many movies that air on Lifetime are based on actual events, is Showing Roots a true story as well?
This movie is very much rooted in reality. Susan Batten, who's known for her work on the soap One Life to Live, wrote the screenplay for Showing Roots based on the transformation her hometown of Clayton, North Carolina experienced after the original Roots miniseries captivated the country in 1977. "Everything in town came to a stop as we watched the series," she recently told CTPost . "After 'Roots,' it changed how everyone looked at the folks on the other side of the railroad tracks, where whites lived on one side and blacks on the other and we didn't intermingle at all."
Showing Roots follows two beauty parlor co-workers played by Uzo Aduba and Maggie Grace who strike up a friendship and decide to integrate their small Southern town through the power of hair after they are inspired by the original broadcast of Roots in 1977. And it turns out there was a hair connection in real life, too. Batten also told CTPost that she noticed some African American women in her town took off their wigs and decided to show off their natural hair after Roots aired.
Roots also had real-live impact beyond just Clayton, North Carolina, of course. For one thing, it was seen by more Americans than almost anything else on TV up to that point. Roots scored higher ratings than any previous entertainment program in history, according to the Museum of Broadcast Communications.
That's huge all on its own, but it's even more monumental when you think about the fact that the majority of the cast of Roots was African American, a group of people that hadn't really been able to attain representation of that magnitude on screen up to that point.
Roots also brought the history of slavery literally into people's living rooms like never before, as was also the case in Batten's hometown. "I grew up going to a beauty parlor and Roots changed my worldview, and my whole town," she told Deadline in January. "Nobody [ever] really taught us about slavery history, or if they did it was extremely brief. It changed my generation."
Another very real and very cool connection to Roots is the fact that Showing Roots stars legendary actress Cicely Tyson, who also starred as Kunta Kinte's mother in the original miniseries.
Of course, all of this only scratches the surface of the real impact of Roots on America. You'll find many critical essays and books on the topic if you want to learn more, which you should. But as you can see, there's nothing like watching the original in its entirety.
Image: Joshua Stringer/Lifetime