The 'Property Brothers' Best Home Hacks & Tips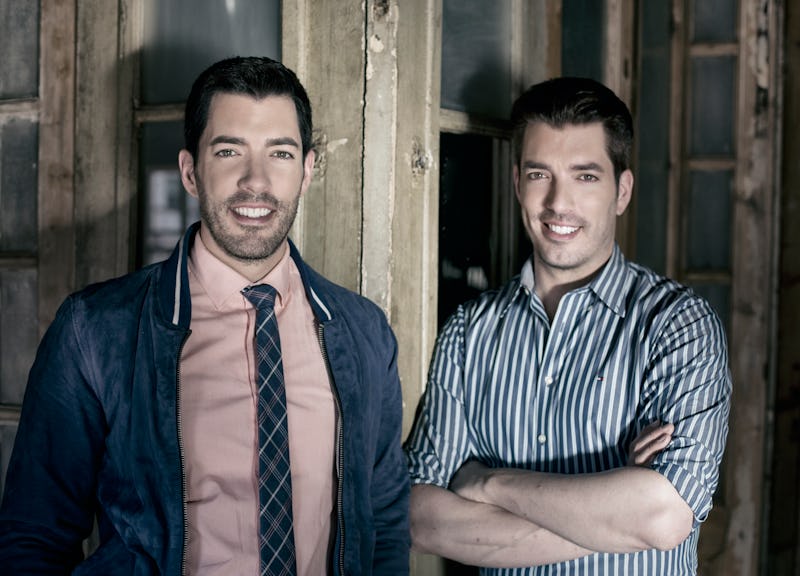 Anyone who's watched HGTV — or, basically, anything on TV at this point — has likely heard of and fallen in love with Jonathan and Drew Scott of Property Brothers, Property Brothers At Home, Buying & Selling, and Brother Vs. Brother (say that 5x fast). Even when I lived in a small one-bedroom apartment as a young twenty-something I would marathon episodes of Property Brothers and take notes on how to buy and fix up my dream home. Did it matter that I didn't even own a toolbox? Of course not. I just knew that the Scott brothers were onto something with their real estate and home design savvy. The fact that they were good looking and had killer personalities had almost nothing to do with it.
When my husband and I bought our first place in the suburbs (talk about feeling OLD fast) I knew all those years of binge-watching our favorite twins would finally come in handy. Lucky for us, Jonathan & Drew's new book — Dream Home: The Property Brothers' Ultimate Guide to Finding & Fixing Your Perfect House — also came out just in time for us to soak up those new homeowner tips and tricks. Soon enough I began seeing Jonathan & Drew everywhere. From The Today Show, to Vine, and even taking on Broadway, the brothers were basically popping up all over the place.
That's when Bustle decided to contact Jonathan & Drew Scott to see what other words of wisdom they had and to hear more about their newest show, Brother Vs. Brother. On Tuesday, May 31, the Scott brothers took over the "Home Hacks" stream in the Bustle app to tell readers exactly how to get the home of the dreams, regardless of whether they were living in an apartment or a home in the 'burbs, and to play an epic game of "Brother Vs. Brother." Be sure to download the Bustle App to see ALL the tips yourself.
Here are highlights from Jonathan and Drew Scott's takeover:
Love Is A Touchy Subject
Fun fact: Jonathan actually turned down an offer to be on ABC's The Bachelorette a few years ago because he "couldn't imagine dating 25 women at the same time," an activity that Jonathan thought he'd find "too overwhelming." But that doesn't stop the marriage proposals from coming. "Sometimes Jonathan gets a marriage proposal on Twitter," Drew says, "and the person will throw in, 'but I'll take Drew too!' It's the weirdest thing."
How To Make Your Place Look Bigger
Yes, you can make your apartment look bigger than it really is. "Add a pop of color and some cool shelving to move things off the ground," Jonathan says. "Switch out bulky furniture with multifunctional, properly sized pieces. For example, your coffee table and ottoman can double as storage units."
Color Is Everything
"Give a room a breath of fresh air by repainting with a brighter color," Drew says. "And make use of any natural light by replacing heavy drapes with lightweight panels that let in the sunshine but can still offer privacy."
Don't Forget About The Art
"When hanging wall art, the layout and spacing is art in itself," Jonathan says. Creating your own gallery wall is one way to make a big statement. Jonathan's two rules of thumb: "1) Leave two inches between frames no matter what your formation, & 2) Make sure the proportion of artwork to wall is balanced. Artwork that is too small makes your wall look sad!"
Use Professionals When You Really Need It
"That's the biggest mistake people make in their homes," Jonathan says. "We love when people want to tackle projects, but when it comes to things like electrical, plumbing, anything structural… leave it to the pros!"
Make Sure Your Home Works For You
"It's important that your home is living up to your lifestyle standards," Drew says. "It's supposed to make your life easier and more enjoyable. If you only have the time and money to update just one or two rooms, go with the kitchen and master bedrooms since these are where you likely spend most of your time."
#BROvsBRO Is Going To Be Insane
"This season of Brother Vs. Brother is twice as epic, twice as funny, and twice as competitive," says Jonathan. "We had an incredible time and it will definitely show," adds Drew. "We really went all out and played with the advantage of being in our home city of Vegas, so expect all the things you know the Sin City for. We can't wait for you all to see it!"
Season 4 of HGTV's Brother Vs. Brother premieres June 1, 9p/8c.
Check out the "Home Hacks" stream in the Bustle app to see the Property Brothers' takeover in its entirety and get up-to-the-minute updates on absolutely everything you care about.
Images: Dennys Ilic ; Giphy; Liz Minch/Bustle