Stop Morning Body Acne With 8 Nighttime Habits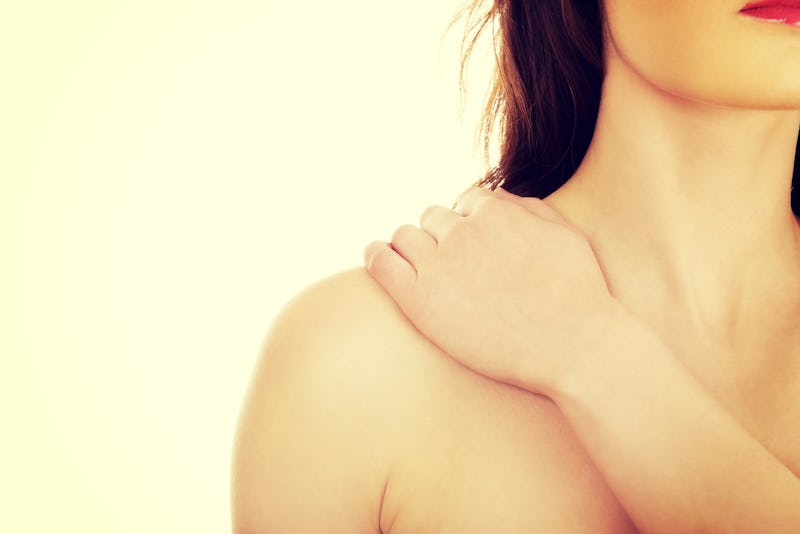 When it comes to sleep, I'm pretty much its number one fan. That's why I feel particularly betrayed when I wake up with back acne and chest breakouts, when just the night before, I went to sleep with clear, healthy-looking skin. But knowing how to treat back and body acne (especially if you're usually surprised by it come morning), all starts with your overnight sleeping habits.
Sleep can be one of the best things for your body and mind, but adopting good sleeping habits for better skin overnight is crucial. While a full night of relaxing rest can help with rejuvenation, cell turnover, proper oil production, and a decrease in inflammation, tossing and turning can lead to a huge increase of stress hormones in the body (like cortisol), which severely worsens swelling, acne, and breakouts.
Your first step to reducing body acne breakouts is making sure that you're getting a lot of quality sleep, every night. This includes making sure that your bed is comfortable, your environment is void of allergens and irritants, your mind is relaxed and stress-free, and your breathing is deep and even. The second step, then, is making sure that the beauty regiment you keep isn't contributing to your breakouts and body acne. Not sure where to start? No worries — here are some of the best ways for waking up without chest and back acne.
Exfoliate Chest & Back Weekly To Buff Away Dead Skin
Soothing Lavender Organic Exfoliating Body Scrub, $23, Amazon
As Dr. Omar Torres, M.D. told The Today Show, exfoliating once a week before bed helps to clear clogged pores that could be contributing to your chest and back breakouts. This organic lavender body scrub makes an awesome nighttime exfoliator because it contains only organic and natural ingredients like mineral-rich and fine grain Dead Sea salt, aloe vera, jojoba oil, and argan oil. It also has loads of lavender essential oil, which has been scientifically proven to ease anxiety and help you get a better night's rest. It's so hydrating and healing that some say it's the only skincare solution they use, and it smells absolutely incredible — no wonder this one's got a five-star rating.
Find A More Natural Solution With Retinol
OZNaturals Retinol Moisturizer Night Cream, $27, Amazon
Dermatologist Candace Spann, M.D. told The Today Show, "Retinol will encourage overnight cell turnover of the skin's outer layer, while also thickening the middle layer of skin over time," but because skin is extra-sensitive during the night, it's imperative to make sure all the other ingredients are healthy. This OZNaturals retinol moisturizer night cream contains retinol, but it also has things like aloe vera, shea butter, vitamin E, sweet almond oil, green tea, and jojoba oil to nourish and moisturize skin while it clears away any acne. Reviewers say it "far surpasses" any other retinol solution they've used, and because it's non-greasy and skin looks glowing by morning, it's a great addition to any nighttime skincare regiment.
Reduce Stress Before Bed To Balance Oil Production
Sleep Solutions, $8, Amazon
Stress has a huge effect on the overall look and feel of your skin, and if you're bringing your problems and anxieties to bed with you, your skin could respond by producing much more oil than it needs to, which leads to back and chest breakouts. Sleep Solutions is a series of extra-relaxing before-bed sleep meditations that help you to fall asleep and stay asleep, all while reducing your stress levels during the night. It contains four tracks of varying lengths that help you to clear your mind and relax your breathing, and reviewers say that narrator Roberta Shapiro's voice is unbelievably soothing and the calming background music "works magic."
(Psst! Check out this track on Amazon Prime music now on a free 30-day trial.)
Evenly Distribute Your Body's Natural Oils With Silk
Bliss Silk Pillowcase, $34, Amazon
Your body is supposed to produce natural oils, but when the oil isn't able to circulate properly (which often happens with cotton sheets), your pores become clogged and acne ensues. This Bliss silk pillowcase is made from 100 percent pure and natural mulberry silk, which really helps the overall look and feel of your skin and hair because it evenly distributes your body's oils. It's naturally hypoallergenic and resistant to dust mites, and it can be washed in your machine on a delicate setting. While it's especially great for reducing breakouts on your face, chest, and back, reviewers say it also helped an unbelievable amount with their sleep schedule because it's just that comfortable and soothing.
Exfoliate And Unclog Pores With A Dry Brush
GranNaturals Dry Skin and Body Brush, $13, Amazon
Dry brushing before bed is a great habit to get into because it not only increases circulation, improves lymphatic flow, and melts away stress, but it really helps decrease body acne because it unclogs pores and exfoliates dead skin cells. This GranNaturals body brush has a long wooden handle, natural bristles, and comes double-sided with tiny stimulators for a massaging effect. Reviewers say it's both sturdy and soft, and it's an awesome way to break into the art of dry brushing.
Keep Skin Hydrated While You Sleep With A Humidifier
Cool Mist Air Humidifier, $30, Amazon
If the air in your bedroom is dry, your skin can tell, and your body attempts to moisturize it by producing more oil than it really needs. A great cool mist air humidifier can make all the difference because it not only keeps your skin hydrated and healthy during the night, but because the mist isn't hot, it won't leave pores wide open and susceptible to dirt and bacteria. This one's a number one best seller because it can last up to eight hours, can be used alongside essential oils for aromatherapy, has four different auto-timer settings, it purifies the air as well as hydrates it, and it has seven different LED light colors that can be used as an awesome nightlight. Reviewers love how relaxing it is, as well as how much it helps with their skin, hair, and breathing.
Get Rid Of Dust Mites In Your Mattress
Dust Mite Mattress Spray, $15, Amazon
Dust mites are another common allergen you'll find in your bed; they feed on skin particles, and produce waste that can cause breakouts and irritated reactions. This dust mite mattress spray is an all-natural solution to those pesky dust mites. It contains a blend of essential oils like clove and cinnamon, and because it works without any toxins or harmful chemicals, your sensitive skin will definitely thank you. It comes in a convenient spray bottle for use on your mattress (or anywhere else), and people say it smells heavenly.
Use A Hypoallergenic Detergent That Won't Cause Body Breakouts
Green Virgin Soap Nuts, $25, Amazon
You might think the breakouts on your chest and back are acne, but there's a good chance they could be the result of an allergic reaction to the detergent you use on your sheets. Most detergents are filled with irritating allergens, but these Green Virgin soap nuts use an entirely naturally-occurring cleansing agent from the Chinese soap berry tree. When placed in water, they release a hypoallergenic solution that thoroughly cleans and deodorizes your sheets and pillowcases (or clothes), without residue and without chemicals. Each batch can be used several times, and because they're eco-friendly, come with two wash bags, and work wonderfully for sensitive skin, you'll get way more out of these than just clearer skin.
Bustle may receive a portion of sales from products purchased from this article, which was created independently from Bustle's editorial and sales departments.
Images: Fotolia (1); Amazon (8)