8 Tricks For Handling Dried-Out, Acne-Prone Skin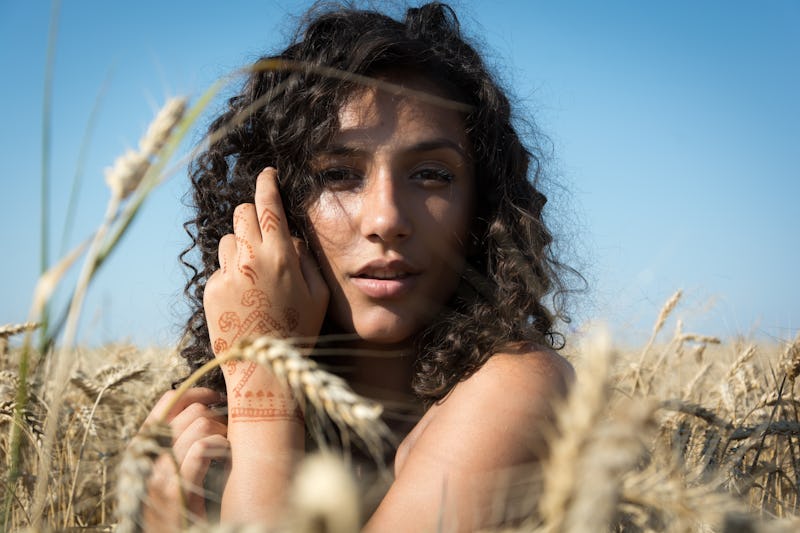 The combination of acne and dry skin seems like it might be some kind of ridiculously unfair oxymoron, but tons of people suffer from both simultaneously. More often than not, not knowing how to handle acne and dry skin at the same time could lead to dry skin that cracks and flakes, so when you're no longer dealing with breakouts and blemishes, you've got another problem on your hand.
When it came to knowing what to do when you have acne and dry skin, dermatologist Dr. Jessica Weiser of New York Dermatology Group was more than willing to offer some insight on this contradictory conundrum. As always, she was really holistic in her approach, which is something I definitely appreciate. She suggested a few healthy lifestyle habits for handling dry, acne-prone skin: "Avoiding processed/refined foods, limit dairy intake and choose products that are hormone-free and antibiotic-free, and eat antioxidant and anti-inflammatory rich foods to encourage healing and relieve redness and irritation."
The next step to clearing up acne without drying out skin, she told me, was being really careful when it comes to the types of ingredients you're using. "Product choice is one of the key contributors to dry skin," Dr. Weiser says. "Acne-fighting cleansers, creams, and spot treatments can all over-dry the surface of the skin by stripping it of healthy essential oils and simultaneously causing an irritant contact reaction." If you're suffering from both acne and dry skin at the same time, but you're not sure where to start, here are a few of her best tips and tricks.
Cutting Out All The Oil Can Actually Worsen Skin
Feather-Weight Organic Facial Moisturizer , $21, Amazon
Loads of acne products boast that they're "oil-free," but according to Dr. Weiser, that's not necessarily a good thing. "One of the biggest mistakes in acne treatment is over-drying the skin. Dry skin surface can trigger compensatory excess oil gland activity which in turn can worsen acne," she says. This organic facial moisturizer contains sulfur, which is one of Dr. Weiser's top suggestions (as it's anti-inflammatory and antibacterial), but it also has tons of those good oils that won't clog pores, like jojoba, olive, lemon peel, and neem oil. Since it's lightweight, promotes collagen growth, is made in small high-quality batches, and smells so wonderful, it's the go-to moisturizer for tons of people with sensitive and acne-prone skin.
Tone, Hydrate, And Soothe With Rose Water
Organic Rose Water Toner , $15, Amazon
According to Dr. Weiser, rose water is an awesome option for those with acne because it's "hydrating, soothing, and anti-inflammatory," but entirely natural, so it won't irritate skin further. This organic rose water toner has only one ingredient — 100 percent pure and organic Lebanese rose water, which is steam distilled from natural rose petals. Because it restores and balances pH levels and is high in vitamins and minerals, it's one of the best options for agitated skin, and this one comes in a convenient spray bottle for easy and even application anywhere on the body.
Heal And Control Oil Production With A Clay Mask
Liquid French Green Clay Facial Mask with Probiotics , $20, Amazon
"Clay [is both healing and moisturizing], because it's soothing, but reduces oil gland production," Dr. Weiser says. This green clay facial mask with probiotics has nurturing ingredients like kaolin, willow bark extract, French green clay, witch hazel, and green tea, but here's the coolest part — it's got radish root ferment filtrate and sea kelp bioferment that work as topical probiotics, replenishing your skin's natural army of flora that helps to keep skin clear, balanced, and healthy. It's super effective and moisturizing for problematic pores, has a neutral smell, goes on smooth, and a little goes a very long way.
Don't Go Oil-Free; Just Choose Your Oils Carefully
Nourish Organic Face Serum , $17, Amazon
Dr. Weiser says, "It is important to avoid oils with waxy consistencies as these can clog pores, but many light liquid oils (eg. rose hip oil, argan oil, etc.) can heal and hydrate skin effectively without triggering acne." This Nourish Organic face serum contains both argan and rose hip oil, both of which are natural and organic, as well as other healthy oils like jojoba and sweet orange. One reviewer with particularly dry skin said, "My skin just soaks this stuff up and remains moist and supple all day long," and one or two pumps applied to a wet face is all you need to keep your skin smooth and glowing until nighttime. It also won't react negatively underneath makeup, and it smells absolutely lovely.
Pick A Soap With Healing Ingredients, Like Tea Tree
Certified Organic Tea Tree Oil Soap , $11, Amazon
It's important to choose a soap that's not going to dry out your skin even more, as certain ingredients and chemicals in everyday soaps strip all the natural oils from your skin. "Tea tree has anti-inflammatory and antimicrobial properties, and it's also very hydrating," said Dr. Weiser. This certified organic tea tree oil soap contains hydrating and soothing ingredients like coconut oil, lemongrass, neem, and patchouli, but it's best ingredient is tea tree, which is super tough on breakouts, rashes, acne, and bacterial infections, all while remaining extra gentle on skin. Reviewers love that it lathers well and smells great, and best of all, leaves skin feeling moisturized and smooth.
Green Tea Is A Great Natural Remedy To Moisturize Skin
Innisfree The Green Tea Seed Serum , $25, Amazon
When I asked Dr. Weiser which natural ingredients were wonderful on acne-dried skin, she said "green tea!" This Innisfree green tea seed serum contains 100 percent pure green tea seed oil, which works as a great moisturizer and anti-inflammatory that won't clog pores. It's loaded with nourishment and antioxidants, and it creates a strong moisture barrier on the surface of your skin to keep all that essential hydration in. One reviewer said she saw a "noticeable difference after one night." Best of all, because it's only one ingredient, it contains no additives or fragrances, and according to Dr. Weiser, "Products rich in fragrance can trigger irritation, so it is important to use mild remedies."
Be Careful With Your Retinol Products
Organic Retinol Face Cream Moisturizer , $20, Amazon
"Retinol is a vitamin A derivative that diminishes oil gland production, improves cell turnover and renewal, and prompts collagen stimulation," Dr. Weiser says, but too much of it can be really irritating. This gentle organic retinol moisturizer contains enough retinol to be effective, but counteracts the dryness with moisturizing and healing ingredients like aloe vera, sunflower oil, vitamin E, wild-crafted green tea, shea butter, and jojoba oil."It is crucial to use topical retinoids carefully because incorrect use can often result in redness and flaking of skin. Make sure to apply only a pea-sized quantity to dry skin (wait at least 10-15 minutes after washing), and follow with a hydrating lotion or lightweight oil." One reviewer says of this formula, "As a seasoned Retin-A user, I am excited to finally find a natural and organic moisturizer that has a sufficient percentage of Retinol without all the other harsh and toxic chemicals."
Use Gotu Kola To Clear Up Acne Without Over-Drying
Acure Gotu Kola Stem Cell Day Cream , $13, Amazon
Gotu Kola is a small herbaceous plant that's native to Asia, and Dr. Weiser says it's a great natural remedy to clear up acne without over-drying or irritation. This Acure Gotu Kola stem cell day cream takes stem cells from the plant itself, but also contains tons of organic and fair trade ingredients like açai berry, rosehip, pomegranate, chamomile, rooibos, and aloe vera. Because it feeds and restores cells and contains no chemicals or parabens, it's a great option for glowing, moisturized skin without a waxy coating or greasy residue. One particularly happy user said, "This cream is incredible, and THAT, my friends, is an understatement."
Bustle may receive a portion of sales from products purchased from this article, which was created independently from Bustle's editorial and sales departments.
Images: Larisa Birta/Unsplash; Amazon (8)