'Girl Meets World's New Credits Suggest Changes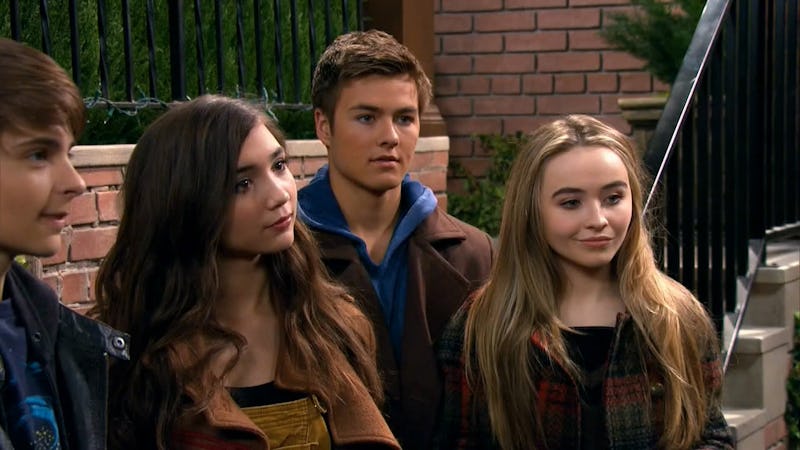 The Girl Meets World gang aren't kids anymore. Disney Channel's Boy Meets World spinoff stars Cory and Topanga's daughter Riley as the titular "girl," but now, Riley is more of a teen meeting the world than a girl. After two seasons navigating middle school with her BFF Maya, her crush Lucas, and the bizarre boy genius that is Farkle, the crew is ready to graduate and move up to the big leagues. Girl Meets World 's Season 3 premiere airs on June 3, and when it does, Riley and her friends will be official high school students. We've been here before: Boy Meets World also made a transition from middle school-set sitcom to a high school show, and if we learned anything from Girl Meets World's predecessor, the series might age up along with the characters.
Girl Meets World may be a kid-friendly sitcom, but it does tackle heavier subjects. The early seasons of Boy Meets World weren't always light fare either — there's a very powerful episode about the dangers of prejudice that is tied in with the Diary Of Anne Frank, for example. However, there's definitely a larger range in the topics that a show set in high school can cover, and it would be smart for Girl Meets World to use Riley's impending adulthood as a reason to tackle even tougher subjects.
Boy Meets World's high school years weren't afraid to show the darker side of growing up. In the episode "Chick Like Me," Shawn dresses up like a woman in order to see the world through the perspective of his female peers — and realizes that women are often subjected to unwanted sexual advances. In another episode, Cory learns that Shawn's friend is being physically abused by her father. Oh, and then there's the episode in which Shawn joins a cult in order to cope with his feelings of abandonment. Stuff gets just a little bit heavier in high school.
Considering Girl Meets World has already proved that it is willing to tackle subjects that many other sitcoms geared towards children and tweens won't, here's hoping that Girl Meets World grows up alongside its characters, just as Boy Meets World did.
Image: Disney Channel