'The Space Between Us' Is A Unique Love Story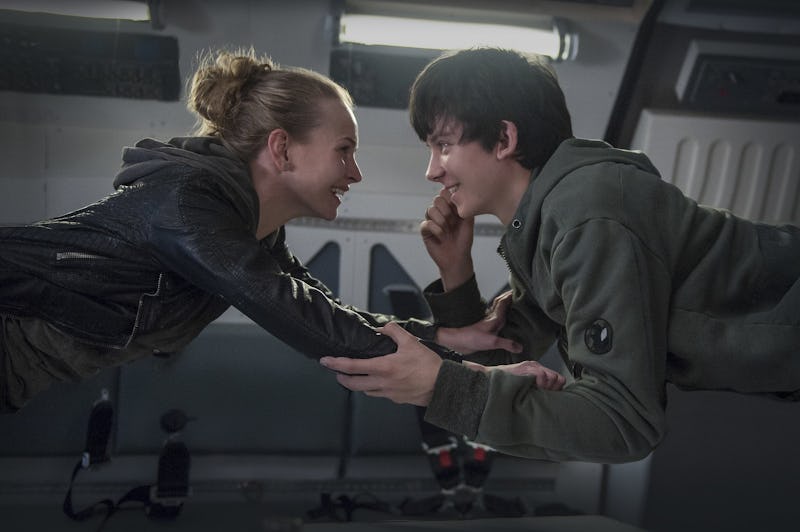 Brace yourselves, earthlings, because the trailer for The Space Between Us is here, and this unique love story is going to knock you off your gravity-centered feet. Not all the force in the world will be enough to keep you standing after you watch the preview for this incredible love story. The Space Between Us follows the first human to be born on Mars as he grows up in zero gravity and then is eventually brought to Earth for further testing. But this isn't The Martian with a little more gravitas. Instead, this movie is an equal mix of space adventure and romance, and there is one moment in particular that makes me think The Space Between Us is going to be one of the most unique love stories ever told.
It's a moment that the trailer almost glosses over entirely. Blink and you'll miss the line that could prove this story to be a complicated one. It comes about halfway through, when the people around Gardner, a boy who has spent his entire life on Mars, are wondering whether his body is strong enough to handle Earth's gravitational pull. Speaking candidly, Gardner admits, "I'm raised by scientists."
It's a passing comment, but one that you and I both know is going to play a big role in how this romantic story is told. Will he be too practical for his own good? Will he end up rationalizing away his feelings? The question becomes not only how being raised on another planet has affected Gardner's physical well-being, but how being raised in what is essentially a science lab has affected him emotionally.
But the uniqueness of this story is offset wonderfully by how traditional a love story it actually is. With Gardner literally being from another world, the love that he feels for Tulsa, a girl he communicates with from another planet at first, is strictly forbidden. Especially since scientists have told Gardner his entire life that, because he was born in and has spent his entire life in zero gravity, his heart and his body can not handle earth's pull. Mixing those more typical romantic elements in with the uniqueness of this story make this movie's premise all the more original.
With elements of both original and traditional romantic storylines, this movie looks like one with a lot of promise. The kind of promise that is going to bring me back to the theater time and time again to see this one.
Image: STX Entertainment