How To Go For A Swim With A Spray Tan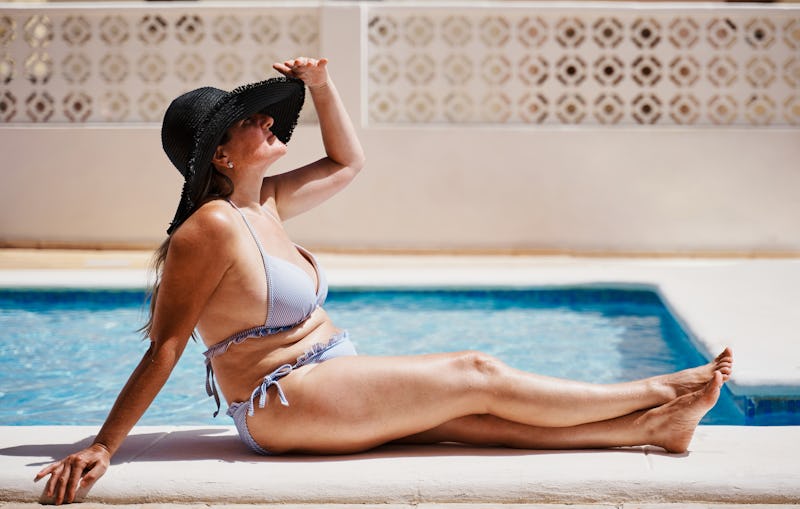 RUBEN BONILLA GONZALO/Moment/Getty Images
Uh oh. You just got a gorgeous, glistening spray tan but now it's time to hit the beach. If you're worried your spray tan will come out a streaky, orange mess after taking a dip, fear not. I spoke with an expert to find out if you can you swim with a spray tan. The answer is yes...if you're careful.
If you're the safe sun type (and I hope you are), then you've likely experimented with spray tanning. Spray tans are an easy, safe alternative to tanning beds, and definitely a healthier alternative to rubbing yourself with baby oil and spending hours in direct sunlight. However, sunless tanning requires some upkeep, which is necessary to help it stay on through sweaty gym sessions and yes, sunny pool days.
"You can swim with a spray tan, but chlorine does have lightening properties and strips away skin cells which will break down your tan more quickly," says Alyssa Hilliard, aesthetician and tanning expert from VersaSpa and Mystic Tan. "To make your tan last longer you need to moisturize and re-apply self-tanner more frequently. If you are swimming in the ocean the same rules apply because salt water will dry out your skin and cause your tan to fade more quickly."
As if we needed another reason to stay moisturized! The moral of the story, ladies and gents: Along with proper exfoliation before your spray tan for even coverage, consistently applying moisturizer can help protect and extend your tan.
Below are some of my favorite hydrating self-tanners to keep you glowy and bronzed all summer long.
Versa Gradual Tanning Spa Butter, $40, Versa Spa
Hilliard suggests looking for products like this, with ingredients to enhance collagen and skin elasticity to improve moisture retention.
Barlean's Organic Oils Extra Virgin Coconut Oil, $14, Amazon
Good old fashioned coconut oil is a great moisturizer for extending and protecting your tan. But when it comes to natural solutions, stay away from citrus-based products — the citric acid will strip away color.
The Body Shop Aloe Vera Body Butter Moisturizer, $21, The Body Shop
After exfoliating, let your skin soak in this heavy duty moisturizer. Your tan can easily become patchy around your knees and elbows, so apply extra there!
St. Tropez Tanning Essentials Self Tan Untinted Classic Bronzing Mousse, $42, Amazon
A self-tanner can boost your glow in between sessions at the spray tan salon, and compensate for what sweat, sun and chlorine takes off.
Want more fashion and beauty tips? Check out the video below and subscribe to Bustle on YouTube!
Jergens Natural Glow & Protect Daily Moisturizer (3 pack), $10, Amazon
Staying hydrated is important, but also protect yourself from a burn with moisturizers with built-in SPF.
Palmer's Sunless Tanner & Instant Bronzer (2 Pack), $19, Soap
Vitamin E is the best ingredient for protecting your skin against the sun — this super ingredient neutralizes damaging free radicals from sun exposure while packing enough moisturizer to minimize skin damage after exposure.
Johnsons Baby Powder (Pack of 3), $10, Amazon
Pack baby powder in your beach bag and apply to soak up extra sweat (and run off spray tan) in sticky areas like the backs of your knees, cleavage, and lower back. The powder will keep you dry and your color in place!
Image: RUBEN BONILLA GONZALO/Moment/Getty Images; Courtesy of Brands