Here's How To Fix Your Spray Tan Streaks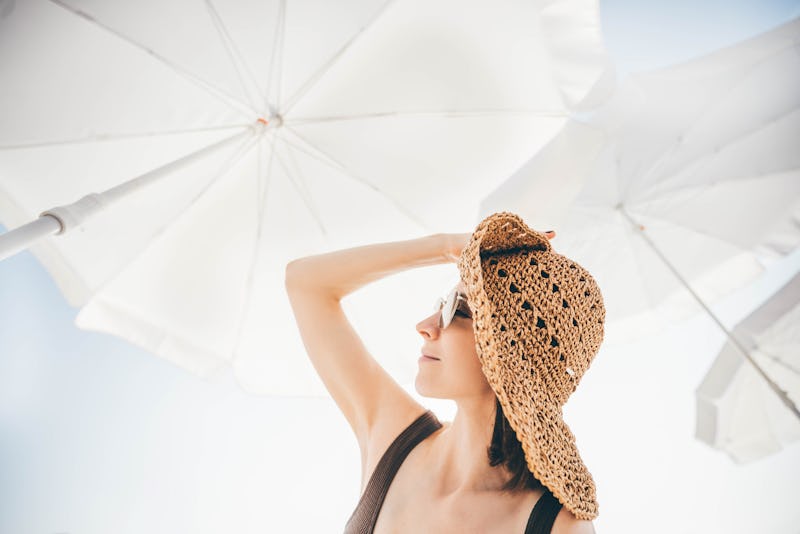 Maria Korneeva/Moment/Getty Images
So you tried a spray tan for a special occasion, but you came out looking like an orange zebra instead of a beachy, bronzed goddess. Or maybe you got a perfect spray tan but after sweating at the gym, swimming in the ocean, and using products, it's stripped into a streaky mess. If you're wondering what's the best way to fix spray tan streaks, have no fear: I spoke with Alyssa Hilliard, aesthetician and tanning expert from VersaSpa and Mystic Tan, and she knows exactly what to do.
First thing's first: There is no beauty faux pas that cannot be remedied. Trust me! If you just got back from the spray tan salon and are already streaky, you're in a great position. Rush home to shower and exfoliate your whole body — this will scrub off almost all the color, if not scrub it off entirely. You can also use a speciality tan remover from your local salon or department store beauty counter.
"Sweep a cotton ball or Q-tip that's soaked in lemon juice over the streaky areas," says Hilliard. "The citric acid in lemon is a natural skin lightener and exfoliator. You can also massage baking soda onto damp skin. After you've done this, use one coat of a gradual self-tanning formula such as Versa Spa's Gradual Tanning Spa Butter or Mystic Tan's Gradual Tan Lotion to even out the color and fill in any missed spots."
If your spray tan is a little older and wearing off (which could be the cause of your streaks), you can create a smooth and even skin tone with a few go-to products, natural remedies, and unexpected fixes.
1. Lemon & Baking Soda
Arm & Hammer Baking Soda, $6, Amazon
When life gives you lemons, make a better spray tan. Mix baking soda and lemon juice together into a paste and let it sit on the skin for a few minutes before scrubbing it off in the shower. Citrus strips away color, and baking soda is a great natural exfoliant.
2. Chill In The Jacuzzi
Chlorine strips away a spray tan, so going for a swim or hanging out in the hot tub is an easy way to strip away excess or uneven color.
3. Take A Bath
Soak in a bath! This will lift the top layer of skin, making it easier to exfoliate the darker layer on top.
4. Use Windex
If you have a single streak or big patch, spray Windex onto a cotton pad and swipe over the streak. If you do this within a couple hours of the spray tan application, it'll completely erase streaks.
5. Try Baby Oil
Johnson & Johnson's Baby Oil, $5, Amazon
Baby oil will lighten your tan, so slather this on for a few minutes and then shower off.
6. Consider Hair Removal Cream
Veet Gel Hair Remover Cream, $9, Amazon
Hair removal cream can fix a big mistake in your spray tan! Spray on a cream and wipe away the color. Waxing and shaving will also remove a tan.
7. Grab Some Toothpaste
Crest Pro Health Extra Whitening Power Toothpaste, $7, Amazon
The ingredients in your toothpaste is made to whiten says Hilliard, and that works for your skin as well as your teeth. Apply toothpaste to your patchy spots and voila, streak be gone.
Images: Maria Korneeva/Moment/Getty Images; Courtesy of Brands