'Roots' Doesn't Need To Be True To Resonate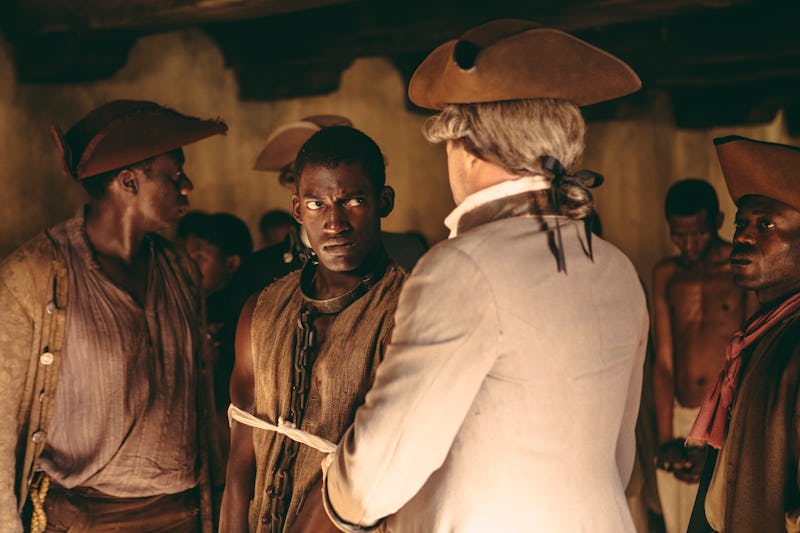 The iconic TV miniseries Roots is getting remade after 40 years, and will be exposed to a whole new audience who may not be aware whether or not Roots is based on a true story. Well, as much as the show's filmmaking is so evocative that it might feel real, at least portions of Roots are not. That's actually a big part of the story's history, because according to the New York Post, when Alex Haley's book Roots was first published in 1976, it "was billed as a factual account (albeit with some fictional embellishments)" of the author's own family history. However, that soon became a point of contention, and the NY Post detailed how many aspects of the story, including dates and lineage, have since been discredited, as it appeared that some of the history had been fictionalized.
According to the Chicago Tribune, Haley himself avoided referring to Roots as non-fiction or historical fiction, instead using the vague term "faction." Another New York Post article quotes a historical expert as saying, "Haley got everything wrong in his pre-Civil War lineage and none of his plantation ancestors existed; 182 pages have no basis in fact." And according to the New York Times' review of Robert J. Norrell's biography of Haley, the Roots author once wrote to a critic, "I was just trying to give my people a myth to live by."
But these claims of historical inaccuracy aren't the only drama surrounding the book Roots is based on. As the New York Post stated, anthropologist Harold Courlander sued Haley, claiming that he'd plagiarized the early portion of the book, depicting Kunte Kinte's life in Africa, from Courlander's novel. An expert witness claimed that "copying" was "clear and irrefutable ... significant and extensive" and Haley settled with Courlander for $650,000. But while Roots may not be completely true, that doesn't mean that the story isn't deeply resonant. If anything, embellishing the details of the story in order to make this one family representative of slavery was dramatically powerful.
Click Here to Buy Roots: The Saga of an American Family, $11, Amazon
In 2016, slavery has been portrayed as horrifying in multiple major films and television shows, from 12 Years a Slave and Django Unchained to Underground and the upcoming Birth of a Nation . But in 1976, when the book was first released, and 1977, when the original miniseries came out, it was far less common to see the real brutality of slavery on screen. LeVar Burton, who played Kunta Kinte in the original miniseries and who produced the remake, told Mother Jones that he wants the new Roots to be more historically accurate, particularly when it comes to the African portions of the story. Burton said, "Kunta has a new origin story ... Slave trading among the tribes is one of the first things we hear about. We also learn the Kintes are Muslim." Both of those elements are two very big changes from the original series.
But Burton isn't blaming Haley for fictionalizing the story. Instead, he wants the remake to improve upon the historical accuracy while preserving the original characters. He said,
"When Alex Haley did the original research, we didn't know Juffure was a major center of commerce. That information is due to the success of the novel and the miniseries; many more people were interested in studying West Africa, and specifically Gambia. We know now that the Mandinka were horse warriors — we didn't know that in the '70s. These are essential elements. We had historians involved in every aspect: set design, costume design, music."
Even though Roots has some historical inaccuracies, the story will continue to resonate so long as it mixes some true elements with the powerful story of Kunta Kinte.
Image: Casey Crafford/History
Happy shopping! FYI, Bustle may receive a portion of sales from products purchased from this article, which were added independently from Bustle's sales and editorial departments after publication.