These 'Scream' Season 2 Spoilers Are Insane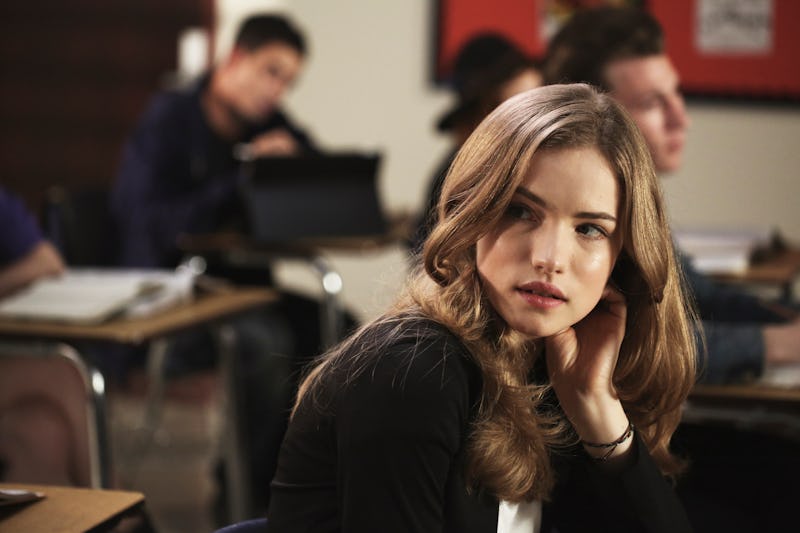 Life in Lakewood has never been easy, and it looks as though things aren't going to get any easier anytime soon. In fact, according to Willa Fitzgerald — who recently shared a few Scream Season 2 spoilers with Bustle — the show's sophomore season is going to be even darker than last year (if you can even imagine such a thing), as well as give viewers a closer look at Audrey's backstory, Brandon James' brother, and Emma's ongoing PTSD. "I think that this season definitely gets darker and you're really aware of the fallout of everything these characters have gone through last season in a way that I think you weren't necessarily in Season 1," the actress tells Bustle.
In light of Season 1's Lakewood massacre, Emma's spent her time trying to cope with everything that's happened. And while she returns home in the hopes of putting the past behind her in order to move on with her life, Fitzgerald warns us that it'll be much easier said than done. "Imagine having gone through everything that Emma had gone through," says Fitzgerald. "You would have to have a little bit of a mental breakdown of sorts." And the fact that there's a new killer on the loose will do nothing to help the situation.
However, Emma won't be the only character Season 2 will center around. If you recall, the series ended on a major cliffhanger last season when it was revealed that Audrey was secretly working as Piper Shaw's sidekick the entire time. But is her guilt really as obvious as it seemed? And if so, what exactly was the motivation behind it? All of these questions were left up the in the air, but thankfully, Fitzgerald assures us that "Season 2 is a lot about uncovering the whole backstory with Audrey's involvement or lack of involvement with the killings last year." So expect to get a better insight into where Audrey is coming from and if she's really as sinister as she appears.
Could this mean it's possible Audrey may even be related to Brandon James? Fitzgerald claims not to know the answer to that particular riddle, however, she's quick to remind us that "anything is possible in the world of Scream." Truer words have never been spoken.
Speaking of relatives, though, fans can also expect to learn more about Brandon's brother, Troy James, who was only briefly mentioned in Season 1. "There will definitely be more talk of Troy James," Fitzgerald hints, especially when the gang stumbles upon a "pig farm" that used to be owned by the mysterious brother. Let's just hope he doesn't share his niece's affinity for knife wielding, otherwise this new location could turn into a real bloodbath.
Images: MTV (2)