The 'Downton' Finale: Carson & Hughes Forever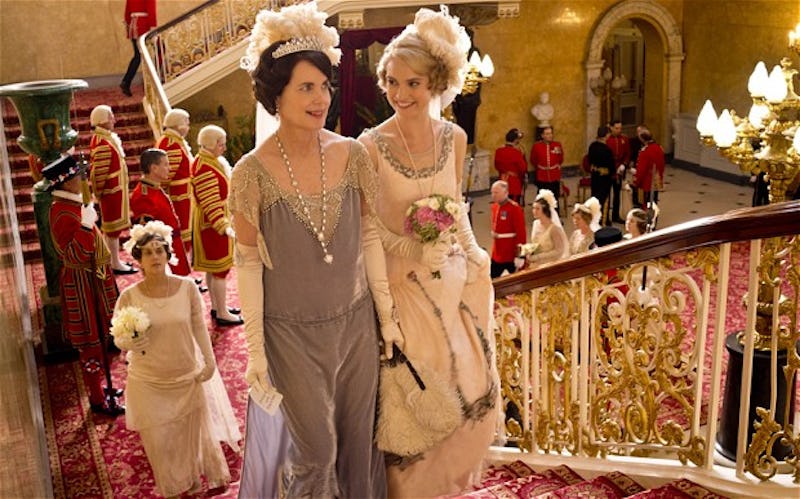 The writers of Downton Abbey must have received one too many "HOW COULD YOU" letters from fans after the season three finale because tonight's ending was oddly chipper (for Downton Abbey). After a large time dash, we find the Granthams preparing for Rose's debutante ball in London. Edith has already had her child in Switzerland and is returned to Downton in her "regular shape." We've also gone months without Bates being arrested or suspected of murder by any officials, so we can at least start the episode off knowing he's still got his head in tact.
Rose's big arrival to the London social scene also meant that Cora's American family were back in town for some much needed spicing up of things. Shirley MacLaine as Martha Levinson was as delicious and wry as ever. Paul Giamatti as the rich and equally hapless, rude, and charming brother Harold was just the most Paul Giamatti thing ever. I'm half-surprised there weren't at least a few takes of him staring straight on into the camera while some sad sad piano music played for 30 seconds.
Along with the Levinsons came their footman Mr. Slate who managed to shock and appall Mr. Carson with his overly American enthusiam. Bless his 'lil blonde head. When he wasn't actually speaking to guests while serving as a footman, he was chasing after Daisy. And good on him, the girl deserved a little attention after the whole Alfred thing.
Heartsickness and new love seemed to be the theme of the season four finale. Rose managed to work her way into the good graces of the Prince of Wales because she's Rose and of course. She was introduced via her friend Madeleine at a night club where the Prince was seated with a friend of Rose's father and the lady Mrs. Dudley Ward. It's also not an episode of Downton Abbey without a bit of scandal. So naturally Mrs. Ward and the Prince have a bit of an affair going on. Oh the jazz age, you and your sinfulness!
Speaking of good 'ol fashioned sinnin', we're left to believe Bates absolutely killed Mr. Green. A ticket stub of Bates' to London on the day of Green's death was discovered and kept from Anna by Mary and Mrs. Hughes. Bates also blatantly lied to both of them about not having been in London for years.
While nearly all of Downton made their way south for the ball, Tom stayed behind to flirt with the schoolteacher Ms. Bunting. Being the sassy modern lady that she is, she asked to see the abbey after sharing dinner at a pub. Thomas happens upon the two chatting UPSTAIRS, and my goodness the scandal! The whole nervous charade was then followed by the most awkward breakfast in history with Thomas standing stiffly over Tom and a sad plate of eggs.
Back in London, the Granthams are absolutely horrified to find out that the scoundrel Samson has stolen a letter from Mrs. Dudley from the Prince of Wales. Robert deems that it will be a digrace to the entire royal family should it be found by the press and they'd be the ones to blame! Rose had just come into the king and queen's good graces, she's the talk of the town. They simply cannot have it!
The whole clan along with the ever doting Mr. Blake devise a scheme that involves poker, a forged letter, and good 'ol fashioned snooping. Bates comes to the rescue and pickpockets the letter. The Granthams are now even more in debt to Bates than ever. Mary then decides to burn the train stub and any evidence of him in London on the day of Green's death.
What's a girl to do to shake off the icky weight of murder? A love triangle of course! Things continue to heat up between her and Charles Blake and Tony Gillingham, especially after Gillingham reveals to her that Blake is soon to be one of the richest heirs in all of England. And so it seems Mary and Charles are not as different as she expected and will "play on the same team" once Charles inherits his cousin's estate. It seems a bit daft for Tony to tell her this, but as Mary put it, he wanted a fair fight. And the game is on.
The most charming and happy surprise from tonight's episode was the downstairs' staff trip to the seaside. After what's been quietly brewing all season, like a pot of Earl Grey with only one tea bag, Mr. Carson and Mrs. Hughes finally addressed their feelings for one another. Carson wearily stepped his toes into the ocean and asked to hold on to Mrs. Hughes. She then replied, " You can always hold my hand if you need to feel steady." And they very sweetly waded in the ocean and cheekily decided to "live a little."
All in all it was a "happy ending" for the lords and ladies of Downton Abbey. But before we break out the Pimms and buntings we shall have to remember that Edith is totally bringing her baby back from Switzerland and having the farmer Mr. Drew raise it. She was named Michael's power of attorney and if he is in fact found dead, she feels as though she owes half of what she inherits to the child. Mr. Drew promises that the secret will remain between the two of them, but I have a feeling it won't get far past Violet or auntie Rosamund. We've also yet to figure out what's going on between Baxter and Thomas. (Really writers, was that whole thing a bit of a throwaway?)
And lest we forget, dear Downtonites, as Martha warned the Dowager Countess, her modern world is fast approaching and their world of wealth and artistocracy is fading fast. How much longer can the Granthams really keep up with the times that are a-changing? If season three went out with a bang, season four went out with a whisper. However, the entire season was all about the Granthams facing transitions and the testing of loyalties between everyone in Downton. I have a feeling that there is going to be a lot in store for season five.
Now, let's all start taking bets on who the first marriage of season five will be: Mary and Charles, Mary and Tony, Tom and Ms. Bunting, Mrs. Crawley and Lord Martin, or Carson and Mrs. Hughes. My money is on Carson and Hughes.
Images: Downton Abbey/PBS