22 Films & Shows To Get Creative Juices Flowing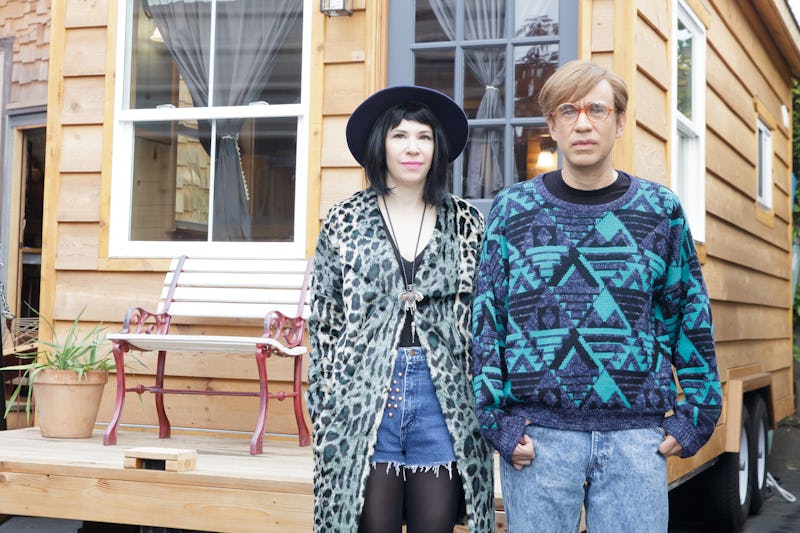 One of my many, many excuses for watching Netflix instead of writing goes like this: "Hey, well, I could work, or I check out that new, critically-acclaimed thing and wait for a creative spark. Maybe I'll encounter an idea or a story that will help me get some words on the page. Yeah, that sounds good." Seven hours and half a season of Buffy later, I usually drag my self-loathing and lazy bum to a coffee shop and make up for lost time, wondering where the heck my day just went and why Joss Whedon though Dawn was an acceptable character. I know I'm not alone in this type of procrastination, but the good news is that there are tons of movies and shows on Netflix that creative people will not only love, but use to fix their lack of motivation.
Many folks in creative fields, including myself, have to either work an additional job completely unrelated to their artistic practice, or string together a series of relevant gigs that put food on the table once the different paychecks all add up. Finding fulfilling media that fits into that kind of schedule can be daunting, and, while I joke about my Buffy marathons, the reality is that most creatives are on strict diets when it comes to engaging with TV and film. There's only so much time, and we gotta feed our imaginations as much as we can. Online streaming has turned to out to be a really killer resource for me, and on that note, I've put together a list of movies and shows on Netflix for creative people like myself to enjoy.
1. Lady Dynamite
A meticulously manic series by Arrested Development's Mitch Hurwitz and showrunner Maria Bamford, Lady Dynamite found its inspiration in Bamford's struggles and successes with mental illness, which she has used in her stand-up routines and comedy specials over the last 20 years. "I wanted to tell the story of my own experience with mental illness, but I wanted to do it with other people," Bamford told The New York Times. "On my own, I've told that story hundreds of times. I also wanted to tell a story of a psychiatric ward, though I don't think it came across as sad and devastating on the show as it really is."
2. The Great British Baking Show
Full disclosure: I am 100% obsessed with this strangely soothing import. It takes place in a white tent out in the middle of a British meadow that is surrounded by baby sheep and filled with butter, flour, and twee kitchen appliances. Judges Paul Hollywood and Mary Berry are straight-laced foils to the two bouncy hosts, Mel Giedroyc and Sue Perkins, but everyone on the show, including the gaggle of contestants, is incredibly nice to each other. It's the most relaxing show I've ever seen, a welcome trifle for busy brains. Oh, and the food is gorgeous, too.
3. Nurse Jackie
If you have yet to worship at the altar of Edie Falco, you need to get your priorities straight. After she broke TV forever with her role on The Sopranos, it might've seemed impossible for Falco to find a worthy follow-up. But, of course, she totally disproved that theory and delivered us from evil with Nurse Jackie. To put it lightly, this show is complicated. It follows Jackie, played by Falco, as she saves lives while destroying her own through a well-hidden, well-fueled painkiller addiction. Like Falco's other work, it's also a moving ensemble piece, with the star bringing out the best in her supporting cast. This is how you write a complex antiheroine.
4. Iris
Need to put a little pep in your style's step? Take a lesson from fashion maven and octogenarian Iris Apfel. Iris chronicles her forays up and around New York society while affectionately unpacking her childhood, adventures, and marriage. The late documentarian Albert Maysles took an organic approach to filming his subject, with Apfel telling Vogue that there was no outline for the doc, just four years of occasional filming.
5. Sense8
The Wachowski sisters, the duo behind Bound and The Matrix, swept onto Netflix with Sense8 and changed sci-fi for the better. The show follows eight different people from around the world who are connected and can switch places with each other, enabling the show to literally make characters walk a mile in someone else's shoes while creating a sense of queer characterization. The first three episodes will confuse the snot out of you, but the by the fourth you'll be hooked.
6. Twin Peaks
David Lynch's noir soap opera/late-night horror movie/high school melodrama only stuck around for two seasons back in the '90s, but had all of its cult followers asking the same thing: "Who killed Laura Palmer?" Though it remained a quiet fan-favorite, Twin Peaks found a second life when Netflix began streaming the series. The best news? Showtime is bringing back the series for a third season next year. It is happening again.
7. Portlandia
Carrie Brownstein and Fred Armisen have spent the last five years convincing us all that the dream of the '90s is really, truly alive in Portland. Spoofing everything from millennial brunch habits to feminist bookstores, the duo slices right through the Pacific Northwest. It's some self-aware satire for Brownstein, whose band Sleater-Kinney came out of the PNW's riot grrrl heyday.
8. Basquiat
The late Jean-Michel Basquiat was one of Andy Warhol's last proteges and rapidly achieved fame in the late '70s and '80s for his wildfire, neo-expressionist paintings. Directed by fellow artist and friend Julian Schnabel, Basquiat recounts the artist's tragically short life and the social conditions his work often critiqued. The film marks Jeffrey Wright's debut and features a smoky, Tom Waits and Jon Cale-saturated soundtrack that amounts in a hazy atmosphere.
9. Wetlands
I'm just going to call it as I see it: Wetlands is an amazing and repulsive film about female agency. If you're not into germs or get squeamish in public bathrooms, maybe chill on this one. Or, ya know, face your fears, Creative Person.
10. Vito
Vito Russo, author of The Celluloid Closet, was a queer activist and film critic who was at the heart of the AIDS genocide in the '80s and fought against homophobia while battling the disease himself. As a queer woman who writes about movies, I owe a lot to this human and the histories he saved and created. Watch this film when you're feeling unmotivated or lost.
11. Through A Lens Darkly
This doc is the first to trace photography's relationship with black identities as they continue to survive and negotiate American history. If you're curious about how images affect beliefs and attitudes, this is the stuff to watch.
12. Best In Show
Christopher Guest is no stranger to the mockumentary genre, but Best In Show is the jewel in his plastic crown. With a scarily-talented cast playing some scarily-devoted pet owners, Guest puts a dog show at the center of this film and creates uncanny stories about the absurdity of fandom.
13. Tangerine
Shot entirely on an iPhone, Tangerine is a comedy about a black transwoman who is released from jail and seeks revenge on her cheating boyfriend. She walks throughout Los Angeles looking for him, encountering violence, friendship, sex, and music, making this one of the most subtle adventure films I've ever seen.
14. Nightcrawler
Jake Gyllenhaal's eeriest performance is sure to tangle up your wires in a creatively stimulating way.
15. Kung Fury
A Swedish Kickstarter movie about Kung-Fu, the '80s, and David Hasselhoff? Hell. Yeah.
16. Happy-Go-Lucky
If you're like me and are convinced that the world is ending every time you get on Facebook, this film is am anecdote to your hapless creative rut.
17. The Crying Game
This psychological-thriller examines politics, gender, and race through the lens of an erotic relationship, and it's not to be missed for anyone interested in truly thought-provoking film.
18. Boy
From the director of Eagle Vs. Shark, Boy tells the story of a Michael Jackson-obsessed preteen as he navigates a new relationship with absent, footloose father. It's a fresh way of telling a familiar father-son story, complete with dance movies.
19. The Kids Are Alright
Lesbian moms deal with aging, teenage children, and their sperm donor in an extremely human and dryly funny film that manages to pick up on the love/hate relationships that come with family members.
20. Me And You And Everyone We Know
Miranda July will make toy laugh and cry and experience everything you feel.
21. A Ballerina's Tale
Social commentary + ballet + badass dance sequences. Get ready for the true story of the first black principal dancer for the American Ballet Theatre, Misty Copeland.
22. John Waters: This Filthy World
Greed might not be very good, but filth is where it's at for John Waters. If you want to get in touch with the mind behind Pink Flamingos, Hairspray, Cry-Baby, and Female Trouble, this is the performance to watch.
But, hey, there's always Buffy.
Image: IFC