6 Overnight Tricks for Waking Up With Pretty Curls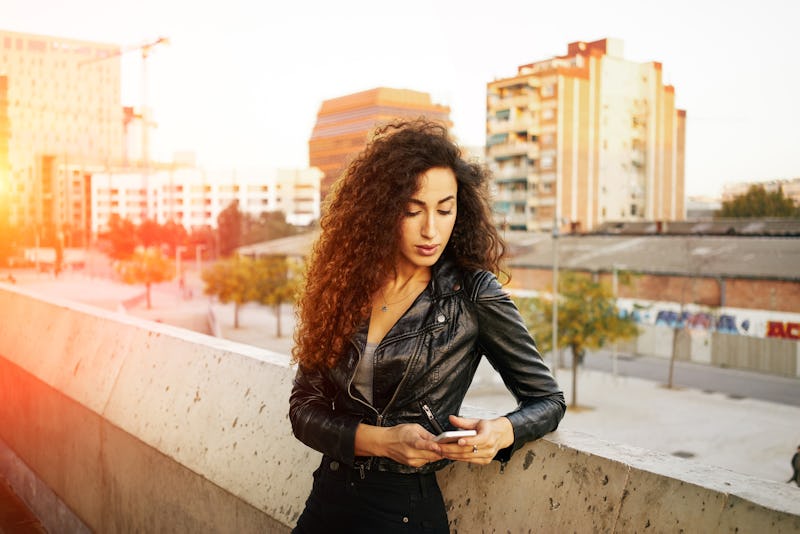 What do Taylor Swift, Beyoncé, and Sarah Jessica Parker all have in common? They're all well versed in knowing how to get pretty curls, of course. Throughout high school, I really admired Taylor Swift's banana curls, and being able to wake up with curls overnight like Beyoncé or SJP's — the kind that actually hold volume all day long — just seemed like an impossible task.
After all, I have hair that sometimes wants to curl. I've always been curious about how to wake up with hair containing well-defined curls, wondering: What are the overnight hair curling techniques that lead to such stress-free mornings? (You know the kind I'm talking about — those loose ringlets that fall effortlessly). I've found the most effective results for myself, though, when I style my hair at night and let it air dry while I sleep. Then, I can wake up get a really pretty wave in there.
It's all about those overnight hair styling tips. Whether you're wrapping your hair up in curlers or you're applying products to enhance your natural curls or waves, you can get pretty curls, too. All you need is some patience, curly hair products, and about eight to ten hours for those curls to set. Don't you think great hair is the best thing to wake up to in the morning?
Mango Extract Smoothes Your Hair's Cuticle To Help Curls Retain Moisture
Kinky-Curly Knot Today Leave in Conditioner/Detangler, $13, Amazon
Brushing curly hair can often seem like a nightmare, especially when detangling results in painful knots that take your hair with them when they come out. In order to wake up to silky-smooth curls, de-knot hair with this powerful leave-in conditioner the night before. Its mango extract and organic slippery elm formula works to smooth the cuticle of your hair, so that it appears sleeker and more shiny, finally able to retain any moisture your curls are losing while you sleep.
Secure Damp Twists Overnight With Nourishing Olive Oil & Gentle Rollers
Vigorous Olive Oil Mega Moisture Mousse , $8, Amazo n; Diane By Fromm 42-pack Twist-flex Rods, $12, Amazon
First things first, liberally apply an olive oil mousse to your wet hair. Olive oil leaves your hair looking shiny — not crunchy, which matters, as you'll be sleeping in the style for several hours and want hair to stay nourished and moisturized. Scrunch the mousse throughout your hair, so that your curls will hold in the morning. Next, separate your hair into one- to two-inch sections, and begin twisting them around curling rods. Remember, the tighter you wrap your hair around them, the tighter your curls will be. You'll wake up in the morning with bouncy curls that will last all day.
Stretch Out Curls
Miss Jessie's Curly Pudding, $26, Amazon
Pudding for your hair? Created especially for naturally wavy, curly and kinky hair, this pudding will stop all the curl shrinkage you've ever experienced, especially if you find yourself waking up to less volume than when you went to bed. Apply a palm sized helping to your hair, twist your curls, and let it air dry over night for beautiful, bouncy tresses.
Lemongrass Creates Frizz-Free Fullness, While Roller Band Keeps Style Set Overnight
DevaCurl Frizz-Free Volumizing Foam , $14, Amazon ; Curl Whirl No Frizz Hair Roller Night Head Band , $20, Amazon
Before you do anything else after showering, apply an anti-frizz foam to damp hair to achieve curl retention and shine. In the morning, this one's lemongrass formula will have kept all your volume intact, and you'll have long-lasting soft curls that fight frizz all day long. This humidity-resistant foam was designed specifically for curly hair, too. After you've applied the foam, its time to wrap your hair around your curling headband. The band is made to grip your hair, so that it doesn't slip out while you sleep. Sleep comfortably while you style your hair and in the morning, unwind your hair for stunning wavy hair that will last.
Argan Oil Safely Protects Curls From Humidity Overnight
Opulent Care Best Hair Serum with Argan Oil, $12, Amazon
If you often go to sleep with the promise of great hair come sunrise, only to be thwarted by a halo of frizzies — protect against the fly-aways! With ingredients like hydrating argan oil and fortifying vitamin E, this anti-frizz serum will leave your hair feeling incredibly smooth come morning, with none of the greasiness other serums often deposit. The serum's formula goes a long way, too — with only a few drops needed to eliminate frizz, repair damage, manage unruly curls, and much more.
Ensure You Wake Up To Maximum Curl Definition With Conditioning Avocado Extract
Curly Sexy Hair Curling Creme by Sexy Hair, $11, Amazon
Create beautifully enhanced curls with this creamy curl formula, which is packed with a nourishing blend of avocado extract and smoothing beeswax. Run the cream through damp hair, and then twist your hair into curls. Let it air dry overnight for a gorgeous look that doesn't fall flat by morning. Happy reviewers are saying this cream truly enhances natural curls, and one even said, "I get nice bouncy curls, a shiny finish, and absolutely no frizz."
Bustle may receive a portion of sales from products purchased from this article, which was created independently from Bustle's editorial and sales departments.
Images: Fotolia (1); Amazon (8)