Ross Geller Rapping Is Everything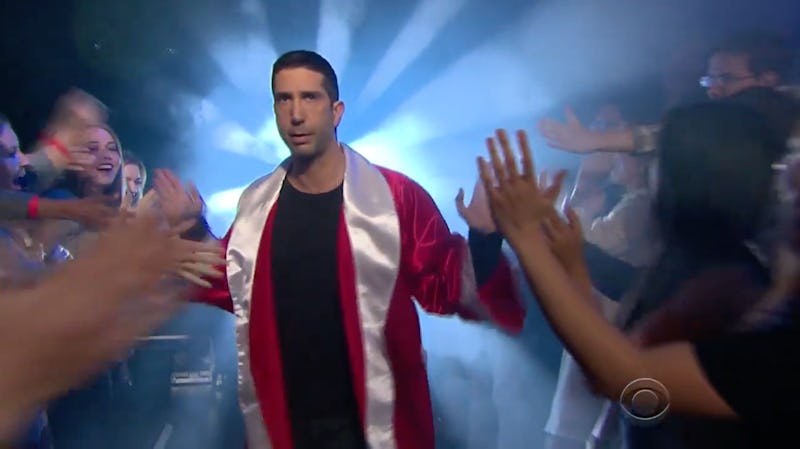 Ever wondered what life might have been like for mild-mannered paleontologist Ross Geller, if instead of pontificating about dinosaurs to packed lecture halls, he'd tried spitting raps instead? Thanks to The Late Late Show With James Corden David Schwimmer got the chance to try his hand at rapping when he took part in Corden's newly infamous rap battle and while it was David Schwimmer's name that was called when the battle was announced, his delivery was pure Ross Geller. The five minute short was a dream come true for Friends fans, who got to see all that twitchy Geller aggression and intellect channelled into owning the competition.
The format went viral for the show when the May 24 Anne Hathaway rap battle with James Corden took the internet by storm. Presumably the format has got so big that the show was able to recruit not just one, but two major Hollywood stars to participate, with the battle ending not in a vote like last time, but with Pitch Perfect 2 star Rebel Wilson interrupting and crushing the competition in under a minute.
But before I go any further, please take a moment to watch this yourself. Brace yourself for the one and only Ross Geller-as-a-rapper:
I love the opening of the battle, when Corden asks Schwimmer if he's ready for this – and then it's clearly Ross Geller who says "Oh yeah." That curiously emphatic diction reminds me of every time Geller got mad on Friends, ever. See for reference:
Even Corden seems to be addressing Geller as much as Schwimmer when he says "But now you've got the chance to prove you've got balls/While I ignore you, like Jennifer Aniston does your calls," as if Aniston and Schwimmer share the same relationship Ross and Rachel do – that uneasy tie of ex-girlfriend and ex-boyfriend.
Similarly, it feels like we're watching Ross rap, not Schwimmer when he says "Don't get me wrong, I love the English, I married your kind" – while this is factually true for the actor, who's been married to British artist Zoe Buckman since 2010, since this isn't exactly common knowledge, on first watch we're likely to laugh at this thinking of Ross and Emily, his second (and British) wife.
Perhaps none of this is so unexpected, since Ross Geller seemed to secretly enjoy rapping and delighted infants with his rhymes. Remember this?
But hey. This is even better because it's so unexpected: this is Ross Geller rapping live in 2016, so mean that only the sharp-tongued Rebel Wilson can best him. So when that inevitable Friends reunion rolls round, let's hope this time the writers add in a few more rapping opportunities for Dr Geller.
Image: CBS