Anne Hathaway's Diss Rap Career Is Just Beginning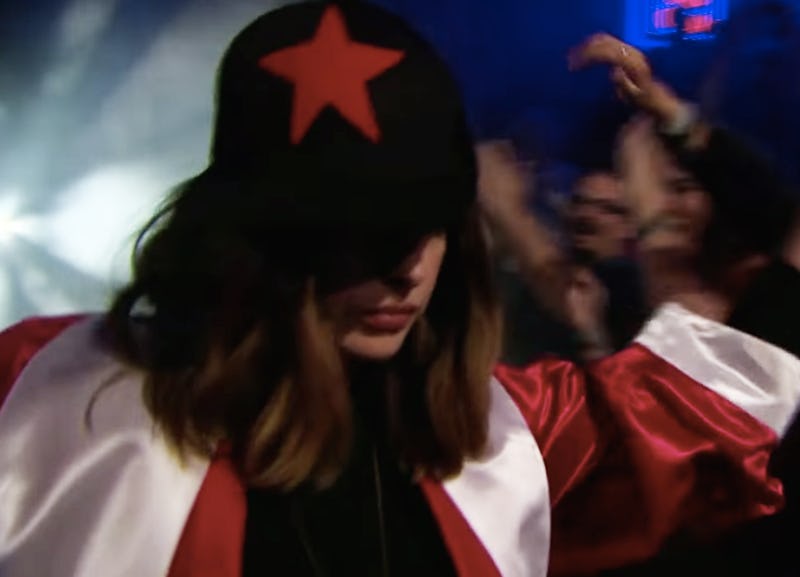 When it comes to Oscar winner Anne Hathaway, the most common complaint is that the Les Misérables star is just too damn nice for her own good. So when the Anne Hathaway James Corden rap battle took place on The Late Late Show With James Corden , who could have anticipated that Anne Hathaway would hatha-slay? Corden wasn't cutting her any slack. Despite opening on the statement that "Anne is both talented and sweet and it's hard to say anything about her that's mean," Corden managed to overcome his initial reservations to summarize the low points of Hathaway's career arc in catchy rap form really easily.
The battle got brutal, with lines like "This isn't just for me it's for the whole U.K./Mad at your awful British accent in the film One Day" and "Trust me I won't lose this to an imposter/it's more likely they'll ask you again to host the Oscars." I mean, don't get me wrong. They were so funny. Mostly because, well, ouch.
But if, like me, you were afraid that sweet goody-two shoes Hathaway wouldn't be able to bring the requisite level of mean in return, then you were wrong. The actor had some particularly delicious verbal burns prepared; no wonder the crowd voted for her at the end. This was a new dimension to the star we've wanted to see forever: Hathaway with a little added sass on the side. Let's explore her best insults from the battle.
"A Catwoman Diss, James? Gosh, What Do I Do? I Can't Make Fun Of You 'Cause No One's Heard Of YOU."
When Corden confesses that the only real Catwoman for him is Halle Berry's version, Hathaway has no choice but to reveal her claws. Meow!
"Now That I Finally Have A Chance To Speak, I Say Your Rhymes Are Like Your Ratings – They're Incredibly Weak"
A ratings burn! Jeez, when Hathaway lets loose, she really goes nuts. You know the execs behind The Late Late Show just went home and wept into their pillows all night long.
"They Say Don't Quit Your Day Job – But You Definitely Should/I Looked You Up On IMDB, It Said 'Nothing Good'"
I mean... as the screenshot above testifies, not not legitimate.
"Blimey Guvn'r, Did My Accent Make You Sick? Are You Also Allergic To Wearing Suits That Fit?"
Diss Hathaway's One Day accent, prepare to get owned.
"You're The Worst British Export Since Smallpox, And You're More Full Of Sh*t Than A Kitty Litter Box"
Ouch. Just, OUCH.
Look, nice Anne Hathaway is a beautiful gift to humanity and the world of film. But Anne Hathaway 2.0 – the extra mean edition – is even more fun. Let's hope this inaugurates the beginning of Hathaway's reign as Hollywood's new, unexpected Queen of Mean.
Images: CBS (2); Giphy (4); IMDB