Are These The First Three 'BIP' Contestants?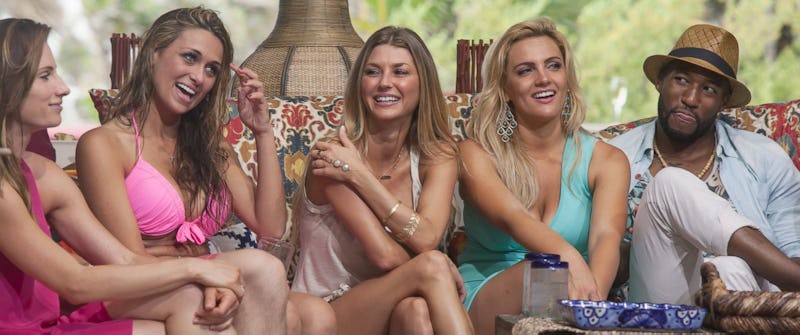 Have I yelled in your face yet today about the best show on television? No? Well buckle up, because here it comes. The first three contestants for Bachelor In Paradise Season 3 may have just leaked, and I am out of my mind with excitement right now. And before you say I'm crazy for believing every rumor that flutters its way into my awareness, just bear in mind that this isn't your average rumor — according to E! Online, it allegedly came from Bachelor creator Mike Fleiss himself, who supposedly got a little exuberant on Twitter and may have spilled some secrets he wasn't supposed to yet. Most of the tweets have since been deleted, except for one where he encouraged his followers to "Guess who is coming to Paradise!!!", and then another— again, according to E! — where he promised more casting updates during the May 30 episode of The Bachelorette, but everything in between has mysteriously vanished. Assuming it was ever there at all!
But if you believe the whispers on the wind, there were three contestants revealed in Fleiss' tweets. One of them we already know, because she was asked publicly; Lace Morris, from Ben Higgins' season of The Bachelor was invited to be on Bachelor In Paradise at After The Final Rose, by Chris Harrison himself.
So that one isn't too much of a spoiler. But the other two I hadn't heard anything about, and they're very exciting. First, we have Caila Quinn, third place in Higgins' season, who rumor has it was almost The Bachelorette before producers went with JoJo Fletcher instead.
And finally, the final rumored contestant is Ben Zorn from Kaitlyn Bristowe's season of The Bachelorette, whom Fleiss supposedly revealed with the tweet, "Ok... And Ben Z!"
But don't get too excited yet, because none of this is official — in fact, far from it. Bustle reached out to ABC for comment, and received the reply, "No confirmation on this season's cast, as it is just a rumor." So, you know, take that as you well.
Either way, I can't wait to hear who's making their way to whatever island in Mexico they've chosen this year, and to tune in to the exciting third season when it premieres Aug. 2!
Images: ABC (4)