Peggy Carter Could Return To The MCU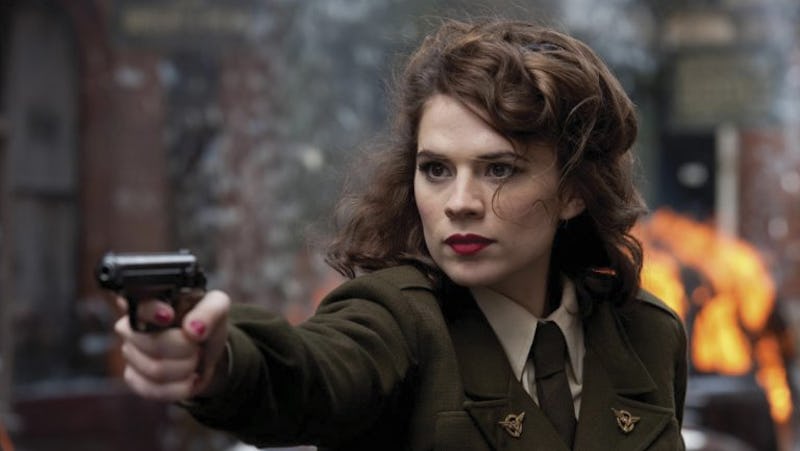 If you love Hayley Atwell and miss Agent Carter as much as I do, you will be happy to learn that she may not be out of the Marvel universe permanently. Before you start doing the jitterbug for joy, let's take this idea with a grain of salt. It a recent interview with The Hollywood Reporter, Joss Whedon reminded us of one very important detail: Agent Carter is the founder of S.H.I.E.L.D. and "once an agent, always agent." Which could prove to be very exciting when you consider the possibilities of bringing Agent Carter back to the small screen. While Whedon's interview does not open up to the reality of whether or not Peggy will for sure be coming back into our lives, what are the options here?
It's important to remember that, in the current status of the MCU, Peggy is legitimately dead. Marvel loves to bring back characters from the dead, but all signs point to Peggy resting peacefully from here on out. But that doesn't necessarily eliminate her for good. Over on Agents of S.H.I.E.L.D., there's still room to flash back to the origins of the agency. If the show does go in this direction, then its definitely gonna be all about Peggy getting the agency together. Is it too soon to start hoping that the show actually does this? It feels like Agent Carter was cancelled way before its time; getting a little bit more of Peggy back into the mix would be a serious balm.
But until that time comes, all we Peggy Carter fans have to hang onto are the memories... and some very entertaining and spicy comments Atwell recently made at MegaCon in Orlando. Those in attendance at her panel discussion have reported back, via Twitter, some really funny opinions Atwell gave about recent various activities of Peggy Carter's first love, Captain America.
When asked about Stevesharon (the mash-up name for the romantic pairing of Steve Rogers & Peggy's niece, Sharon Carter), Atwell was pretty adamant that it was not cool:
Atwell also echoed disappointment that Agent Carter came to an end so soon. Fans were tweeting out the words "Netflix" and "Agent Carter" in the same sentence, but this may all be just a beautiful, beautiful dream:
And perhaps most hilariously, apparently Atwell was, in the headspace of Peggy, totally rejecting the idea that Captain America could, would or should ever legitimately be an agent for Hydra:
How can you not love spicy Atwell, just openly laying down some serious truths about Peggy Carter and her role in the MCU? Gosh, I really hope that this isn't the last we see of one of the cinematic universe's most badass heroines. Agent Carter definitely deserves a second life, whether it's on Agents of S.H.I.E.L.D., on Netflix, or maybe even in a flashback in future Marvel films.
Image: ABC; Giphy