Who Was The Chillest Disney Channel TV Show Mom?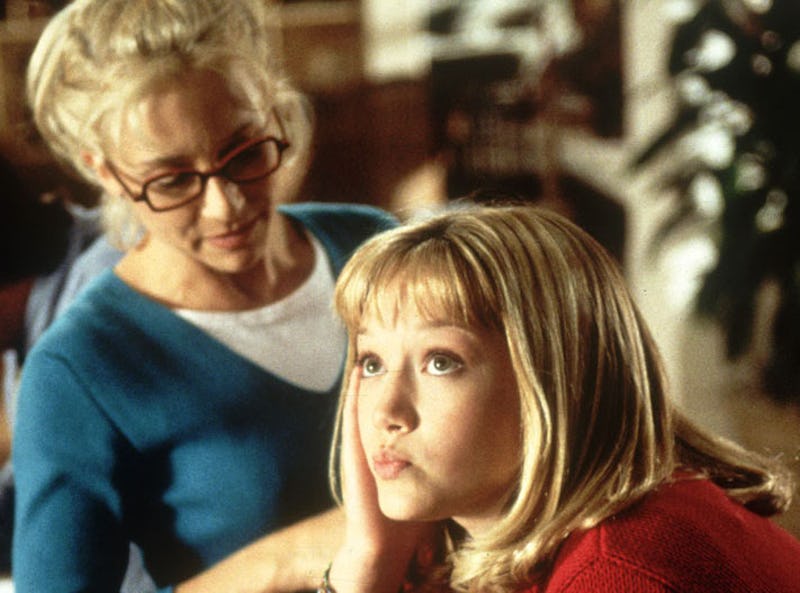 It is a truth universally acknowledged that Disney Channel TV shows and movies equal nostalgia. How many times did you find yourself gushing over one original film after another? Would you spend your Saturdays marathoning every last Disney cartoon until dinner time? Do you have very specific and fuzzy feelings about Lizzie McGuire, Flash Forward or The Famous Jett Jackson? C'mon, I know you do. It's because the Disney Channel is a repository of the best characters, plot lines and actors on television. They serve us some feel-good fun every time we turn on the TV. But in spite of all the magic, there were — on occasion — some characters that kinda deflated the fun. That's right: I'm talking about the moms of the Disney Channel.
Don't get me wrong. Moms gonna mom it up! But not all moms are created equal. No matter how lovable, cool or zany these Disney Channel moms were, some were just more chilled out than other. They'd let their kids eat a cookie before dinner or come home five minutes past curfew without a stern look. They knew how to pick and choose their battles. Other moms? Well, let's just say they were a bit more... dramatic when it came to parenting. Don't believe me? Let's see how some of these Disney Channel moms shape up to one another.
12. Jo McGuire From Lizzie McGuire
Jo was always a little too high-strung, right? Personally, when Lizzie said her parents needed to take a chill pill during her "rebel" phase (that lasted for, like, a week), I totally sided with her.
11. Carey Martin From The Suite Life Of Zack And Cody
Momma Carey was overcompensating for her time away from Zack and Cody by really nagging them (remember how she was a lounge singer? Oh yeah.) Let those twins get into their hijinks, Carey!
10. Robby Ray From Hannah Montana
Don't forget the single parents holding it down. Robby Ray was always on double duty. He came from a good place but sometimes he got too strict or worried about Hannah.
9. Theresa Russo From Wizards Of Waverly Place
Sweet Theresa had a lot on her plate. Running a restaurant and raising three wizard kids doesn't come easy! It's no wonder she tightened the reins when things got a little crazy.
8. Eileen Stevens From Even Stevens
If Louis Stevens is your child, you're gonna be a little frazzled.
7. Linda Flynn-Fletcher From Phineas And Ferb
Linda, listen: You're kids are building rockets in the backyard. Please open up your eyes and do something.
6. Claire Roman From Brotherly Love
Claire was another brilliant single parent. She was still reeling from the loss of her husband while trying to keep her business and family together. All things considered, she was pretty chill when it came to raising her sons.
5. Millicent Torkelson From The Torkelsons
Yas, Millicent! She was raising a family in mom jeans. Long live Millicent.
4. Barbara Diffy From Phil Of The Future
When you're from the future, it's safe to say you know what's gonna happen next, so you're probably not sweating the small stuff. You go, Babs.
3. Tanya Baxter From That's So Raven
Oh Tanya, you really knew how to stay level-headed when it came to Raven and Corey. Thank you for your hard work.
2. Sugar Momma From The Proud Family
Trudy may have been Penny Proud's mother, but Sugar Momma was laying down the law! She was honestly the coolest matriarch any Disney family has ever had.
1. Molly Phillips From So Weird
A rock star mom who helps you search out the supernatural? Not only was this one of the best shows on Disney, Molly was one of the most chill moms on the planet.
Are you nostalgic yet? Feeling warm and fuzzy for all these Disney Channel moms? If so, I say you go spend the rest of your weekend revisiting these very chill (or, in some cases, not-so-chill) moms.
Images: Disney Channel; Giphy (8); heffrondr/Tumblr (1); selena-gifs/Tumblr (1); DCbanners13/Youtube (1); kami jean/Youtube (1); mandygirl777/Youtube (1)