It Is Time For An 'Everwood' Rewatch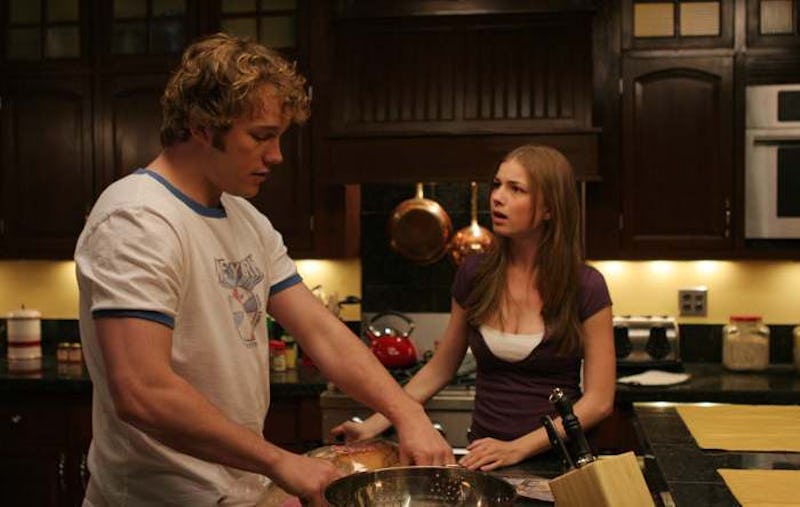 Everyone loves to talk about The WB shows of yore. Buffy the Vampire Slayer, Gilmore Girls, and One Tree Hill are all perennial favorites, but take note: Everwood is the classic WB show you need to rewatch right now. Now, rewatching Everwood takes more effort than rewatching most WB shows because it is not available on any streaming site. If you want to watch the show about a big city doctor and his family moving to a quirky mountain town you are either going to have to invest in the DVDs or purchase the episodes through Amazon. However, it is totally worth it because Everwood is even more amazing than you remember it being.
Everwood was one of those shows that left you weeping at the end of every episode. The combination of the small town community and the family drama made it the perfect show to both warm your heart and rip it out. TV has precious few shows as grounded in human stories these days. Everwood was not just a quality drama, it also fostered the talents of an amazing range of young actors, including superstar Chris Pratt.
Of all the classic WB shows, Everwood is the most neglected. It is time for people to remember how great this show was. Here are 11 reasons why you need to revisit Everwood right now.
1. Baby Chris Pratt
Before he was Star Lord or even Andy Dwyer, Pratt was Bright Abbott, a lovable guy who screwed up a lot, but had the biggest heart ever. If you did not have a crush on Bright in the early '00s then you missed out on crushing on one of TV's best teens ever. Everwood was where Pratt perfected his ability to play funny guys with a heart of gold, and if you have not seen his formative work then I envy the TV goodness that awaits you.
2. The Brown Family Drama
Andy, Ephram, and Delia are one of the most nuanced and beautiful families television has ever produced. The clashes between Ephram and his father were exquisitely painful, and they made the rare moments when this family was actually happy all the more rewarding. They were a total mess, but the Browns were also pretty perfect.
3. Delia Abbott's Inherent Awesomeness
It would have been easy for Delia to get lost in her father and brother's frequent battles, but she totally held her own. She was a brave, smart kid who fired her own babysitter because she knew it was too hard for Ephram to be around his ex all the time. Delia tackled everything from losing her mom to being popular to getting her first period like a champ. She was the show's youngest character, but also its wisest.
4. The Sweetness Of Bright & Hannah...
Bright and Hannah are forever OTP material. Remember when Hannah taught Bright how to marry the ketchups? Or when Bright forced her to see how beautiful she was? Perfection, thy name is Bright and Hannah.
5. And The Angst Of Amy & Ephram
Amy and Ephram were the ultimate starcrossed teens. In the beginning, their dads hated each other and her boyfriend was in a coma. Then came Amy's dark period and Ephram's ill-advised romance with Madison. Even when they finally got together there was still an abundance of misunderstandings threatening to pull them apart. No one angsted as perfectly as this couple.
6. The Town
How could you not want to move to Everwood? The town may have been on a mountain in the middle of nowhere, but its residents were so interesting they made up for the lack of anything to do not involving snow.
7. Because All Of Your Current Favorite Stars Started Out There
First of all, Star Lord and Sharon Carter (Emily Van Camp) were siblings. That should give Everwood a thousand cool points right there. If you dig deeper though you will find Sarah Drew as the adorkable Hannah, Paul Wesley as an emo drug dealer, Jane the Virgin's Justin Baldoni, a very young Steven R. McQueen, and Kate Mara. Even Kristen Bell guest-starred in an episode. Seriously, it's like a who's who of people who are famous in 2016.
8. The Perfection Of Edna & Irv
Edna and Irv were relationship goals before relationship goals were a thing. Edna with her badass, motorcycle riding, world traveling self and Irv's wise, loving personality meshed together to produce a romance for the ages.
9. The Show's Spot-On Depression Storyline
Everwood never shied away from telling difficult stories, and Amy's depression no different. To this day, Amy's Season 2 arc is one of the most realistic depictions of teenage depression I have ever seen on television. It is brutally honest and respectfully told, and definitely a good reason to revisit the show.
10. Amy & Hannah's Friendship
It took the show a couple of seasons to introduce a strong female friendship, but they made up for it with Amy and Hannah. Amy and Hannah stood by each other through health scares, family drama, romance trouble, and everything in between. They kept each other grounded and happy. You need their friendship in your life again.
11. The Classic Teen Show Goodness
I hate to sound like a jaded old person, but they really don't make teen shows like Everwood anymore. The show has so much heart and it is grounded firmly in reality. The characters are relatable, the stories top notch, and the setting is refreshingly down to earth. Everwood is everything a teen show should be and so much more.
Go forth and rewatch Everwood, my friends. I promise you will not regret it.
Images: Warner Bros. Television; Giphy (3); moonlightsdream/Tumblr (7); zac-hunts/Tumblr