'Dawson's Creek' Fans Will Love These Shows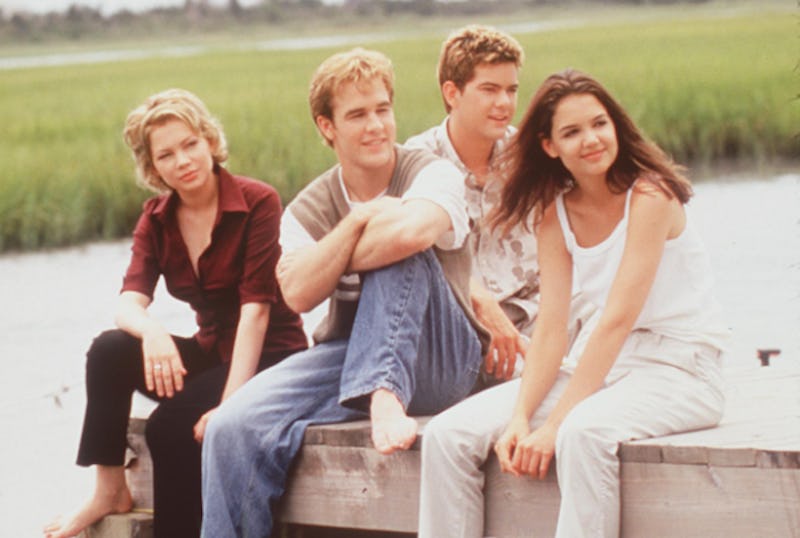 Dawson's Creek might be the only '90s shows that hasn't been revived in 2016, which doesn't mean that someone hasn't tried or that it won't happen. However, if you were hoping for a revival of the classic '90s show, there are plenty of shows similar to Dawson's Creek you can watch instead. The high school drama, which premiered in 1998 and ran until 2003, was a favorite for kids, teens, and young adults growing up in the '90s. Its appeal came from its drama and racy plot lines, seemingly depicting a more real version of the young American experience than some of its more cookie cutter predecessors.
Read more: Shows & Movies Like 'Bridgerton' To Watch After The Netflix Series
Luckily for fans of the show, the '90s were a time of peak teen TV, and there are lots of shows that cover similar themes that came slightly before, during, and after the success of Dawson's Creek. Lots of shows capture the small town vibe of the town of Capeside, deal with sex as its major theme, and center around teen drama. From the show's influencers to its competitors to its legacy in modern day TV, here are 14 shows you should watch if you're a fan of Dawson's Creek looking for a spiritual sequel.
1. One Tree Hill
One Tree Hill premiered right around the time that Dawson's Creek ended, and it does in many ways feel like a sequel to the show. It's got the same small town vibe, high school setting, and focus on romantic relationships that Dawson had.
2. Beverly Hills 90210
One of the original shows about rich kids, Beverly Hills 90210 ran in the early '90s and started off depicting some fish-out-of-water kids struggling to adjust to life in Beverly Hills but ended up running for 10 years and exploring lots of topical issues.
3. The O.C.
Perhaps more melodramatic (and more clever) than Dawson's Creek, The O.C. also draws its drama from a small group of friends.
4. Party of Five
Party of Five did not take place in high school, but instead focuses on the tight-knit family dynamic. It's also very '90s, so it's good for those craving nostalgia.
5. My So-Called Life
My So-Called Life was peak teen drama, though it's a little more serious in its themes than Dawson's Creek.
6. Sex and The City
While Sex and the City featured an older set of protagonists and was aimed a slightly older people than teen dramas, it features similarly frank conversations about sex that made Dawson's Creek so controversial.
7. Gossip Girl
Like Dawson's Creek around 10 years before it, this show was described as a parent's worst nightmare because of its portrayal of teen sexuality and partying.
8. Everwood
The underrated Everwood was typically more pristine than Dawson's Creek, but it was a great high school show and highly dramatic. Also, you should watch to catch baby Chris Pratt.
9. Life Unexpected
The series, which aired too briefly in 2010, feels like a throwback to '90s teen dramas.
10. The Vampire Diaries
While obviously more otherworldly than Dawson's Creek, The Vampire Diaries was also created by Kevin Williamson, and the similarities are obvious.
11. Friday Night Lights
If you are looking for a high school show with substance and heart, and you somehow haven't already watched it, Friday Night Lights is for you.
12. Don't Trust The B---- In Apartment 43
While a sitcom rather than a drama, Don't Trust The B--- has one major thing in common with Dawson's Creek: James Van Der Beek, playing a parody of himself.
13. 7th Heaven
The iconic family drama is great for a nostalgia re-watch if you've recently finished revisiting Dawson's Creek.
14. Gilmore Girls
Gilmore Girls, while a pretty different and less risqué show than Dawson's Creek, aired around the same time and has the small close-knit feeling of community.
Hopefully, you've found something to occupy your time until Dawson's Creek gets a revival. Please, please, please let it get a revival.
Image: The CW