John's Campaign Donor Is Trouble On 'Bloodline'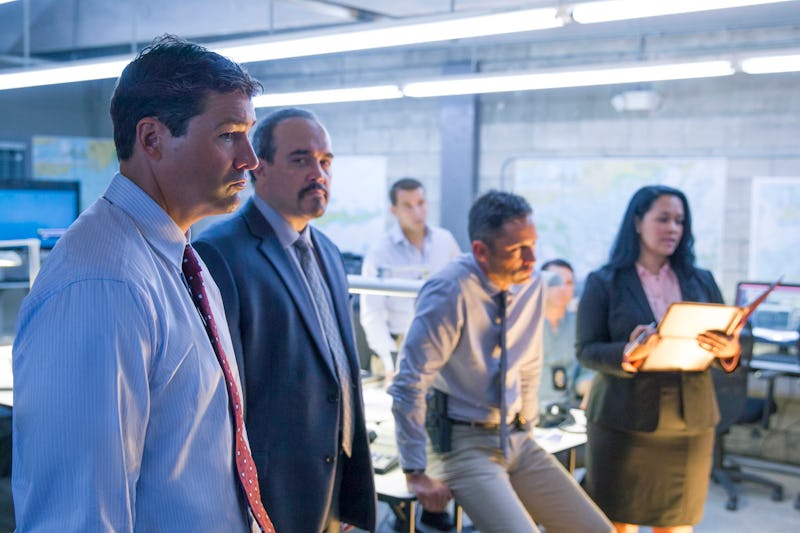 After killing his brother last season, John Rayburn certainly has his hands full — so his decision to run for sheriff seems like a strange one. Meg isn't enthusiastic about her brother's run because it's clear that Aguirre (the current sheriff) is keeping Danny's murder case open in an effort to dig up dirt on the Rayburn clan. But, John counters that becoming sheriff will allow him complete control of the investigation. Meg reluctantly agrees to be his campaign manager and the plot thickens when an unexpected character offers John a hefty donation — but who is Roy Gilbert on Bloodline? As the season progresses, it becomes increasingly clear that this man is trouble and he may actually be out to bring down the Rayburn family.
Beau Bridges' character has a history with Robert Rayburn, but the details of their relationship are never divulged. Strangely enough, John and Meg choose to not investigate Roy because they're lured in by his offer to back John's run for sheriff. However, he has one condition — the campaign needs to leak evidence that Aguirre has a history of domestic violence. But, since this is Bloodline, there's another juicy tidbit — Marco was the responding officer and he didn't file an incident report. Three weeks later, he was hired by the sheriff's department. It looks like the Rayburns aren't the only people on this show who play fast and loose with ethics. Roy's offer is tempting on a number of levels — not only will it help John's campaign, but an Internal Affairs investigation will prevent Marco from closing in on the truth about Danny's murder.
But, hold up — why is Roy so invested in John becoming sheriff and why is he so interested in helping all the Rayburn siblings? As the season goes on, he offers Kevin financial support for his boathouse and tells Meg that he wants to hire her for legal consulting. When Meg mentions Roy's name to Sally, she has some strong words about him: "He wants what's best for himself and he'll do whatever it takes to get it." Sally also implies that Roy and Robert had a contentious relationship. It's still unclear what exactly Roy's after, but Meg grows increasingly suspicious of him and warns Kevin against accepting money from him. (Naturally, he doesn't listen.)
As the season comes to a close, it becomes clearer than ever that John made a huge mistake by getting involved with Roy. In the finale, we see that he's gotten his hands on those incriminating tapes between John and Lowry. As Roy listens to the content, he doesn't look especially surprised — but his facial expression indicates that he's carefully contemplating his next move. Whatever action he takes, it's safe to assume that it's going to be bad news for John & Co. There's seemingly no end to the Rayburn family's secrets and Roy may be seeking revenge for something that happened between he and Robert in the past. Either way, it looks like the family now has yet another huge problem on their hands.
Images: Saeed Adyani/Netflix; Giphy