Baskin-Robbins Scoops Are $1.31 On May 31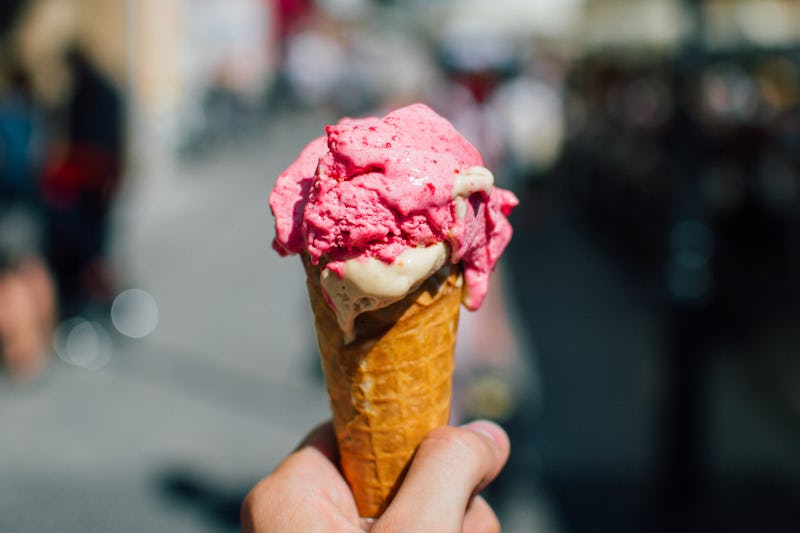 With the weather getting warmer and ice cream season gearing up, chances are you're craving a sweet treat right around now. Well friends, I have news. Baskin-Robbins ice cream scoops are $1.31 on May 31, 2016 thanks to the ice cream chain's "Celebrate 31" promotion. For those of you keeping track, that's more than half off its usual scoop price, $2.79. At this discounted price, you can bet I will definitely scream for ice cream (sorry). I'm not really sure if a better way to kick off summer even exists. At any rate, if you needed something to look forward to returning to work on Tuesday after a long weekend, Baskin-Robbins has you covered.
Flavors covered by this tasty promo include Baskin-Robbins favorites like Pralines 'n Cream, Jamoca Almond Fudge, Very Berry Strawberry, Berry Fruitful Greek Frozen Yogurt, Dulce de Leche, Pink Bubblegum, and Watermelon Splash. It's pretty simple — all you have to do is head to Baskin-Robbins, pick out a scoop, and pay only $1.31. It's worth noting, of course, that extra toppings will cost you a little more, but in the long run, your wallet is still going to come out on top.
Oh, and the best part? Baskin-Robbins' "Celebrate 31" promotion is a year-long deal that pops up on the 31st day of the month. If you miss this sweet deal on Tuesday, you can still enjoy $1.31 scoops on the 31st of July, August, October, and December (nothing like some New Year's Eve ice cream).
If you're not a Baskin-Robbins regular, you can head over to its website to find the shop closest to you. And since 55 new Baskin-Robbins locations opened across the world in 2015, I'm guessing you'll find somewhere to enjoy this sweet promo.
Image: Pexels; Baskin-Robbins/Facebook