11 Movies Younger Millennials Should Watch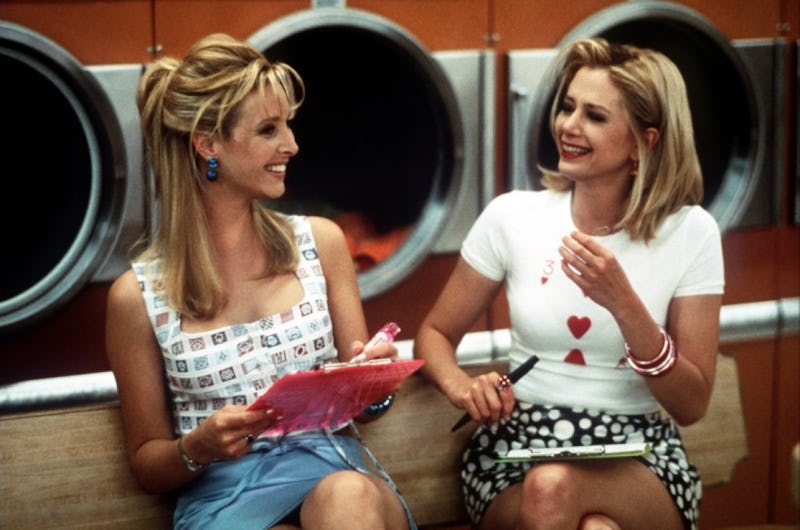 The word "millennials" gets thrown around fairly often and, despite the fact that it generally applies to people born between the years of 1982 and the early 2000s, it seems like we're frequently lumped together in one group. (There's also no shortage of negative stereotypes about millennials, but I'll gripe about that another time.) As someone born in the late '80s, I watched a whole lot of movies during middle school and high school. Today, there's an abundance of amazing, easily accessible TV shows — so it's no surprise that millennials seem to prefer TV these days. However, us '80s kids have fond memories of films we saw in the theater and that's why there are certain movies older millennials want younger millennials to watch.
Some of these movies are just so good that it would be a shame to miss out on them. (I mean, please don't try to tell me that Good Will Hunting and Rushmore aren't modern day classics.) Others are important because, although they may seem a bit dated now, they were groundbreaking for their era and set a great precedent for future movies and TV shows.
If you're a younger millennial, you may have missed these 11 great movies — and there's no time like the present to check them out.
1. Drop Dead Gorgeous (1999)
This mockumentary about a local Minnesota beauty pageant is drop dead hilarious. If you love dark comedies, this one is a must-see.
2. The Truman Show (1998)
In an eerie way, The Truman Show basically predicted the future. Reality shows dominate the current TV landscape and viewers constantly debate what's "real" versus what's "staged." Truman Burbank's life has been broadcast as a reality show for 30 years before he realizes something is amiss — and it's a thought-provoking examination about reality TV and the lengths producers are willing to take.
3. Office Space (1999)
It was released nearly two decades ago, but this dark comedy is more hilarious (and relevant) than ever. Anyone who has ever been totally bored by an office job will relate to the film's characters on a spiritual level. Trust me.
4. Brokedown Palace (1999)
While they're on a trip in Thailand to celebrate their high school graduation, best friends Alice and Darlene are wrongfully imprisoned for drug possession. When it was first released, Brokedown Palace was a favorite of many millennials thanks to its fast-paced plot and the performances of Claire Danes and Kate Beckinsale.
5. Romy & Michele's High School Reunion (1997)
High school reunions make a lot of people a bit nervous, so underachieving BFFs Romy and Michele decide to reinvent themselves before returning to their old stomping grounds. They even come armed with a story about how they made a fortune by inventing Post-It Notes. Their ruse is quickly exposed and hilarity ensues, but (spoiler alert!) they get the last laugh. Tributes to female friendship never go out of style and neither will Romy and Michele's High School Reunion.
6. Empire Records (1995)
A cult classic, Empire Records is worth watching for the soundtrack alone. It makes you feel like you've been temporarily transported to the '90s in the best way possible.
7. Princess Mononoke (1997)
This beautiful fantasy film is responsible for introducing many millennials to the anime genre.
8. Good Will Hunting (1997)
Robin Williams, Matt Damon, and Ben Affleck are the dream team in this Oscar-nominated classic. Set in Boston, Damon plays a troubled but brilliant young man who works with a therapist (Williams) to come to grips with his anger issues and difficult past.
9. The Blair Witch Project (1999)
I'll be the first to admit that, upon re-watching this movie, it wasn't nearly as scary as I remembered. But, when it was first released, rumors abounded that The Blair Witch Project was actually a documentary — so keep that in mind and try to imagine how creepy it was to sit in a theater thinking we were watching the actual video footage of missing students.
10. Fight Club (1999)
Want to watch Brad Pitt and Edward Norton come together to form a "fight club"? I thought so, but this movie provides way more than just good eye candy. It's full of surprises, dark humor, and amazing supporting performances from the likes of Helena Bonham Carter.
11. Rushmore (1998)
Most millennials are familiar with the work of Wes Anderson, so there's no time like the present to revisit his first major hit. Rushmore uses the common plot device of two guys falling for the same woman, but takes it in a hilariously unique and unexpected direction.
Now if you'll excuse me, I have the sudden urge to re-watch some of my favorite '90s films.
Image: Buena Vista Entertainment