6 Beautiful Poetry Quotes For Memorial Day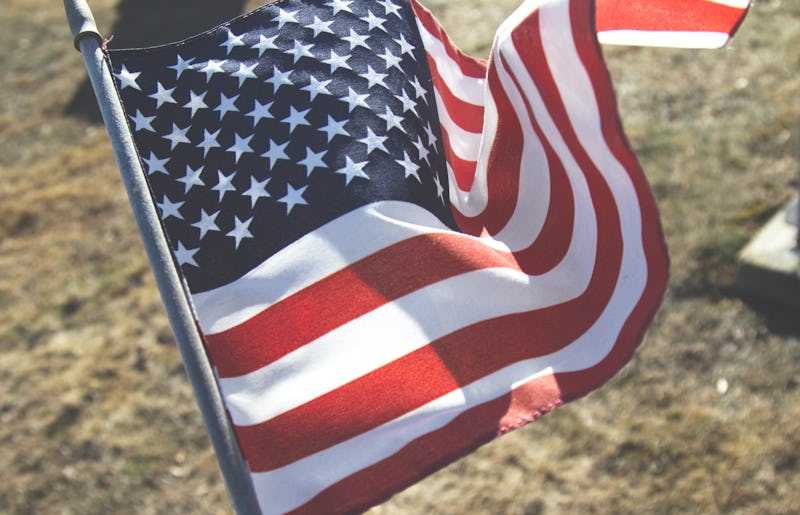 Happy Memorial Day, friends! The holiday is a time to enjoy the unofficial start of summer, perhaps hit up a barbecue or two with friends and family, break out your sandals, and relax on your Monday off from work. But as these Memorial Day poem quotes show, this holiday has a more somber purpose, and it's one we shouldn't forget as we revel in the day's festivities.
Memorial Day is the calendar day set aside for us to honor those American servicemen and women who have died during active duty. Its history dates back to the days following the Civil War, when grieving Americans would dedicate a spring afternoon to decorate the graves of those who had fallen in battle.
Of course, we should always take time to honor our troops — not just when we have a burger in hand and a day off from work — but there is something rather grand in thinking that, for one day, all of America is united in thanks. If you're not sure how to express your gratitude on Memorial Day, turn to these quotes. Poetry is always here for us when our tongues are tied, and these verses in particular are beautiful for sharing on a day like today.
1. "Your silent tents of green / We deck with fragrant flowers; / Yours has the suffering been, / The memory shall be ours." — Henry Wadsworth Longfellow, "Decoration Day"
2. "In Flanders fields the poppies blow / Between the crosses, row on row, / That mark our place; and in the sky / The larks, still bravely singing, fly / Scarce heard amid the guns below." — John McCrae, "In Flanders Fields"
3. "Winds of freedom, wash us now, / Remember him, / This I vow." — Victor C. Kleinschmit, "Remember"
4. "On this green bank, by this soft stream, / We set today a votive stone; / That memory may their deed redeem, / When, like our sires, our sons are gone. / Spirit, that made those heroes dare / To die, and leave their children free, / Bid Time and Nature gently spare / The shaft we raise to them and thee." — Ralph Waldo Emerson, "Concord Hymn"
5. "On this day, lest we forget; / To them we owe, our life in debt." — Don Nielsen, "To Them We Owe"
6. Centre of equal daughters, equal sons, / All, all alike endear'd, grown, ungrown, young or old, / Strong, ample, fair, enduring, capable, rich, / Perennial with the Earth, with Freedom, Law and Love, / A grand, / sane, towering, seated Mother, / Chair'd in the adamant of Time." — Walt Whitman, "America"