Biden Honors Son Beau At Delaware Guard Ceremony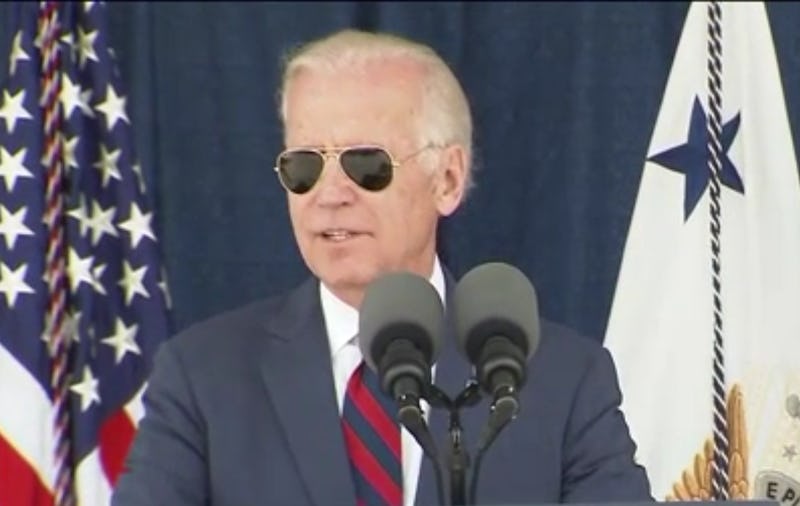 On Monday, during a day of Memorial Day festivities around the country, Vice President Joe Biden spent his afternoon at a Delaware National Guard event. He was there both to witness an honor, and to commemorate a very solemn personal occasion: May 30th marks exactly one year since the death of Beau Biden, and the Delaware guard announced earlier this week that they decided to name their headquarters after him. The vice president spoke, too ― Joe Biden honored Beau on Memorial Day, giving the gathered audience an idea of what his late son would've thought about the honor.
Actually, in his telling, Beau did say these things to him ― he remarked that as he left the house, Beau "whispered in his ear," a poetic introduction to explaining what his late son would've been feeling on the day. It wasn't lost on Joe (and wouldn't have been on Beau, to hear him tell it) that the ceremony to honor his son came on Memorial Day, our annual reminder of those Americans who've lost their lives in the armed services.
While Beau was a military veteran, joining up with the Army and ultimately serving in Iraq, he didn't die in armed conflict ― it was brain cancer that took his life last year, at the all-too-young age of 46. Here's how Joe described what the honor would've meant to him.
Beau, Beau's feeling a little self-conscious right now, those of you who know him. As I was leaving the house, he whispered in my ear, he said "dad, this Memorial Day, a day to honor those who've given their last measure for their families, a day, dad, you and I should be at the bridge and grabbing all the Gold Star Mothers and telling them how much we appreciate all they've done. ... He'd say "dad, not me, not me today. Maybe another day, not today." And I whispered back in his ear today as I was leaving, that he's right, it's Memorial Day, but everything, everything here that everyone knows about Beau, was he devoted his whole life to his family and to other people. To working for his state, working for his country.
The phrase "Gold Star Mothers" refers to mothers who've had their sons or daughters lose their lives in military conflict. Following the remarks, the new sign for the headquarters was unveiled, complete with Beau's full name: Joseph R. "Beau" Biden III (the R. stands for Robinette, a middle name he shares with his father). Beau first started his military career with the Delaware National Guard in 2003.
The elder Biden has been spending the final year of his vice presidency working on his "moon shot" cancer initiative, which President Obama announced during his final State of the Union address. He's also been an eloquent speaker (even prior to Beau's death) about the nature of grief, and enduring through massive personal tragedy, giving some of the rawest, most heartfelt public statements you'll ever see from someone in his position.
Image: ABC News