Margot Robbie Was Terrified To Play Harley Quinn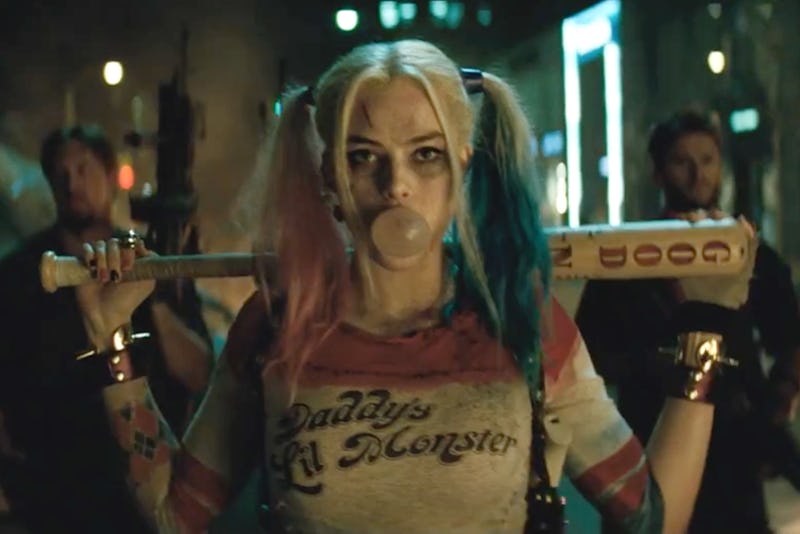 While many cinematic characters have been newly invented for the big screen, it seems that now, more than ever, audiences want to see familiar characters in their movie theaters. Whether they come in the form of sequels or superheroes that have a loyal comic book following, tried and true characters are the safe bet — for studios and for audiences spending their hard earned dollars. But for Margot Robbie, who will take on DC Comics' Harley Quinn in Suicide Squad this summer, portraying a comic book antihero that has a legacy behind her was entirely daunting. "Fortunately, everything moved at such a quick pace that I didn't have time to think about it," the actor says on the Toronto-based set in June of 2015. "I think [it] was definitely a blessing in disguise."
"Since then, we've been training and stuff, and we got here before we realized it," the Australian actor says. But, the 26-year-old admits she, "definitely had moments of panic," throughout shooting the film. "I'm like, 'Oh god, they're gonna hate it.' There are just so many people to please, and you can't ever make everyone happy."
And with a DC franchise film, there are surely plenty of fans and studio execs to appease, not to mention her co-stars and the film's director, David Ayer. So how does she handle the pressure? "Put as much of myself into the role as possible. Do as much research as possible," she says. "I got the role right before Christmas, so my Christmas list consisted of Harley Quinn comics, Suicide comics, any comics that incorporate Harley Quinn."
Robbie concludes: "As long as I do my absolute best and prepare as much as I physically can, hopefully — hopefully — people are happy."
Though the film doesn't come out until August 5, there is plenty of positive buzz surrounding Robbie's portrayal of the comic book character, most notably, Warner Bros. announcement that there is a standalone Harley Quinn film in the works. Robbie must be doing something right.
Images: Warner Bros.; Giphy