Margot Robbie Says Audiences Want Female Heroes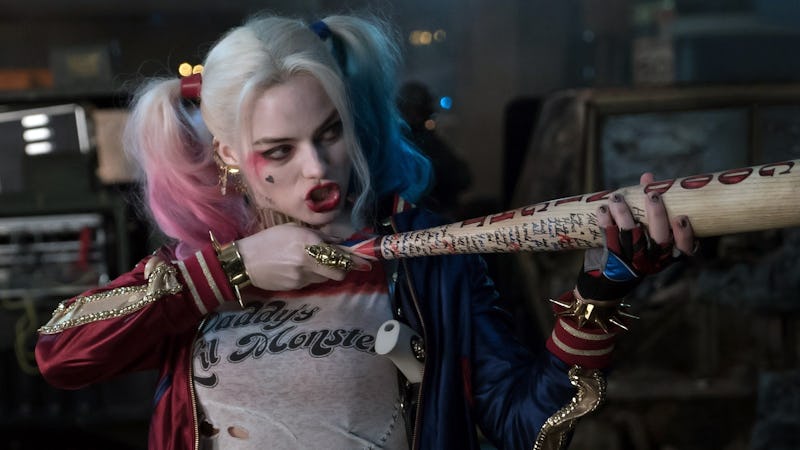 The film has yet to hit theaters, but Suicide Squad's Harley Quinn already has a standalone film in the works from Warner Bros. While the David Ayer-directed movie is chalked-full of A-list stars (Will Smith, Ben Affleck, Jared Leto, Cara Delevingne, and Viola Davis, to name a few) Margot Robbie is the only one who has her own film greenlit. The Harley Quinn feature, which will also feature other female superheroes, won't hit theaters for, well, years, but still it's an exciting development, especially for the often male-centric world of comicbook heroes.
But to the 26-year-old Australian actor who plays the Belle Reve temptress, seeing a female-led superhero flick put into action isn't at all surprising. "I don't think it's any secret that the industry is definitely gravitating towards female leads and giving women a voice," Robbie says on set of the film in June of 2015. "They've finally realized that women go to see movies as much as men do. Ticket sales are coming from them as well, so why not appeal to them?"Unfortunately, it may be easier said than done. Margot Robbie's Harley Quinn film is an exception to the rule, and not the gold standard. Sure, Captain Marvel will have her own film, and there have been murmurs of Scarlett Johansson's Black Widow getting her own origin story, but these female superhero films are few and far between, and none of them are coming for at least a few years. But Robbie seems to think the tides are turning.
"I think the superhero platform gives the female character a relatability for the male audience as well," she says. "So, I think that's why people are kinda gravitating towards female superhero characters, and also female characters in general. So, that's great for us, female actors who want to do roles like that."
Though Robbie didn't seem surprised there was a hunger for a standalone female comicbook character story, she was worried that Quinn, who is a villain in the comic books, couldn't win audiences over. "How do you make someone likable when they're doing horrible things? Her soft spot for Joker seems to be something people relate to and empathize with. And it makes her more real."Quinn's relationship with The Joker is one of the most twisted relationships in the DC universe. But they aren't the only couple, or characters, with issues who have sprung from their time in prison. "Not just for Harley, but all the characters, because they are so flawed, I think it makes them very accessible for an audience, and I think the fact that they are super villains kind of makes them a little more exciting. So yeah, I think you definitely don't need to be a good guy to win the audience over."
I suppose we'll have to wait until August 5, when Suicide Squad hits theaters, to see if audiences are smitten with Quinn and her gang of asylum misfits.
Images: Warner Bros.; Giphy