'Roots' Has More To Say, Should It Return For More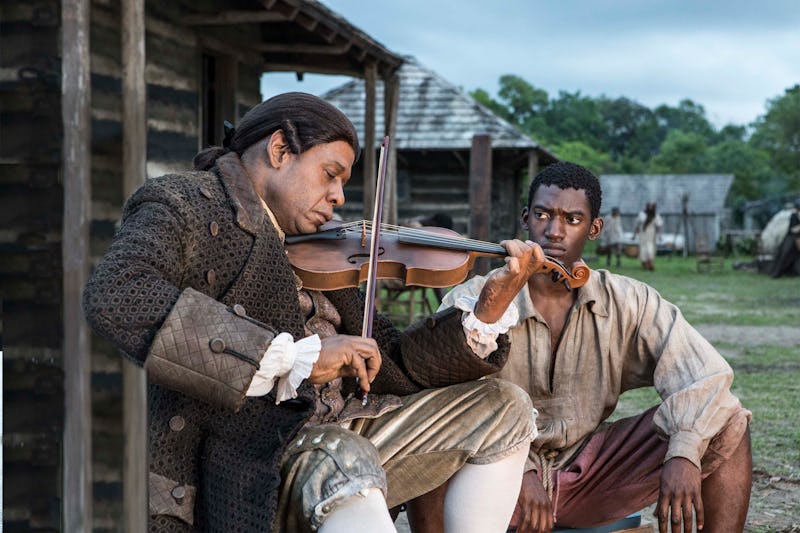 The highly-anticipated premiere of the "reimagined" Roots finally arrived on Monday, May 30. But one aspect of what can help make a miniseries so good (the short timeframe in which to tell an epic story) can also make it ultimately disappointing for viewers, in a way, because they have to say goodbye to it basically right after it entered their lives. That's unfortunately the case with Roots, which wraps up its fourth and final part on Thursday night simultaneously on History, Lifetime, and A+E. But the one thing that might help us get through this difficult time is knowing whether or not Roots will return for more episodes.
Unfortunately, the struggle remains. A+E Networks has yet to make any sort of official announcement regarding a continuation of the new Roots miniseries. However, now is not the time to panic, because it doesn't seem like having more Roots on the way would be a bad idea at all.
For one thing, Roots received stellar ratings for the premiere of the miniseries on Monday, even amid some tough competition like the NBA playoffs. Roots debuted to a total of 5.3 million viewers, History announced in a press release Tuesday, making it the No.1 scripted miniseries to premiere on cable since A+E's Bonnie & Clyde in 2013. Clearly, people are interested in the story Roots has to tell.
Though some were skeptical about remaking Roots since the original 1977 miniseries is iconic (even original star and executive producer of the remake LeVar Burton expressed his initial doubts to Mother Jones in anticipation of the premiere), the new version has received generally positive reviews, earning a score of 83 on Metacritic. If A+E Studios maintains the same quality in production on a new Roots story in the future, it could certainly once again find fans among critics and viewers alike.
And if you think that having more Roots in the future would deviate too much from what the original miniseries was all about, think again. It also had the sequel Roots: The Next Generations, which premiered on ABC in 1979 and followed the family of Alex Haley, the author of the book on which the Roots miniseries is based, from 1882 to 1967, the year he began researching his African ancestry. Some reviews have even said this sequel is superior to the first miniseries.
The third installment of Roots came in the form of the yuletide-themed Roots: The Gift, a TV movie that premiered on ABC in December 1988. The movie, set during Christmas of 1775, chronicled characters Kunta Kinte (Burton) and Fiddler (Louis Gossett Jr.) as they became involved with a group of slaves trying to escape a plantation. Unfortunately, some reviews from the time Roots: The Gift hit the air did not hold this film in as such high regard as the first two installments.
Alex Haley's Queen was a three-part related miniseries that premiered on CBS in 1993. Like Roots, it explored the author's family history, but this time it was of his half-Irish grandmother played by Halle Berry.
But even knowing that not living up to the first installment is a possibility, issues pertaining to race relations in America that this new Roots shines a spotlight on are complex and nuanced and not going away anytime soon in our actual society. In four episodes, the "reimagined" Roots can only skim the surface of these topics. There are so many more avenues that the miniseries could explore in the future, should it be greenlit for more.
Image: Steve Dietl/History