This 'Nemo' Voice Actor Moonlights As A Director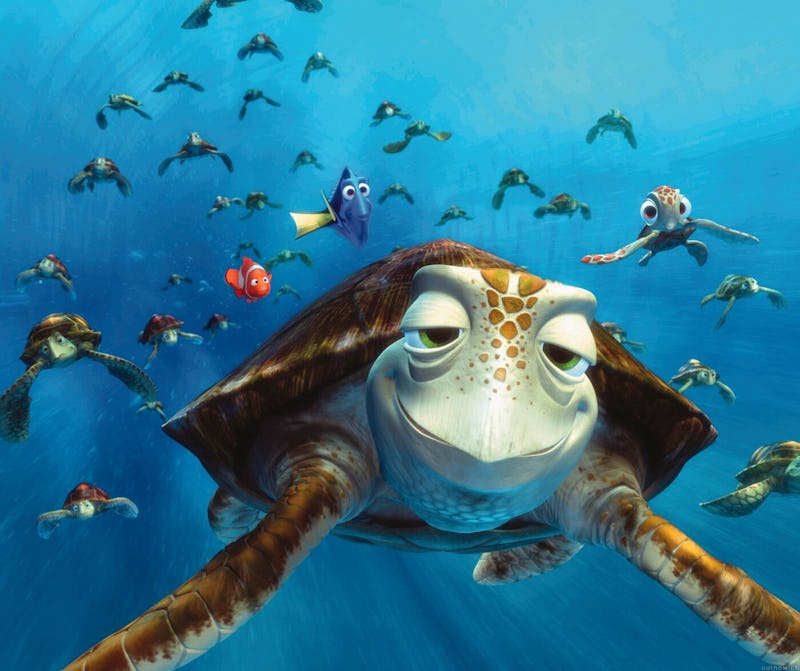 13 years after Finding Nemo was released, forgetful blue tang fish Dory is getting her own star vehicle. Pixar's Finding Dory comes to theaters on June 17. Ellen DeGeneres returns as Dory; so does Albert Brooks as Nemo's dad Marlin. But the familiar voices don't end there. Get ready to meet some new sea life and greet some returning characters. Among the Finding Nemo friends making a comeback in Finding Dory is Crush, the chilled out sea turtle the duo met while looking for the lost little clownfish. You probably remember Crush's California surfer-speak, but do you know who played him? The voice of turtle Crush in Finding Nemo belongs to none other than Andrew Stanton, and that's just one of the roles Stanton fills at Pixar.
Crush had few cares in Finding Nemo besides riding the East Australian Current and imparting his relaxed wisdom to his son Squirt. His human alter ego has a much busier calendar. Stanton has added his voice to several Pixar films, including Toy Story 2 (Evil Emperor Zurg) and Cars (Fred), so he knows his way around a soundbooth. But he has also written and/or directed many of them as well. That's right: the voice of Crush is one of the creative minds who shaped Pixar into a powerhouse animation studio. In fact, Stanton technically directed his own performances here. He directed both Finding Nemo and the sequel.
Stanton's career with Pixar goes back to the studio's first feature, Toy Story and even before. He has an "Original Story By" credit there, and was nominated along with his collaborators for a Best Original Screenplay Academy Award. The first feature he directed for Pixar was A Bug's Life in 1998; that was a collaboration with Toy Story director John Lasseter. Stanton won his first Oscar for Finding Nemo for Best Animated Feature in 2004 and returned to the podium to pick up the same award for the sustainability parable and robot love story WALL-E in 2009. ("Look, the thing I am attracted to is that it is the loneliest character I could have ever heard of. And the opposite of loneliness is love," Stanton told A.V. Club about his non-verbal hero.)
Stanton has been occupied by other projects (including his first live-action feature writing and directing job, the 2012 action flick John Carter), but it's not like a Nemo follow-up has been stalled for all this time. "I never thought there was going to be a sequel, until one day I went, 'You know, I worry Dory could get lost again and not find the family she has,'" the director explained to Yahoo Movies. (Don't we all?!) That was in 2011. After the initial idea came Pixar's lengthy gestation process. Stanton told Yahoo the final Dory screenplay came after "10 or 11 drafts." But the animation Renaissance man is used to multi-tasking. He said to Yahoo:
I wrote Nemo while finishing A Bug's Life. I wrote WALL-E when I was finishing Nemo. I wrote Carter while I was finishing up WALL-E. When you're working so fast and so hard, it's an easy time, in a weird way, to just have another ball thrown at you to juggle, because you're at your peak of juggling things.
A juggling director who voices a sea turtle in his spare time? Sounds like a Pixar movie.
Images: Walt Disney Studios; Giphy