'Feed The Beast' Has A Delectable Cast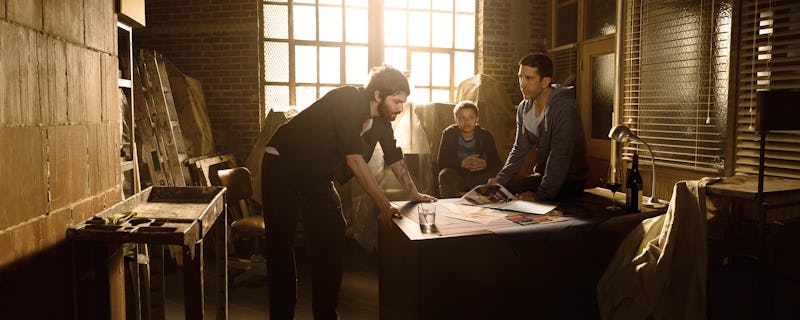 It's that time of year again. Now that most network shows have wrapped up their seasons for the year, the summer TV season has started. Not only will it feature the return of summer staples like Big Brother and Orange Is the New Black, but it will also bring new series, such as Feed the Beast, which premieres on Sunday, June 5 at 10 p.m. ET on AMC. But just because Feed the Beast is a new show doesn't mean that everything about it is novel. In fact, the Feed the Beast cast is full of actors you already know and love.
Most notably is David Schwimmer. He pops out at you immediately in the posters, trailers, and other promotional materials for Feed the Beast because he's not only one of the stars of the show but also because he will forever be beloved the world over for playing Ross Geller on a little sitcom called Friends.
Like the long-running NBC comedy, Feed the Beast is set in New York City. However, it is a very different show. Feed the Beast follows friends Tommy (Schwimmer) and Dion (Jim Sturgess) as they follow their dream of opening up a restaurant in their native borough of the Bronx. Unfortunately, trouble seems to follow these guys wherever they go, and that doesn't change when they get mixed up with the mob. If you want a pleasant cooking show, you should probably watch the Food Network instead.
In the almost decade since Mad Men premiered on AMC, the network has carved out a reputation for compelling storytelling and incredible performances in many of its series. With a cast like this, Feed the Beast should be no different.
David Schwimmer As Tommy Moran
Hot off of a buzzy turn as Robert Kardashian in The People v. O.J. Simpson: American Crime Story, Schwimmer is back on TV, which he took a little bit of a break from after Friends ended in 2004. He went on to lend his voice to Melman the giraffe in the Madagascar movies and had some live-action roles in smaller films like Nothing But the Truth and The Iceman. However, Schwimmer also had a couple of memorable guest spots on TV, such as playing the hilarious Greenzo on 30 Rock and reuniting with Matt LeBlanc on Episodes.
Schwimmer takes a more serious turn in Feed the Beast as Tommy Moran, a former sommelier and functioning alcoholic who is raising his 10-year-old son T.J. as a single dad after the death of his wife, the character's show bio describes. It looks like opening up a restaurant with his friend Dion could be what he needs to help him get through his pain — or it could destroy him.
Jim Sturgess As Dion Patras
British actor Sturgess had his breakout role as Jude in the Beatles movie-musical Across the Universe. From then on, he had a couple of starring roles in the poker thriller 21 and the romantic drama One Day. You may have also seen him or heard him in the film adaptations of Cloud Atlas and Legend of the Guardians: The Owls of Ga'Hoole. Sturgess will also be starring in the upcoming World War II miniseries Close to the Enemy, which was picked up by Starz in September 2015 and is expected to air sometime this year, according to a press release. His next film, the sci-fi thriller Geostorm is slated to be released in January 2017, his show bio says.
Feed the Beast is all drama for Sturgess as Dion gets released from prison at the start of the series, but he still can't keep away from the mob and other issues that landed him in jail in the first place, according to the character's show bio. However, Dion dreams of being the best chef in New York and wants to help his bestie Tommy and Tommy's son T.J. So let's hope he can figure out a way to put all of his demons on the back burner.
Lorenza Izzo As Pilar Herrera
Chilean actress Lorenza Izzo is more used to having a scary good time in her film and TV projects since she has appeared in mostly horror flicks in the past, including Aftershock, The Green Inferno, The Stranger, Knock Knock, and Holidays, according to the actor's show bio. She also appeared as Brooke Bluebell in Netflix's horror series Hemlock Grove. Overall, Izzo should be comfortable in the horror scene seeing as how her husband is famed horror filmmaker Eli Roth.
But it sounds like Izzo will show a softer side as Pilar Herrera, a potential love interest for Tommy after they meet in a grief group, on Feed the Beast, the show's website describes. It's going to be interesting to see where their relationship goes from there.
John Doman As Aidan Moran
You've seen John Doman in some of your favorite TV shows in recent years, including portraying William A. Rawls in The Wire, Bruce Butler in The Affair, and Carmine Falcone in Gotham. But it's actually difficult to find a TV show Doman hasn't starred in during the past couple of decades since he's popped up in everything from House of Cards to The Good Wife to Law & Order to ER. You may have also seen him in movies such as Blue Valentine, Mystic River, and Die Hard with a Vengeance.
Doman plays Tommy's father Aidan Moran on Feed the Beast, and if you watch the extended trailer for the series, you'll see that he makes quite the strong first impression in the show. Well, when you're described as "a shrewd and ruthless businessman and unapologetic racist" in your character's bio, how could you not? Aidan's code of ethics (if you can even call it that) includes basically any kind of criminal activity. Now it's starting to become clear why Tommy is so troubled.
Elijah Jacob As TJ Moran
Elijah Jacob may be the youngest member of the Feed the Beast cast, but he's no rookie. The kid began modeling at the age of 6, after all, his show bio says. However, Jacob's only other major project was the faith-based film My First Miracle. Still, he is talented in the kitchen, described as being able to "whip up a mean order of French Toast and Omelets" in his show bio, so clearly he was made to star on Feed the Beast.
Jacob will turn his attention more towards the arts as he portrays the talented young artist and son of Tommy, TJ Moran. Drawing is one of the only ways TJ can communicate since he is unable to speak after being traumatized from witnessing his mother's death, the character's show bio reveals. We'll have to wait and see how all of the conflict of Feed the Beast affects him.
Michael Gladis As Patrick Woijchik
Michael Gladis should be instantly recognizable to Mad Men fans. The actor played copywriter Paul Kinsey, who was eventually dropped from the new Sterling Cooper Draper Pryce in Season 3 and returned in Season 5 as a Hare Krishna. Gladis has also had notable TV turns in Extant, Reckless, and The Good Wife, as well as last summer's Terminator Genisys.
Gladis' triumphant return to AMC should be a memorable one as he portrays Polish-American mobster Patrick Woijchik in Feed the Beast. He's earned the nickname "The Tooth Fairy," according to his show bio, which should give you a clue about what happens when you make him angry, which he may feel a lot since he's a major disappointment to his mob boss dad. Yes, even mafiosos have issues at home.
Christine Adams As Rie Moran
British actor Christine Adams has appeared all over American TV as Agent Weaver on Marvel's Agents of S.H.I.E.L.D., Lena Boudreaux in The Whole Truth, and Mira on Terra Nova. If you're a fan of British TV, you may have seen Adams in NY-LON and Home Again. She has also appeared in films like The Girl with the Dragon Tattoo, Batman Begins, and Tron: Legacy.
Adams' character Rie Moran may be dead in Feed the Beast , but she'll still have a major presence throughout the series in the form of flashbacks, her show bio says. Rie was a gifted and innovative chef whose design book will guide Tommy and Dion as they start their own restaurant. Though Rie is described as a "serial optimist" while she was alive in her show bio, she often came at odds with Tommy's bigot father Aidan because of her African American heritage. Rie may be gone, but she is most definitely not forgotten on Feed the Beast.
As you can see, Feed the Beast is sure to satisfy your appetite for exceptional acting.
Images: Frank Ockenfels/AMC; Ali Paige Goldstein/Lionsgate Television/AMC (7)