Bethenny & Luann Had A Huge Fight On 'RHONY'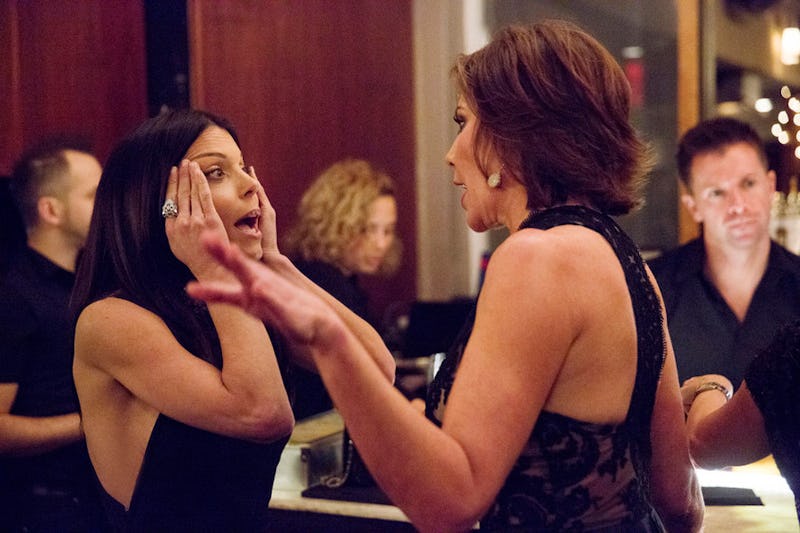 Is it just me, or are we back in a golden age of Real Housewives Of New York? The show hasn't been this entertaining since the days of Kelly Bensimon and Scary Island. Sure, the friendships have changed, but the fights are still as good. Luann de Lesseps has been really interesting this season — she's dating a lot and living part-time with Sonja. She also claimed that she came up with the ideas for the Skinnygirl margarita. Um, girl, bye. Of course, Bethenny doesn't take kindly to people insinuating that they are the geniuses behind her business, and she. Went. Off.
I've never seen Bethenny yell like this before, even in the times when she was angry with Jill. It was frightening and beautiful. Bethenny told Luann that she is full of it because she sleeps with a ton of men, brings anyone home, and gives anyone her number, while preaching and condemning her friends for doing the exact same things. Bethenny called Luann a hypocrite and a slut and a liar for consistently changing her stories and fibbing about how she spends her time. And then Luann kept insinuating that Bethenny copied her hair. That's all she could defend herself with, besides crying to Jules that she got called a name while Jules was busy dealing with her dying father. It was seriously everything I could ever have hoped for.
So who is in the right here? I'm always on Team Bethenny. I don't necessarily think that she delivered the information the right way, but Luann does sleep around (which Bethenny said is fine — she just hates the lying part) and then claims she doesn't. I'm all about owning your truth, and Luann doesn't do that. She acts like she's better than the other housewives! She also lost me when she quoted her own song, but that's neither here nor there. Luann apologized to Bethenny about the Skinnygirl thing via text, but I can't say it stuck. We'll see next week if these two forgive and forget
Images: Heidi Gutman/Bravo; Giphy