What's Going On In 'Another Period' Season 2?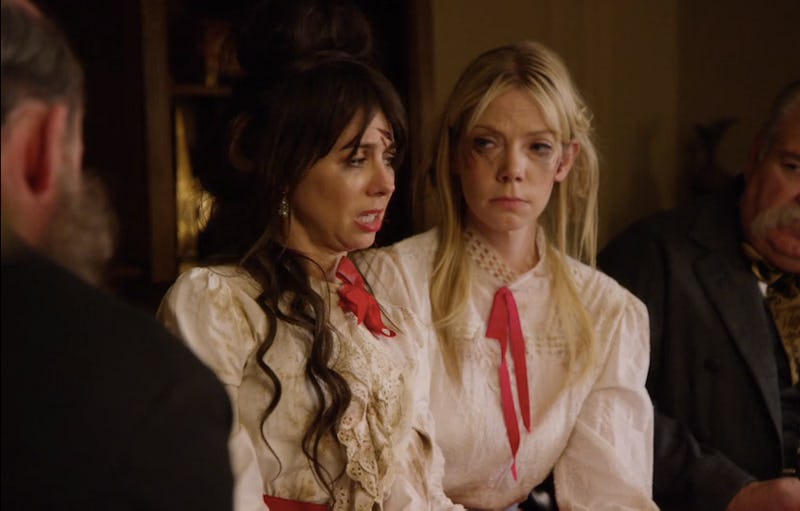 I can't be the only one super hyped for the return of Comedy Central's historical satire series Another Period, right? I mean, the Season 2 trailer for Another Period just debuted and I couldn't be more thankful for the return of the fame-hungry Bellacourt sisters — especially after watching it. I mean, I was excited enough after I heard Another Period was renewed for a second season, because the hilarious faux reality show is still falling under the category of "severely underrated" next to the likes of perennial girl-fronted favs Insider Amy Schumer and Broad City, but like, now my excitement is just majorly through the roof.
So, what can we expect in Season 2? Incidentally things were going, in a backwards sort of way, really great for the newly deemed "Pig Sisters," Lillian and Beatrice. But will their notoriety last long enough to leverage them into the proto-Kardashian level of fame they so desperately desire? Well, the next season looks like it's going to amp up the crazy and embellish on all their horrifying qualities, so I would say... hard yes, and thank God.
If you haven't already bought into the Bellacourt family, let this serve as my argument for the show. Launch into the trailer below, and then delight yourself with these 14 things to look forward to in Another Period's second season.
1. The Bellacourts Back In The Dating Pool
Lillian and Beatrice are forced to pursue some wealthy suitors and help restore the Bellacourt family name.
They're sad about it, clearly.
2. New Edwardian Era Fashion Risks
Lillian's rocking full plaid here, while Beatrice is donning a daring keyhole neckline, so it's easier to suss out which one's the Blair and which one's the Serena.
3. More Bling Than Ever Before
I don't even want there to be a show if Lillian isn't rocking the tiara in every other scene.
4. Celebrity Guest Stars
Harriet Tubman! Albert Einstein! Teddy Roosevelt!
5. This Potentially Dangerous Activity
I don't know what's happening, but I feel like it's going to be hilarious.
6. Money
They love money!
7. The Revenge Of Chair?
It's unclear if she somehow scammed her way into the family (she definitely had a strong affair going with the Commodore, but she looked a little... um, worse for wear last time we checked in), but I'm excited to find out what's going on here.
8. Elegant Parlor Games
Jk, Lillian looks like she's chugging hardcore in a wedding dress here.
9. Screaming
No caption necessary?
10. Vase Breaking
And glass breaking, there's going to be plenty of both.
11. Sword Fights
You know, just for some light entertainment or a death grudge, whatever.
12. Outfits Trimmed With Ostrich Feathers
Would you expect anything less?
13. The Cutest Dogs Ever
Whoa, you need to control yourself, Mayor Cutie.
14. And... Andrew Rannells?
Hey, if this is how you want to spend your free time when you're not on Girls, I love your life decisions. Please continue.
Another Period Season 2 will premiere on June 15.
Images: Comedy Central (17)