5 Tricks For Making Your Sex Life Hotter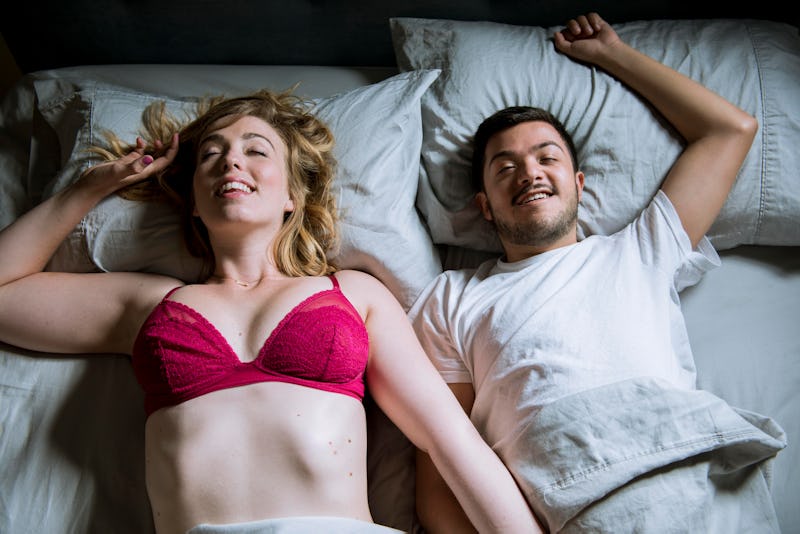 Summer flings, summer romances, summer lovin' ... there's a reason we associate our hottest season with love. And why shouldn't we? As the weather literally heats up, people everywhere start revealing more and more skin. It's the time of year when your primary urge is to get naked, a desire accompanied by a search for ways to make sex hotter. It's a match made in heaven.
The advantage of associating "summertime" with "taking off all your clothes" is that is that it helps people feel more adventurous — especially in the bedroom. After all, long, hot days and steamy nights are perfect for exploring new and exciting erotic escapades. Even if you already have a great sex life, you can always stand to shake things up and make it even better.
Whether you're looking for sex to be more intense, last longer, or lead to a better orgasm, there's no shortage of ways to increase your sexual pleasure. It's all about discovering something fresh that means more pleasurable sex for both you and your partner. Below are some tips and techniques that are all about increasing sensation and satisfaction for you and your partner.
1. Lasso Your Inner Cowgirl
First, consider turning up some country tunes to rev your engines. Then, assume the (cowgirl) position. Cowgirl, or woman on top, is all about pleasure for both parties. Not only can both partners benefit from deeper penetration, but they can also maintain control of the thrusting pace and depth. It's a true sexual win-win!
2. Use Pillows To Your Advantage
News flash! Soft things help make complicated positions more comfortable. If you're being penetrated from behind, stacking a bunch of pillows to lean on creates a lovely ledge for your upper body. A pillow under your lower back during missionary or while receiving oral can help adjust the angle of penetration to directly target your clitoris. Watching you get lost in ecstasy benefits your partner as well — after all, it feels almost as good to give pleasure as it does to receive it!
3. Whip Out The Toys
Introducing a new toy or two into your bedroom activities is a great way to achieve simultaneous orgasm. A device like the Durex Pleasure Ring can help your partner maintain a longer lasting and firmer erection, which in turn, can help you reach your tipping point. (Score!). Adding in a bullet vibrator to give your clit some much-deserved attention while you go at it can result in a fantastic release when you're both ready to come. And if that happens, you might as well high-five each other, because coming together makes you both sex heroes.
4. Climb That Stairway To Heaven
Think of this position as an outside-the-bedroom twist on doggy style, plus stairs. Kneel on the stairs as your partner kneels on the step below you, entering you from behind. Because your partner is slightly below you, he'll have a more natural angle for thrusting, and can even hold the banister with one hand. That leaves the other free to reach around and stimulate your clit as desired.
5. Be Vocal
Telling your partner exactly what you want, and what you want to do to them in bed isn't just hot; it's a surefire way to guarantee you both get what you want. Does he move his hips a certain way that feels incredible? Let him know so he knows to keep doing it! From sharing fantasies, to talking dirty, to vocalizing general preferences, saying it out loud is key for maximizing incredible sensations during sex.
Sponsored by Durex.
Images: Andrew Zaeh for Bustle (2); Fotolia (3); Shutterstock (1)