10 Ways To Know If Your Sex Life Is Up To Par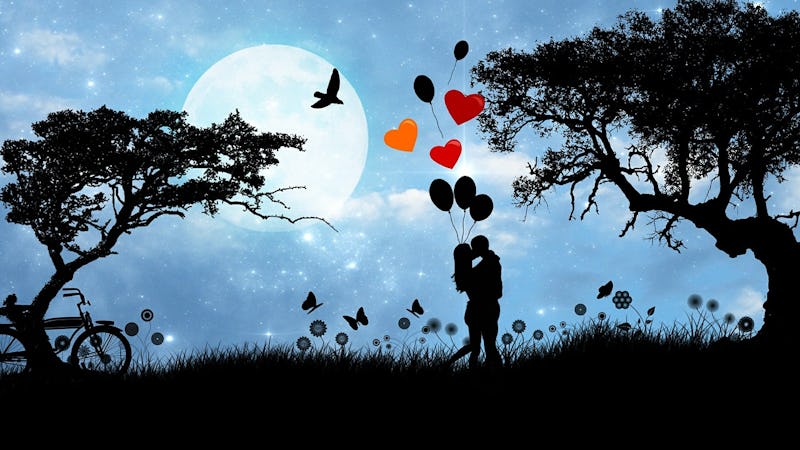 On a scale of one to 10, how good is your sex life? It might be tempting to ask such questions, but relationship expert Lori Bizzoco says it's not about comparing your sex life to your best friend's, or reading women's magazines that cite optimum weekly numbers or what kind of lipstick you should be wearing if you're having enough sex. She keeps it very simple: "If you think you are having a good sex life, you probably are," she says. In other words, if you're happy with your partner and like having sex with him or her, props. If you're dating and sleeping with a number of people and having fun, fantastic. In general, if you are sexually fulfilled and like the kind of sex you're having and the kind of people you're bedding, you're ahead of the game.
Bizzoco is executive editor of CupidsPulse.com, which "takes the latest celebrity news and repackages it to help singles and couples navigate their love lives," she says. She knows her subject well: Her advice has been featured most recently in the books No Excuses: Nine Ways Women Can Change How We Think about Power by Gloria Feldt and Cheat on Your Husband (With Your Husband) by Andrea Syrtash. And she swears it's that straightforward: If you're happy with your sex life, it's a good sex life, as there's no one path to sexual actualization. "But just in case you need more evidence, here are some clues that are a dead giveaway regarding just how good it really is," says Bizzoco.
No Excuses: Nine Ways Women Can Change How We Think About Power, $13, Amazon
Cheat On Your Husband (with Your Husband): How to Date Your Spouse, $15.99, Amazon
1. You Shave
Unless, of course, you don't. With rainbow-colored armpit hair trending and a full bush featured at American Apparel, there's no guarantee that you're down with a razor. But if you are usually attentive to your hair (or lack thereof), that's a sign that you're having sex regularly, and care about the way you look and feel, says Bizzoco. "Shaving can be such a hassle, and oftentimes it's the one thing we skip over during our shower routine," she says. "If you find that your constantly manicuring yourself from head to toe, your sex life is probably pretty active." Take that as you will — whatever it is that you do to make yourself feel sexy from head to toe, be it shaving or singing in the shower or just plain showering, if you're doing it often, you're well on your way to a top-shelf sex life.
2. You Pay Attention
No wham, bam, thank you ma'am for you. "If you have a great sex life, you are probably paying attention to your partner's needs, and they are paying attention to yours," says Bizzoco. This one might seem obvious, but it's possible to take sex for granted, especially in long-term relationships, and forget to keep the lines of communication open and ask what your partner wants. "People who are having amazing sex tend to have a strong emotional connection," she says. To keep the emotional connection going, be sure to discuss fantasies and desires with your partner frequently.
3. You Love Yourself
Do you catch yourself taking sexy selfies and spiriting them off to your lover in the middle of the day? Good news: "People with a great sex life truly love themselves and their bodies," Bizzoco says. "They aren't afraid to try new things, get a little frisky and approach the person they are dating." Don't stifle yourself or tell yourself that the things you might want are silly. Instead, be sure to ask for what you need, which will lead to better sex. "Confidence is the sexiest thing you can wear, especially in bed! If you are confident in bed, that allows you to relax and truly enjoy the experience," she says.
4. You Schedule Sex
This may not sound very sexy, but a good sex life includes the occasional "I'm attacking you later on" text, or scheduling an entire Sunday afternoon in bed. A scheduled romp is important from time to time, Bizzoco says. "Although this may sound like a negative, it really couldn't be further from the truth. Most people don't make time for sex and before you know it, weeks have passed," she says. "Schedule sex just like a date night and give yourself something to look forward to and enjoy." If you've never tried such a thing, now's the time. It's in the name of a better sex life, after all.
5. You Have A Spring In Your Step
Turns out that all of those cheesy '80s movies with the sequence of the guy who just got laid high-fiving everyone the next morning have something to them. "The truth is, sex relaxes you," Bizzoco says. "So if you find that you are happier, lighter on your feet and have less stress over the small things, you probably have a good sex life." Easy litmus test.
6. You Try New Things
If it's missionary all day, it might be time to change it up. (Actually, if it's literally missionary all day, then hats off to you, my lady, though I'm not sure where you find the time.) "Doing the same old, same old stops being enjoyable after a while," Bizzoco says. "If you are getting out of the usual routine and trying different things in the bedroom, that's evidence of a fulfilled sex life." This can look many different ways, she says — namely, don't be afraid to splurge on a new vibrator to use with your partner or try some sex games. "Role-playing and toys bring a whole new level of excitement to the bedroom too, and if your are opening yourself up to these things, you really don't need to worry about your sex life," she says. If you're excited about the sex you're having, then your sex life rules. Easy enough.
Try LELO Lily Massager, $81, Amazon
7. It's Never Enough
"If you find that no matter how many times you have sex with your partner, it's still not enough, that's a sign that the relationship is healthy and happy," Bizzoco says. If last night's session only makes you want it more today, that's evidence that your sex life is going quite well. It's only natural, she says: "A great relationship and healthy sex life should be filled with the desire for more. It's a natural reaction."
8. You Can't Stop Talking About It
Are you known for being a bit of a Samantha at brunch with your friends? "Constantly engaging others in conversation about your sex life is a sign that you are confident and happy," Bizzoco says. The same goes for if you're the resident Dr. Ruth among your pals. "If you find that everyone comes to you for advice about sex and intimacy, it is also a sign that everyone around you feels that you have a pretty great sex life too," she says. And if you love doling out tips about sex, you probably know what you're talking about.
9. You Feel And Look Sexy
There's no way around it: Sweats are the best sometimes. There are definitely times I can think of when I've sung a little song or done a little happy dance when it comes time to don pajamas. But it's important to dress one's best as well, and if you're inspired to brush your hair and put on a lil' something that makes you feel as good as you look, that's a good thing. "Oftentimes how we look on the outside determines how we feel in the inside," says Bizzoco. "Many women who are happy with their sex life want to dress up and impress their partner outside the bedroom too. This helps to keep their partner attracted to them." Of course, a truly healthy relationship is one in which both parties feel comfortable throwing on some comfy clothes and snuggling in bed sans makeup for a bedhang. As long as you're still making effort, Bizzoco says: "Go ahead and dress up, do your makeup and find new ways to style your hair to keep that hot sex life going."
10. You're Attached To The Bed
"When you have a good sex life, your time in bed is more frequent," Bizzoco says. "Whether it be staying in bed in the morning or retiring early at night, you love being in bed with your partner and never want it to end." It doesn't have to be an actual bed, of course — wherever it is that you like to get down, if you find yourself spending a lot of time there, yay for you and your sex life. And it also doesn't always have to be an hours-long session. A gal with an active sex life "can enjoy a quickie and do it well, but if given the option of time, you'd rather spend it alone in bed making love to your partner."
If you can tick off all 10 of these, you're obviously having the best sex of your life — but even if you can only check a few, it's likely you're having a pretty good time. In which case, high five.
Want more of Bustle's Sex and Relationships coverage? Check out our new podcast, I Want It That Way, which delves into the difficult and downright dirty parts of a relationship, and find more on our Soundcloud page.