Here's Where You Can Shop Nike x Olivier Rousteing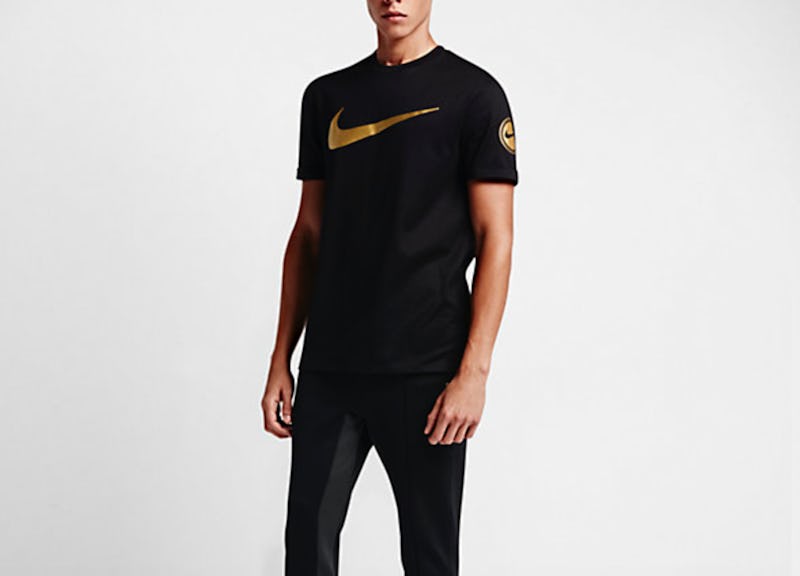 By now, you are well aware of one of the most glam high x low mashups of 2016. Balmain Creative Director Olivier Rousteing collaborated with Nike for NikeLab x OR, a football-inspired, black 'n' gold athleisure collection. In this instance, football = soccer. It's called "Football Nouveau" and it's essential football fashion, with cool sneakers and apparel. It's more than just snazzy basics — really. The collab, which is affiliated with Rousteing, not Balmain, landed on Thursday, June 2, and much of the stock went quickly. According to Racked, Nike x Rousteing items have already found their way to eBay as well. Is there anything left to buy and if so, where, exactly, can you purchase NikeLab x OR pieces?
Well, you have a few purchasing options, both online and in stores. There are limited items left over, but they are hardly "leftovers." They are still worth purchasing, since this collab is so insanely glammed up. As Racked reported, the NikeLab x OR collection was made available at the NikeLab location in NYC. There are also pieces on sale at NikeLab's site.
What remains? Well, as of press time, some pieces, ranging from $75 to $300, were still shoppable. Other items are on the site, but are listed as not currently available. Still, you have the option to sign up for updates when stock is replenished.
Top, $75, NikeLab
The familiar Nike logo in gold adorns this men's tee. It's still available, albeit in limited sizes.
Pants, $250, NikeLab
Limited sizes of these men's pants are still shoppable.
Jacket, $300, NikeLab
This jacket could double as a dress if you style it with tights. There are only a few sizes left of this super versatile item.
Crop Top, $110, NikeLab
This sporty crop top is also still available in a few sizes. If they have your size, don't delay in scooping it up.
Honestly, even if they don't have your size left, maybe you can still scoop it up and customize with some fabric scissor or creative styling? That's my favorite thing about fashion!
This screen grab lists some of the sneakers as "Coming Soon."
Honestly, your best bet is to poke around the NikeLab x OR page and browse the offerings. Grab what you can, since third party prices look astronomical already and restocks are reportedly on the way.
Images: Courtesy NikeLab x OR (4)