The Glossier Haloscope Highlighters Are Here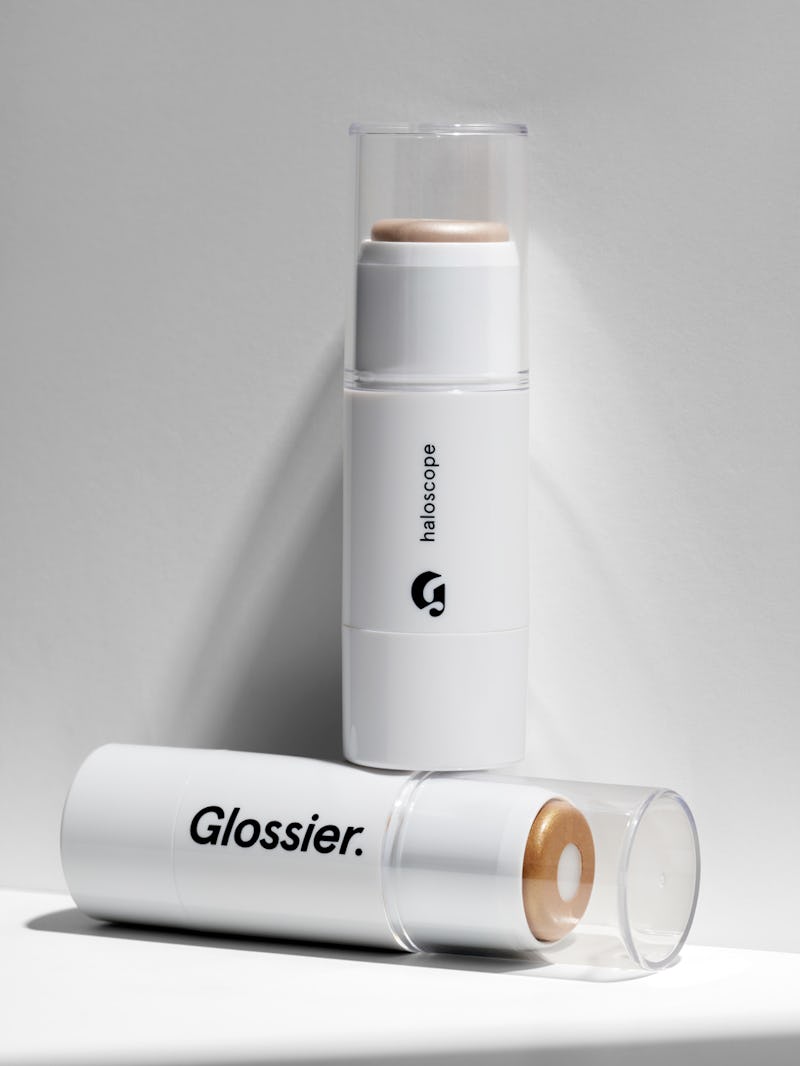 OMG, you guys! Glossier's Phase 2 makeup set just got better and it was already pretty awesome. Glossier is adding Haloscope, a dew effect highlighter that comes in both Topaz and Quartz shades, so you can get either a bronzy or pinkish glow, to its offerings. When can you purchase the Glossier Haloscope highlighters?
They are available as of today, June 6. Haloscope comes packaged as a push-up stick and can be applied with little-to-no blending. It makes highlighting features, like your cupid's bow or your temples, so, so simple. You can shop the Haloscopes at the Glossier site; the highlighters retail for $22 a piece.
Want further deets? Well, the stick itself has an outer halo infused with genuine crystal extracts so that you get a glow that lasts all day and into the night! The solid inner core is packed with vitamin-heavy moisturizers. Like what? Oh, just coconut oil, castor seed oil, vitamin E, and sweet almond oil. So your skin will be hydrated while looking all dewy and sexy.
There are two shades. Quartz, which is one of the Pantone Colors of the Year, will give you a pearlescent sheen, while Topaz adds a safely sun-kissed and golden glow. Both shades are designed to look maj on light or dark skin tones.
The peeps at Glossier even provided a nifty face map, pointing out the best face space on which to apply Haloscope.
You can dab in the inner corners of your eyes, on the outer corners, or on the cupid's bow for a dewy, healthy sheen. You can apply straight from the stick or you can use a concealer brush if you want to get even more creative and/or precise.
You could also dab this highlighter on your lids! The formula is non-drying and not too glittery or shimmery. I've been using the Haloscopes on my inner corners and outer cheekbones since press samples landed on my desk.
The Haloscopes allow for such a natural glow. As is the case with most of the Glossier makeup products, the Haloscopes aren't heavy duty nor are they overpowering. They enhance what you already have.
Dewy skin is in! You can use the Haloscope, no matter your skin type. It's good for all!
You can glide the product right onto skin, directly from the tube, and then use your fingertips to tap and disperse the product lightly over skin and to blend the edges. Or you can also slide your pinky fingertip over the surface of the stick and dab the product in those tiny, hard to reach spots with your digit. That's what I've been doing.
Go ahead and get that glow. Grab your credit cards and shop Haloscope via the Glossier site.
Images: Courtesy of Glossier (6)