8 Things To Do With Your BFF Before Her Wedding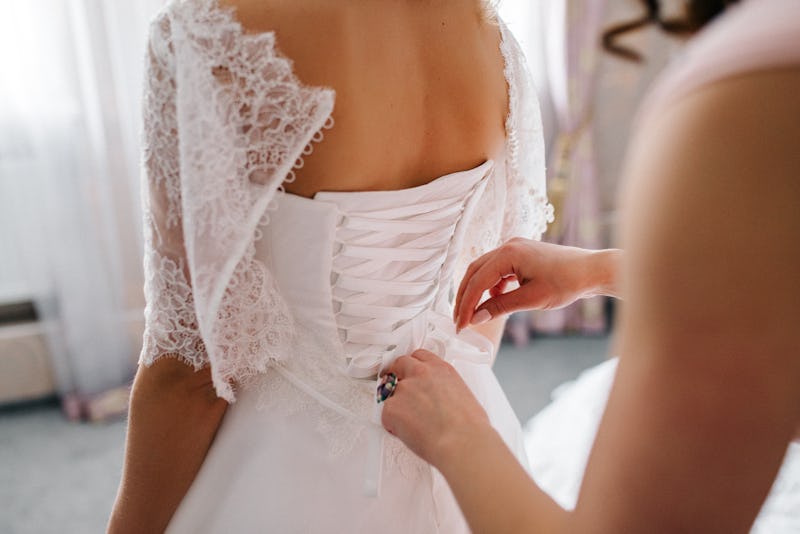 Andrii Omelnytskyi / EyeEm/EyeEm/Getty Images
Your best friend has been counting down the days to her wedding for a while now, so it's time to think about things to do with your best friend before her wedding actually takes place. While a lot might be changing in her life right now, your strong bond won't be taking a hit. But, it's still fun to spend some pre-wedding time with her to remind her that you've got her back, no matter what.
It's also good to take your best friend away from wedding planning for a while, and remind her to have some fun. As she's been wrapped up in RSVPs and seating charts for some time, she'll definitely appreciate a break in routine. Maybe she's been looking for a good vent session, or needs some opinions on some choices, but feels bad asking. Or, maybe she just wants to talk about anything other than weddings. Trust me, she's had people hounding her for details about her dress and her colors for months now. When you have to tell your proposal story to every single relative, it becomes less and less charming each time.
As her best friend, you'll want to book some one-on-one time with her and let her know that both now and forever, you'll always have be there for her. Try making some pre-marriage memories with these activities.
1. Take a small weekend trip
Just the two of you — no one else allowed. As this wedding is probably expensive as heck, try to think of fun, quasi-local places you can hang out. Do a quick search online for fun activities happening a few towns over. Or, visit a part of the state that you've never been to before. Even if it's touring a bunch of downtown shops and landmarks, it's bound to be a fun time. Sometimes the best trips don't require a luxury destination — just having the company of your closest buddy will be good enough.
2. Take a Zumba class together
Zumba isn't just about fitness — it's about letting loose and having a great time. If you and your friend like dancing to your heart's content, Zumba might be the perfect activity for the two of you. Zumba classes are happening all over the place, so you shouldn't have any difficulty finding a local facility that offers classes. In fact, on Zumba.com, you can do a pretty intensive search by location. If your friend is particularly stressed out, this might just be the cure she needs.
3. Start a weekly brunch
Brunch is the perfect excuse to kick back with a mimosa. Take your friend out for brunch, and see if you can make it either a weekly or monthly tradition. The benefit (besides the food, of course) is that you'll have a standing appointment with your friend to meet up and spend some quality time together. Sure, text messages are great, but there's nothing better than face-to-face interactions with the people you love.
4. Plant some flowers and/or trees together
Gardening can be a major stress-booster, and it's always great to beautify your place. Maybe you can even plant a tree, and watch it grow as the years go on. Even if you don't go and call it a friendship tree, it'll always be a great way for her to look back and get a little nostalgic about pre-married life. (Plus, hey — you'd be doing a good service for the environment.)
5. Check out a movie her fiancé would never be interested in seeing
She could always go to the movies solo, but going with a friend is way more fun. And if she wants to check out a rom-com, but knows her partner wouldn't be interested, she'll know that with you around, she'll always have a date to the movies. Going before her wedding will just remind her that yes, even though she's now a wife, she can still go out and do her own thing. And just because she's married, it doesn't mean her Ryan Gosling swoon-privileges have been revoked.
6. Sign up for a marathon
Running a marathon is a huge accomplishment, and can be a lot of fun. If the two of you are looking for an activity you can plan for and train for, running together is a great way to bond. Fitness benefits aside, running will help her clear her mind a little bit, which is exactly what you need to do before such a big event.
7. Plan a spa day
Hit up Groupon, and see if you can find a great deal on some manicures, pedicures, and facials. If she hasn't booked a hair stylist or makeup artist yet, perhaps the two of you can try out a few different places together, and see what stylists match her vision. It's a good excuse to feel a little glamorous.
8. Gossip about past crushes together
If the two of you have been friends forever, you've probably experienced a couple failed relationships and secret crushes together. Just because she's getting married doesn't mean that these funny past memories never existed. By talking about the past, she'll probably realize that her partner is truly her best match — after all, every failed romantic relationship will only lead you one step closer to your true love. And hey, this person is tops compared to Johnny, back in 7th grade. His whole shtick was just quoting Austin Powers 24/7. No thanks.
Images: Giphy (8), Andrii Omelnytskyi / EyeEm/EyeEm/Getty Images