The 'Me Before You' Cast Is Inspired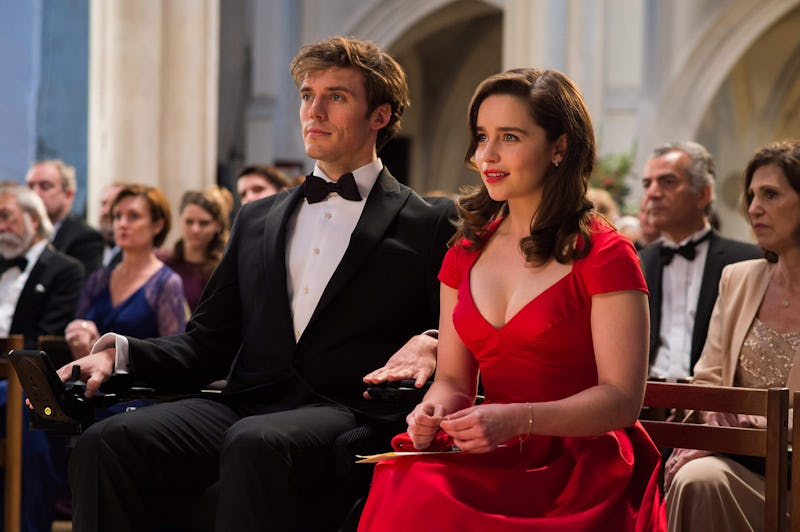 The casting process for any movie is an important, but even more so when the film is drawing from a book. For readers who likely have very specific versions of the characters in their heads, a movie can be ruined by poor casting choices. Fortunately that cannot be said for Me Before You , which stars Emilia Clarke and Sam Claflin as Lou and Will, an unlikely pair that will tug on your heartstrings in the tearjerker. Clarke and Claflin are inspired actor choices, and perhaps even a little unlikely considering that, before the movie, their best-known roles were in genre series (Game of Thrones and The Hunger Games). But they did a great job, and the actors even have the stamp of approval from the author herself. JoJo Moyes tells Bustle at a junket that she was initially nervous about who would be chosen, but was pleasantly surprised with the result.
"How can you not love seeing people who only existed in your head suddenly appear in the form of Emilia Clarke and Sam Claflin?" Moyes says. "I could not have asked for two people who more embodied those characters ... The problem I have now is they've supplanted the original characters I had in my head. I just see Sam and Emilia," the author jokes.
Speaking of not being able to shake an image from your head, that's the danger with casting people who are most recognizable for one role. Would audiences be able to see Clarke as more than the Mother of Dragons on Game of Thrones or Claflin as more than Finnick from The Hunger Games? Well, after seeing the movie I can confirm that yes, I was still able to lose myself in Lou and Will's story. But, director Thea Sharrock had faith in them long before seeing it all come together on screen. She tells Bustle that Clarke and Claflin had no problem putting their iconic roles behind them and taking on the Me Before You characters.
"If anything you could feel the excitement from them where they could almost go back to their training roots where they were allowed to show their range," Sharrock says. She notes that Lou is "so so different from Khaleesi," which she think Clarke enjoyed.
"You could see [Clarke] absolutely relished it, finding all the nuances that the character of Lou was offering for her," Sharrock says, before elaborating on the topic.
I think that was actually the most exciting thing for [Clarke] and actually for us. I love the fact that now the world can see her doing something that is a million years away from [Game of Thrones.] And the look is so different, everything about it is so different, and it just shows that's what good actors can do. They can do anything.
Watch the full interview below.
You can see how Claflin and Clarke tackled these new roles when Me Before You hits theaters on June 3.
Images: Warner Bros. (2)