This McDonald's Eatery Is All About The Fries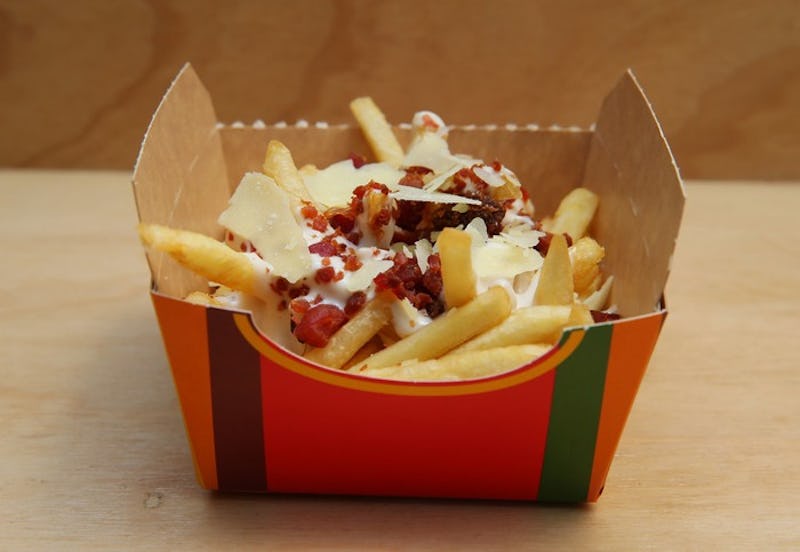 McDonald's is making the dreams of French fry lovers come true. The fast food chain opened up a McDonald's fries-only pop-up restaurant in Australia that serves various kinds of loaded fries. And as if that doesn't sound delicious enough, just wait 'til you get a load of the menu.
Appropriately titled "Fries With That," the Sydney eatery does away with burgers, chicken sandwiches, and milkshakes and instead focuses on giving the people what they really want: fries, and lots of 'em. The menu offers seven different types of loaded toppings for the classic Micky D fries, including peri peri cheese sauce; curry; pesto, mayo, and parmesan; gravy; Caesar sauce, bacon, and parmesan; sweet chili and sour cream; and chipotle cheese sauce. Like I said, it all sounds delicious.
Unfortunately, the fry spot is currently only open in Sydney and even that location is temporary. The pop-up restaurant will remain open until June 5 before closing its doors. Luckily for French fry aficionados, there's still hope for at least one of the eatery's menu items to live on. McDonald's is allowing customers to vote for its favorite Fries With That food on the chain's Australia Facebook page. The fries that get the most votes will nab a permanent spot on the McDonald's Australia menu, so make sure to cast your vote if you're lucky enough to live nearby.
It's unclear whether McDonald's plans to unveil a similar pop-up concept in the U.S., so those of us stateside will have to settle for ogling the mouth-watering pictures, at least, for now. As you probably could've guessed, Twitter has gone crazy for the idea, with users pleading for the fast food company to bring some of the Fries With That menu items here:
So will McDonald's listen to customer demand and bring some of those yummy-looking loaded fries to more of its locations? We can only hope so!
Images: McDonald's Australia/Facebook