Chase On 'Bach' Loves Lions & His Family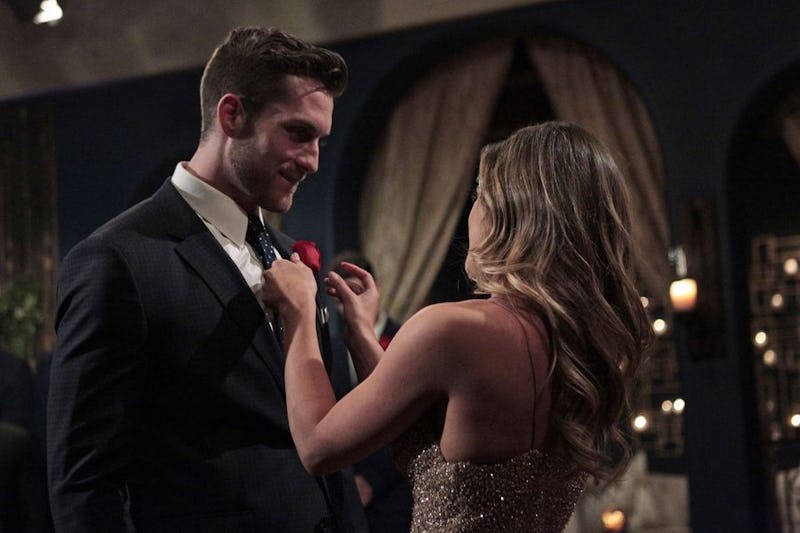 Now that we're coming up on week three of JoJo's season of The Bachelorette, we're finally getting into the thick of the competition. The first few weeks tend to focus on the major players — this year, it's been early frontrunner Jordan Rodgers and noted villain Chad Johnson — while those that fall in the middle of the pack can slip between the cracks. For instance, who is Chase McNary on The Bachelorette and why haven't we seen more of him this season?
Well, I have a feeling the answer to the second part of that question has a lot to do with this season's villain, since Chad (and everyone else talking about Chad's intentions/actions/meat-eating habits) completely dominated week two. But, if Chase caught your eye with his mustache puns and his winter wonderland mini-date during the week two cocktail party, then I've got you covered. Sure, you can learn a lot of the basics from Chase's Bachelorette bio, like that he's a medical sales representative, loves his truck, and his favorite movies include The Chronicles of Narnia and Gladiator. However, there's plenty more to a suitor than what appears in their ABC bio, so here are nine things fans of The Bachelorette should know about Chase.
The Three G's
According to his Instagram profile bio, three things that are important to Chase are golf, guns, and God (in that order). I don't know enough about golf to gauge his skill but he did spend his Memorial Day golfing with his mom, which is super sweet.
He's Close With His Family
In fact, Chase is close with his entire family. He's posted plenty of photos with his young nephew on Instagram and wished his sister a happy birthday, calling her, "my forever best friend and my sister."
His Nephew Inspired His Limo Exit
OK, this is obviously a joke, but Chase claimed on Twitter to have gotten the idea for his "Mustache you a question" limo exit from his nephew. Even if it's not true, it's so cute I don't care.
He Likes to Hike
Since he's from Colorado, it's no surprise Chase enjoys a good hike. That certainly explains why he described his dream girl as athletic in his Bachelorette bio.
He's a Romantic...
In a recent Instagram post, Chase captioned a photo of himself and JoJo on night one with: "The moment I laid eyes on you...." and a heart eyes emoji. Cue my "Aww."
...And He Can Pull Off a Romantic Gesture
Listen, I'm still a little ticked off that Chad-time trumped Chase's winter wonderland time with JoJo in the second episode of this season. But, from what I could tell, it was a particularly sweet romantic gesture. Hopefully he can continue to pull those off after the show ends — whether he ends up with JoJo or someone else.
He's Able to Laugh At Himself
Based on a recent Instagram post, it seems Chase isn't letting his Bachelorette fame go to his head since he's able to laugh it off.
He's Obsessed With Lions
Sure, he admits to having a lion tattoo in his Bachelorette bio, but he also posts about lions on his Instagram on a regular basis and his Twitter header photo is of a lion. That's a lot of lions. I'm a little curious why The Lion King isn't one of his favorite movies.
He Has A Bulldog Named Hammer
OK, this is the most important thing to know about Chase. Plus, to reiterate again just how much he loves lions, Chase posted a photo on his Instagram of Hammer dressed as a lion.
So, those are the major things all Bachelorette fans need to know about Chase before this season moves forward. Since there seems to be a good possibility he'll last a while in the competition, though, I'm sure there's plenty more that Bachelor Nation will learn about this suitor!
Images: Craig Sjodin, Rick Rowell/ABC