Margot Robbie Promises Intense Joker Scenes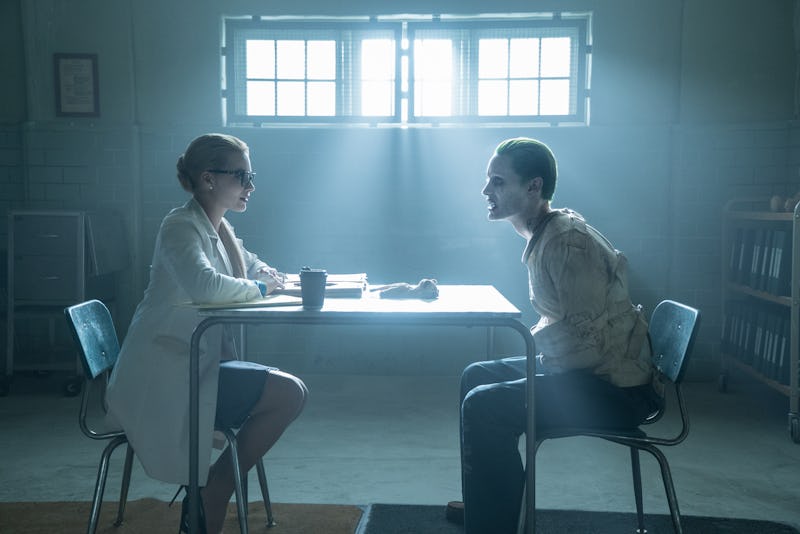 Their relationship is hard to define, but the words unhealthy, manic, and explosive come to mind. So it's no surprise that Harley Quinn and The Joker's scenes together in the upcoming Suicide Squad are "crazy," according to Harley Quinn actor, Margot Robbie. "I've never seen scenes like it before. Pretty wild. It's next level," she promises. "People better brace themselves."
For those unfamiliar with the comics, audiences can expect to see the origins of The Joker and Quinn's relationship in the David Ayer directed film, which goes something like this: Harley Quinn (then Harleen Quinzel) was an intern at Arkham Asylum, and though she was warned to be careful around the asylum's patients, became very close with The Joker, who told her stories of his abusive childhood. She falls in love with him, and soon becomes his criminal accomplice, adopting the clownish persona of Harley Quinn — complete with pink and blue hair, white face paint, and tattoos that mimic the Joker's.
"They're a fascinating couple. Honestly, I find their stuff the most exciting out of everything. I'd watch a dialogue scene between them over [a scene] of buildings blowing up and guns. I love that stuff as well," the 25-year-old actor says. "But when they find someone that they wanna pick on, it's scary. They're messed up."
Luckily, when Quinn is separated from the Joker and surrounded by the rest of the Squad, she is slightly more managable, according to Robbie. "When Harley isn't around Joker she's slightly less crazy than she is when she is with him. And I find acting 1000 percent crazy all the time is just totally gonna distract from what we need to be focusing on in that particular scene," she says. "When it's a Joker scene, she's pretty nuts because he brings that out in her for sure. And when it's the rest of the squad's scenes, yeah, she has her moments, but she's a little, I wouldn't say sensible, she's never sensible. But she's a little more focused, I suppose."
Though a healthy Harley seems like an ideal ultimate outcome, is it wrong that her "wild" scenes with The Joker are what entice me most? Bring on the crazy, Harley. August 5 can't come soon enough.
Images: Clay Enos/  & © DC Comics Courtesy Warner Bros. Pictures