Vivian Nixon Believes In Second Chances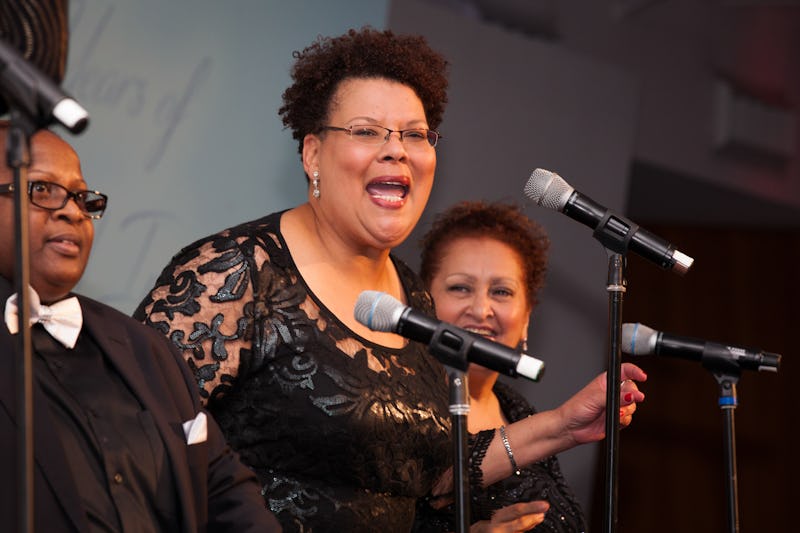 In her day-to-day life, Vivian Nixon leads a fast-growing nonprofit organization with an annual budget of $1.4 million, a budget she grew from just $150,000 annually. With that money, Nixon funds the college educations of various young women and makes higher education accessible for some of the country's least-expected students. More than giving back, Vivian Nixon gives women a second chance after their criminal convictions.
Nixon serves as the executive director of College and Community Fellowship (CCF), a New York City-based nonprofit organization that helps women with criminal backgrounds navigate the higher education process. Nixon has held the position of executive director since she graduated from college — and from the CCF program — herself. In 1997, she was convicted of a white-collar crime, which she says stemmed from an addiction problem. "I went to prison with a different background from the vast majority of women who go to prison, in that I wasn't from the inner city," she says. "I lived on Long Island in a very affluent community."
Nixon notes that her family wasn't all that affluent. Her mother worked for a telephone company, and her father worked in construction. They were the third generation of family members to inhabit the Long Island town where Nixon grew up, after Nixon's ancestors moved to the community to find domestic work in the wealthy households nearby.
The affluence that surrounded Nixon from a young age afforded her a top-tier education, at least through high school. She didn't go to private school, but rather, to a very well-endowed public school. Under the right circumstances, she says, her educated upbringing could have led to any career that she wanted. Unfortunately, it took her until she ended up in prison to realize that.
"The women who were incarcerated with me — no matter what their age, whether they were younger than me, my age, or older — had severe educational deficits, especially in English and math," Nixon says. "Most of them did not have high school diplomas."
"It became a dream of mine to graduate from college and help others do the same."
While in prison, Nixon began to tutor the women around her, helping them to write letters, understand their legal documents, and otherwise prepare for the world beyond their barred facility. "Education became a passion," Nixon says. "It became a dream of mine to graduate from college and help others do the same."
When she left prison, Nixon contacted CCF, then a very new organization, and joined its academic program, which helps previously incarcerated women apply to, pay for, and graduate from college. She studied nonprofit management, and, upon graduation, she started what she calls her first "official" job as an adult, at the helm of the very organization that got her there.
On Thursday, CCF will celebrate its most recent class of graduates. Thirteen women will be honored at CCF's annual graduation ceremony, which recognizes all of the CCF participants who have graduated from some level of higher education in the last 12 months. This year's ceremony will also award 12 scholarships to CCF participants and feature a keynote address from Melissa Harris-Perry, a political commentator and professor of politics at Wake Forest University.
Nixon looks forward to the graduation ceremony, but graduating 13 young women isn't the only accomplishment that her organization has to be proud of this summer. Later this month, the Department of Education will announce an initiative that Nixon has long championed. "Several colleges across the country will be given the commission to teach in prisons and be reimbursed at the same rate as Pell grants for the tuition, which means that the number of college programs in prisons across the country is going to probably triple in the next five years," she says.
Nixon's Education from the Inside Out (EIO) coalition, which she co-founded and has housed at the CCF offices, worked with the federal government to develop the program. Under the Clinton administration's 1994 "crime bill," prisoners were deemed ineligible for Pell grants, making it nearly impossible for them to obtain federal student aid and pursue an education while behind bars. Currently, access to college programs in prison is severely limited, according to Nixon, because such programs have to be 100-percent privately funded.
The EIO coalition, which Nixon has intended to make CCF's policy arm, is also campaigning for an important change to the college application process. If the coalition succeeds, colleges would not be allowed to ask applicants if they've been convicted of a felony until after the college has otherwise determined that the applicant could be admitted to the school. According to Nixon, when a student answers "yes" to a felony conviction, colleges often re-route his or her application to a long supplemental application process. It's a practice that, Nixon believes, could result in an uneven playing field, particularly when the racial makeup of prisons is taken into consideration.
"Since prisons and criminal justice convictions are disproportionately applied to African American people," she says, "we cannot use that measure to keep people out of school, because we are undoing all of the hard work that was done when we fought for equal access to education."
"When you deny this population — people with criminal convictions — access to employment, access to jobs, access to housing, and access to education, you are becoming a surrogate for race-based discrimination."
In 2015, the Bureau of Justice Statistics reported that, for the year prior, black men and women had the highest imprisonment rate across all age groups. The annual report also showed that 6 percent of black men in the U.S. between the ages of 30 and 39 were behind bars, while just 2 percent of Hispanic men and 1 percent of white men of the same age group were imprisoned. To Nixon — and surely to the imprisoned — these statistics aren't just problematic within the criminal justice system. Rather, they pose a problem to the hundreds of thousands of prisoners who are released each year, seeking to re-enter society and have a fair chance at a productive future.
"When you deny this population — people with criminal convictions — access to employment, access to jobs, access to housing, and access to education, you are becoming a surrogate for race-based discrimination," Nixon says. Ultimately, it's this notion that drives her to work for CCF.
Currently, CCF maintains a formal relationship with the New York State Department of Corrections. Nixon has worked with students from all five boroughs of New York City, as well as some from New Jersey and Connecticut. In July, she'll begin to grow the program nationwide, in the best way that she knows how: by teaching.
"There are hundreds, if not thousands, of organizations that deal with people coming out of prison," she says, noting that most of these organizations do not include a robust academic program like CCF does. "Rather than replicating ourselves, we want to teach others to do what we do."
Through a grant-funded project, CCF will work with some of these organizations to help them incorporate an academic program into the work that they're already doing. These organizations can range from housing services to employment services and mental illness support groups. By working with CCF, they'll help recently incarcerated individuals to overcome the immediate barriers that they face and the more long-term ones, like a lack of education.
In the midst of all of her work, Nixon continues her own education. She takes graduate courses on a somewhat sporadic basis, as her schedule and workload allow. There's probably something poetic to be said for a woman who hasn't had time to focus on her own education because she's so busy educating others. Then again, when you consider her grand journey from young and lost 20-something to prisoner to nonprofit director, perhaps her graduate studies are not the most poetic thing about Nixon.
Images: Lee Wexler/Images for Innovation; Liz Holliday