16 Celebs That Guest Starred On 'Smallville'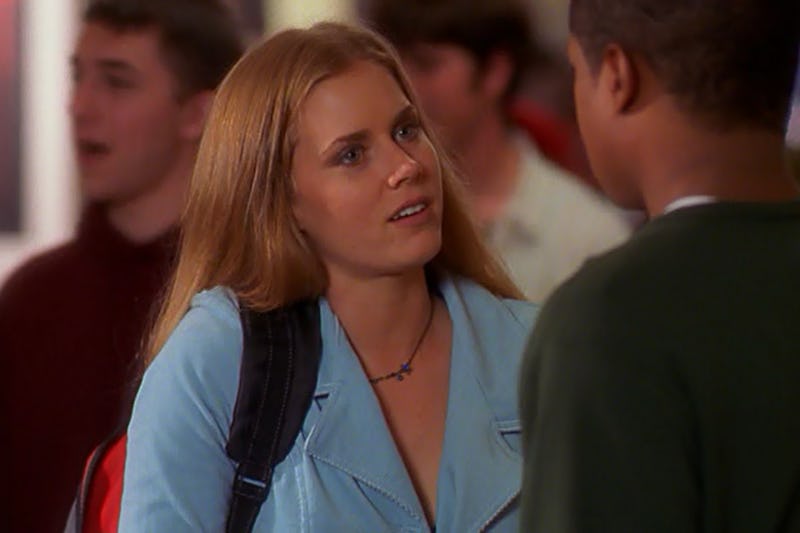 Before the CW was taken over by superhero shows like The Flash, Arrow, Legends of Tomorrow, and now, Supergirl, it was a much simpler time for superheroes on television. In fact, DC Comics reigned over teen audiences with just one comic book-inspired series titled, Smallville — that centered itself around a yet to be fully realized Superman as he lived out his days on Earth trying to fit in. Clark Kent, played by actor Tom Welling, dealt with everything from daily crime to fitting into dating. And, unsurprisingly so, the show that premiered in 2001 ended up lasting ten whole seasons before it finally reached its end in 2011. However, the show did much more than play alongside society's ever-growing obsession with superheroes, it also opened the doors to seriously successful careers for a number of actors who were just starting out over the timespan of its ten year run. That's right. A number of different well-known actors guest starred on Smallville .
Launching the careers of everyone from long-term CW stars to Oscar-nominees to the faces of giant franchises, Smallville was something of a stepping stone for actors both currently involved in the superhero world and out. And, honestly, it makes me wonder what's going to happen for the people guest-starring on The CW's superhero shows of today. But, in the meantime, let's take a trip down memory lane. Because some of these guest stars just aren't worth missing out on.
1. Ian Somerhalder
Seeing blood come out of Ian Somerhalder's eye sure makes me understand why he got cast in a show like The Vampire Diaries following his Smallville appearance. However, his stint on the Superman-themed show was much bigger than just a simple guest star. In fact, Somerhalder appeared on a total of six different episodes as Lana Lang's love interest, Adam Knight. Yep, it was all the way back in 2001 that he started stealing the hearts of CW-watching fans everywhere.
2. Alan Ritchson
Before Alan Ritchson became one of the Teenage Mutant Ninja Turtles he was living in a whole other world of heroes. In fact, instead of holding the name Raphael, Ritchson was in five whole episodes of Smallville as the one-and-only Aquaman. Not a bad gig at all.
3. Joe Morton
You may know Joe Morton as Olivia Pope's terrifying father on ABC's Scandal, however, Morton is much more than just a villain. As he played the way-less-scary character of Dr. Steven Hamilton in four different episodes of Smallville.
4. Lucas Grabeel
Who knew that High School Musical's Ryan had a touch of villain in him? Well, apparently the casting directors of Smallville did, as the Disney Channel alum played a young Lex Luthor back in 2006 and then came back for two more episodes as two different characters in 2011.
5. Tori Spelling
When I think of Tori Spelling I don't usually think of her being on a dark teen drama like Smallville. But, in fact, she was on the show and she didn't just guest star in one episode. Instead, Spelling appeared in two different episodes as the surprisingly evil Linda Lake.
6. Lizzy Caplan
Before she was in Mean Girls, Lizzy Caplan was one terrifying shapeshifter named Tina Greer, who appeared in two episodes of Smallville. But, as scary as her character may be, I just can't seem to get past the fact that she looks and sounds so incredibly young in the above clip.
7. Amy Adams
I rarely associate Amy Adams with television. However, before she was Lois Lane in the major DC blockbusters like Man of Steel and Batman V Superman, Adams got her name out there with tons of television cameos — including one as the awkward Jodi Melville in an episode of Smallville.
8. Paul Wesley
And Somerhalder wasn't the only Vampire Diaries star who got his start on the DC Comics-based show. Paul Wesley also landed himself a spot on the CW show as Lucas Luthor.
9. Carrie Fisher
Yes, Princess Leia was mixed in with the teen comic book-inspired series: actress Carrie Fisher briefly guest starred in an episode as a character named Pauline Kahn.
10. Tyler Posey
Most episodes of Smallville started out on a pretty dramatic note. And, luckily for Tyler Posey, his small role as Javier Ramirez put him right in the action. Now I can't help but think that his acting in that episode was part of what helped him get his lead role on Teen Wolf.
11. Christina Milian
Christina Milian has had quite a successful career on television. But it was in 1999 when she received her guest starring role as Rachel Davenport on an episode of Smallville. And her talent was already shining through all the way back then.
12. Adam Brody
Who can make fans fall in love with him over the course of just one single episode? Adam Brody can. And he proved that when he played Justin Gaines on Smallville in 2002.
13. Teri Hatcher
Did you know that Lois Lane's mom was one of the Desperate Housewives? Technically, that's true — when you look at how the casting went down for Smallville, that is. Teri Hatcher — who also played Lois Lane on the '90s drama Lois And Clark — guest starred on one episode of the show as Ella Lane.
14. Cobie Smulders
Was Smallville training grounds for S.H.I.E.L.D.? In Cobie Smulders' case, it seems like it was. As the Agents of S.H.I.E.L.D. and Avengers star first got her start with the help of DC Comics and a role as Shannon Bell on this hero-inspired series.
15. Cory Monteith
The late Cory Monteith took on a couple of small television roles before he landed his role on the show Glee. And one them was a role that was listed as "Frat Cowboy" on a 2005 episode of Smallville. No, I'm not kidding.
16. Evangeline Lily
Not all of the celebrities who appeared on Smallville had speaking parts. And before her days of wielding a bow-and-arrow in Middle-Earth, The Hobbit star was nothing more than a background actor on the popular CW show. I'm just glad that she got her time to speak on camera eventually.
Now if only Smallville would come back to television and help launch the careers of more future stars. But hey, with an epic DC Comics crossover on its way to The CW, you never know how Smallville might be able to play into it. It's possible, OK?
Images: Warner Bros. Television (4)