Jeffree Star Just Teased A New Skin Frost Shade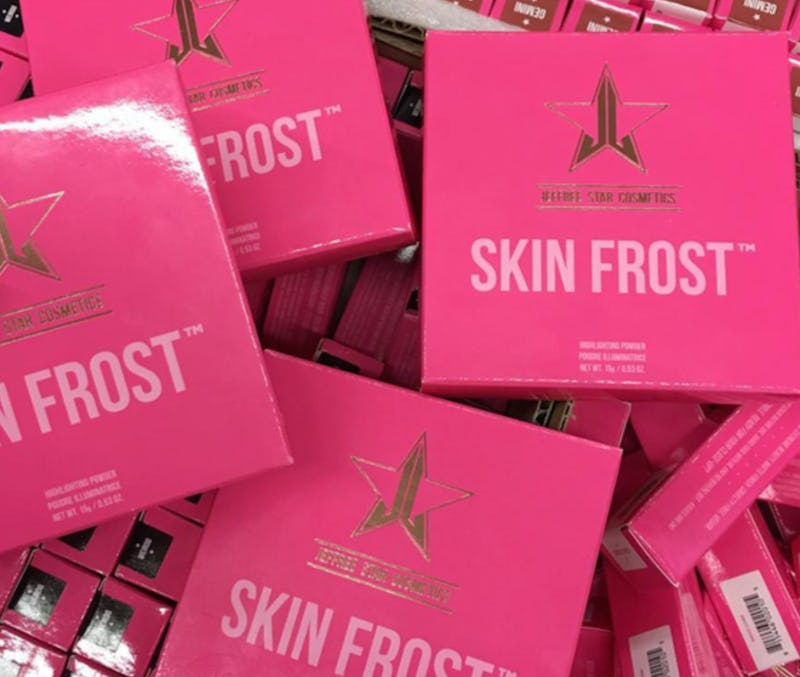 Jeffree Star Cosmetics' first four Skin Frost Highlighters — King Tut, Mint Condition, Ice Cold, and Peach Goddess— went on sale on May 25. Upon initially announcing this fab new product, the brand also revealed that four additional shades would follow shortly after in June. Well it's now June and Jeffree Star just teased a new Skin Frost highlighter shade. It's unbelievably beautiful and it's called Lavender Snow. It's essentially a shimmering, light purple dream. The Skin Frosts are certainly not your average face highlighters. Yes, they deposit shimmer and sheen wherever you apply them, but these babies have such unique tints. You will glow in a maj way, thanks to the JSC Skin Frosts.
Star posted a video reveal of the new shade on his personal Instagram, swatching it on his finger. Lav Snow also looks to have a hint of silver to it, at least in this filter and/or lighting.
Let's pause this conversation for a hot sec and enjoy the first look at Lavender Snow, the latest addition to the Jeffree Star Skin Frost offerings. This shade already has me super stoked to see the other three new colors. Oh, and yes, I was totally gawking at J Stars's mani. Love his blingy, weapon-like talons.
Anyone else notice the "Ahh" that Star emitted upon swiping Lavender Dream on his hand?
It was a vocalization that certainly expressed his almost orgasmic excitement about this new product shade, which is gorge.
Judging from this screen grabbed comment on the post, fans noticed Star's "Ahh," too!
Star's tweet about the new shade already grabbed nearly 3,000 likes as of press time.
The Skin Frosts are $29 a piece, are vegan, and they are sold via the Jeffree Star Cosmetics site. The exact release date of Lavender Snow and the other Skin Frost shades has not been revealed yet. Hopefully, they will go on sale soon and JSC will stick with its previous plan to release four more Skin Frost shades together. Or perhaps they will do a slow or staggered rollout of the new shades. It's a waiting game.
Bustle reached out to Jeffree Star Cosmetics reps for more information and the release date(s) for the next round of Skin Frosts. We will keep you updated.
Images: Jeffree Star/Instagram (1); Jeffree Star Cosmetics/Instagram (1)